Bowie tribute @ Radio City Music Hall: Blondie, Pixies, Michael Stipe, Amanda Palmer, more (pics / setlist / video)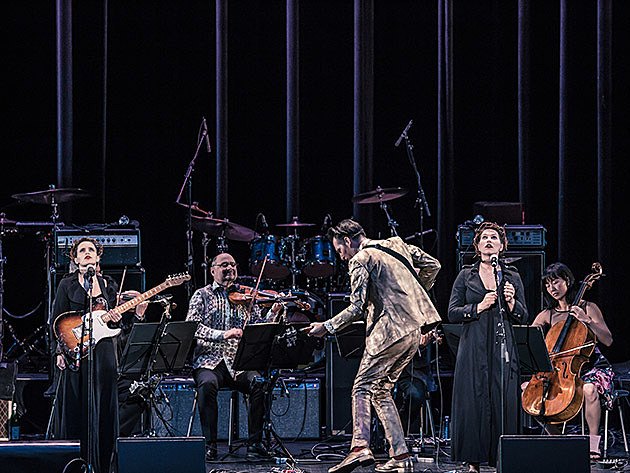 A tribute concert can be a tricky proposition, as Bowie himself discovered with his much-derided recital of the Lord's Prayer at the 1992 Freddie Mercury memorial at Wembley. Yet, the tone at Radio City was dignified and true to Bowie's questing spirit. Jazz fusionist Esperanza Spalding evoked the singer's high-soaring derring-do with her sci-fi tilt at If You Can See Me while a feverish interpretation of Blackstar (by Amanda Palmer, Anna Calvi and Jherek Bischoff) acknowledged the fascinating music Bowie was making right until the end. Not everyone plunged so deeply and darkly, with Mumford and Sons and Blondie bashing out straight-forwardly emotive readings of It Ain't Easy and Heroes. - [The Telegraph]
After starting at Carnegie Hall on Thursday, the second of the "Music of David Bowie" tribute concerts moved to the much bigger digs of Radio City Music Hall on Friday (4/1). Many of the performers were the same, often doing the same song they did at Carnegie, but not always, and Friday was scaled up, befitting the venue. The concert was also streamed live online.
The night was bookended with "Space Oddity," opening with Ann Wilson of Heart and finishing with the Choir! Choir! Choir! w/ The NYC Youth Chorus and everyone else from the evening on stage and the whole audience invited to sing along. In between, we got Amanda Palmer, Jherek Bischoff and Anna Calvi tackling Blackstar's title cut with Kronos Quartet (video of that below), TV on the Radio's Kyp Malone performing "The Belway Brothers" and The Polyphonic Spree (who have been doing Bowie covers since their first tour) covering "Slip Away / Memory of a Free Festival" and Debbie Harry and the rest of Blondie came out for "Heroes." Some repeats: J. Mascis and Sean Lennon doing "Quicksand," Michael Stipe and Karen Elson with "Ashes to Ashes" and a Chewbacca-aided Flaming Lips for "Life on Mars." Lots more than those, of course, and full performer/set list is below.
You can also check out pictures and a recap of Carnegie Hall. More pics from Radio City Music Hall below.
Michael Stipe & Karen Elson
Amanda Palmer, Jherek Bischoff, Anna Calvi, & Kronos Quartet
SETLIST: "The Music of David Bowie" @ Radio City Music Hall 4/1/2016
Space Oddity - Ann Wilson
The Width of a Circle - Holy Holy
Sorrow - Jakob Dylan
If You Can See Me - Esperanza Spalding
Lazarus - Donny McCaslin Group
Moonage Daydream - Ron Pope
The Bewlay Brothers - Kyp Malone
Quicksand - J Mascis and Sean Lennon
Ashes to Ashes - Michael Stipe
Cactus - Pixies
The Man Who Sold the World - Joseph Arthur
Slip Away / Memory of a Free Festival - the Polyphonic Spree
Blackstar - Jherek Bischoff, Amanda… more
It Ain't Easy - Mumford & Sons
Five Years - Cat Power
All the Young Dudes - Rickie Lee Jones
Rebel Rebel - Perry Farrell
"Heroes" - Blondie
Life on Mars? - The Flaming Lips
Space Oddity - Choir! Choir! Choir! w/ The NYC Youth Chorus