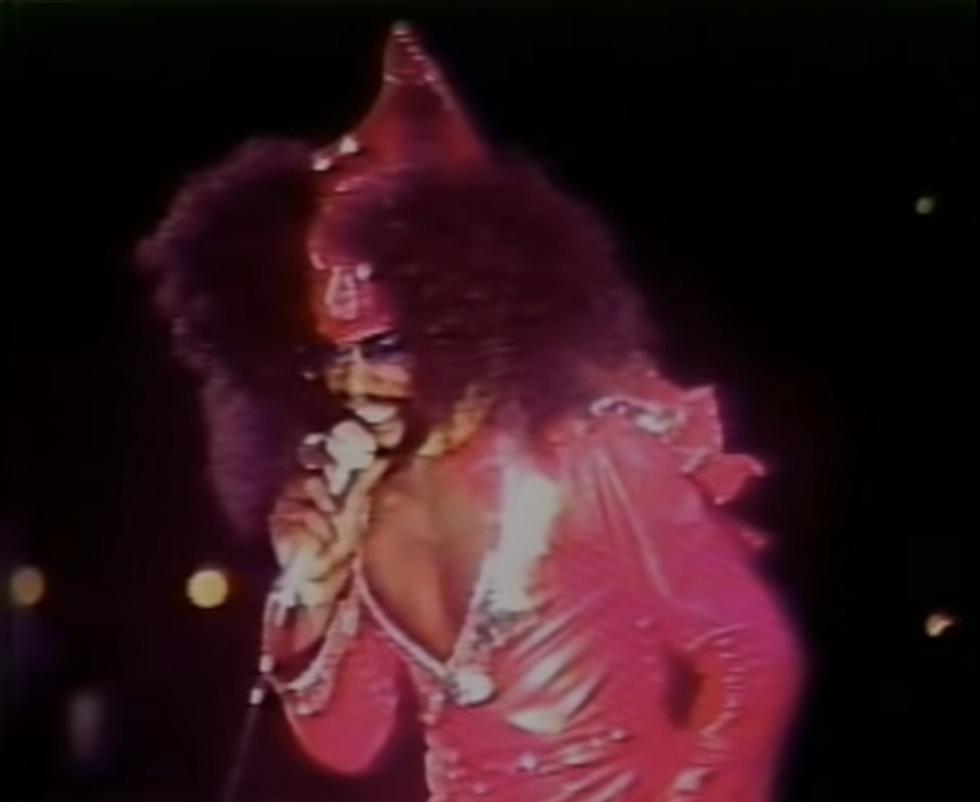 amazing live videos of Bowie, T. Rex, P-Funk & more to watch while every show is cancelled
Parliament Funkadelic in Houston, 1976
Basically no shows are happening due to the coronavirus outbreak (though some artists are doing livestreams instead), but if you're already jonesing to see a show, or just need a brief distraction from the insanity of the world right now, thankfully there's YouTube which has an amazing array of live footage from throughout the history of pop music, from clips from concert films, TV performances and other pro-shot footage, to tons of fan-shot video from shows. If you're looking for a place to start, we've been picking some of our favorites. Here are five more:
Parliament Funkadelic @ The Summit, Houston 10/31/1976
Spending Halloween 1976 with Parliament Funkadelic is the definition of a party. George Clinton, Bernie Worrell, Bootsy Collins and the rest of P-Funk were in their prime and fresh off their first real mainstream hit, "Give Up The Funk (Tear The Roof Off The Sucker)." P-Funk are Halloween ready whatever day it is, of course, but "Dr. Funkenstein" seemed all the more appropriate. They really were a force to be reckoned with as incendiary performances of "Cosmic Slop," "Funkentelechy," "Do That Stuff," and more show. Roofs were indeed torn off and, as they note at the start of this awesome show, "Funk is its own reward." [Bill Pearis]
Morris Day & The Time @ Capitol Theatre, NJ 1/30/1982
Prince was far from the only amazing R&B act to come out of Minneapolis in the late '70s. While they were well under the Prince Protege umbrella, with the purple one writing and producing (and playing on) most of their '80s output, Morris Day had charisma to spare, and The Time were a real murderer's row of talent, including Jimmy Jam & Terry Lewis (who would go on to be hitmakers themselves) and Jesse Johnson. Here they are a couple years before Purple Rain and "Jungle Love" would bring them a wider audience, but you could tell they were ready for the spotlight, opening on Prince's tour. [Bill Pearis]
David Bowie @ NHK Hall in Tokyo, Japan - 12/12/1978
There aren't really any bad eras to watch Bowie perform live, but the late '70s, right in the middle of his Berlin Trilogy albums, is one of the best. He was on a roll with new music, and he had pretty much only released classics at this point, so the setlist couldn't be beat. This show was shot for television and unfortunately doesn't feature the entire two-set show, but it includes a nice selection of songs from the then-new Low and "Heroes" albums ("Warszawa," "Heroes," "Beauty and the Beast"), plenty of Ziggy Stardust songs ("Five Years," "Soul Love," "Star," "Hang On to Yourself," "Ziggy Stardust," "Suffragette City"), and a few other mid-'70s faves ("Fame," "Station to Station," "TVC15"). Bowie's band for this show included Adrian Belew, Carlos Alomar, George Murray, and Dennis Davis, and they sounded fantastic all night. They kinda gave the Ziggy Stardust songs a late '70s art rock makeover, so everything really flowed together, but all the different sides of '70s Bowie were well represented too -- the funky ("Fame"), the punky ("Sufragette City"), the trippy ("Station to Station"), and more. [Andrew Sacher]
T. Rex @ Wembley Empire Pool in London, UK - 3/18/1972
Keeping with the glam theme, here's T. Rex, who are about to be celebrated with a massive tribute album, which was produced by Hal Wilner before his recent passing. Here's Marc Bolan & co in their early '70s prime, in between the releases of Electric Warrior and The Slider. They kept the set entirely to songs from those albums and singles from the era, plus a fiery set-ending cover of "Summertime Blues," and they were full of energy the whole time, even when Marc sat down on the stage to play "Cosmic Dancer" acoustic. [Andrew Sacher]
Ted Leo and the Pharmacists @ Death By Audio - 11/9/2014
Ted Leo and the Pharmacists played their first show together in over a year during Death by Audio's closing run, a surprise seet supporting Screaming Females. They sound incredibly solid as ever ripping through a setlist of Pharmacists classics, and it's always a pleasure to revisit DbA, even if it is only via video. [Amanda Hatfield]
For more of our favorite live videos, head here.