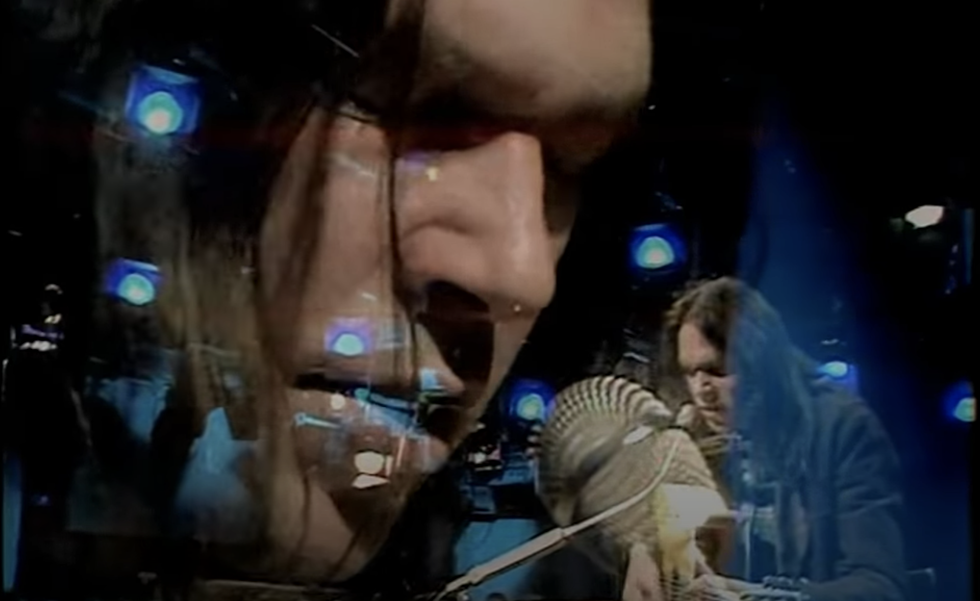 amazing live videos of Phoenix, Neil Young, Soulwax & more to watch while every show is cancelled
Basically no shows are happening due to the coronavirus outbreak (though some artists are doing livestreams instead), but if you're already jonesing to see a show, or just need a brief distraction from the insanity of the world right now, thankfully there's YouTube which has an amazing array of live footage from throughout the history of pop music, from clips from concert films, TV performances and other pro-shot footage, to tons of fan-shot video from shows. If you're looking for a place to start, we've been picking some of our favorites. Here are five more:
Neil Young on the BBC in 1971
The fireside sessions that Neil Young has been doing quarantine have been reminders of how powerful Neil is with just an acoustic guitar or piano and his voice, so here's a live concert that Neil taped during his early '70s prime for the BBC that finds him in that very format. It was taped before Harvest came out but includes a handful of songs that ended up on that album, and as you'd expect from a 1971 solo concert by Neil Young, the whole thing is totally mesmerizing. [Andrew Sacher]
Phoenix @ Lollapalooza 2013
As good as Phoenix can be on record -- like on 2008's Wolfgang Amadeus Phoenix -- they are even better live, a tight, well-oiled hit machine given extra oomph thanks to their amazing touring drummer Thomas Hedlund who plays like he's in a punk band. Phoenix are an ideal festival band for these reasons, like at Lollapalooza 2013 where they were supporting their album Bankrupt! but kept the older favorites coming.
Soulwax @ Fabriclive (and 120 other places), 2005/2006
Acclaimed DJs who also front rock band Soulwax, the Dewalae brothers combined both for the mindblowing Nite Versions tour, which treated a Soulwax show like a DJ set -- one nonstop danceparty with the songs all flowing into each other for an hour, with builds, drops and a killer light show. Using one camera, Soulwax filmed every date of their Nite Versions tour, from little clubs to giant festivals, and then edited them all together into one fantastic concert film. (This was originally a bonus feature on the DVD of Soulwax documentary Part of the Weekend Never Dies.) Soulwax postponed their spring tour because their new stage set wasn't finished in time -- which worked out as far as coronavirus was concerned -- and are now set to arrive in October. Fingers crossed those shows happen as it's been since Night Versions that they last made their way across North America.
X-Ray Spex @ The Hope & Anchor, London - 1978
London punk legends X-Ray Spex played this show at local pub The Hope & Anchor in 1978 before their now-classic debut album Germfree Adolescents came out, and it was taped alongside an interview with Poly Styrene for the The London Weekend Show. The footage is a little blurry, and some of the band's set is overdubbed with voiceovers from the show's narrator, but none of that stops this extremely rare footage from showcasing how much of a killer live band X-Ray Spex were during their short-lived initial run. And Poly's carefree interviews only make them seem even cooler. [Andrew Sacher]
Beach House @ Bell House, 1/26/2010
Playing the release show for their third (and best) album, Teen Dream, Beach House were at the absolute top of their game, layering hypnotic, dreamy washes of sound under Victoria Legrand's commanding voice. They play almost all of Teen Dream, along with a couple of the best songs from their second LP, Devotion ("Gila" and "Heart of Chambers") and you couldn't ask for a better setlist. [Amanda Hatfield]
For more of our favorite live videos, head here.