Amor de Días, not Popfest, BNLX, Cymbals Eat Guitars, album & book tribute shows, Cheeseburger, Beige & more in This Week in Indie
by Bill Pearis
DOWNLOAD: Amor de Días - Bunhill Fields (MP3)
DOWNLOAD: Damon & Naomi - "Walking Backwards" (MP3)
DOWNLOAD: Damon & Naomi - "Shadow Boxing" (M4A)
DOWNLOAD: BNLX - Burn the Boats (MP3)
DOWNLOAD: BNLX - Garbage Strike (MP3)
DOWNLOAD: Beige - Folds (MP3)
Amor de Dias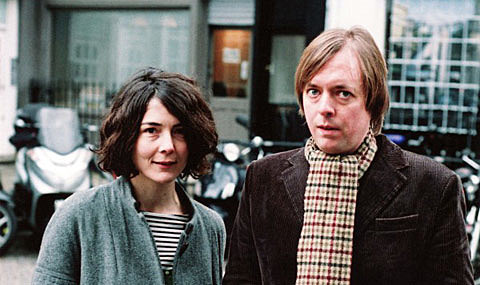 This weekend is dominated, for me at least, by NYC Popfest but as I've already written an exhaustive (exhausting) post about that, so go read it and we'll discuss other shows here. There's lots more to cover anyway.
One thing, and this is Popfest related really, is that Amor de Días are here this weekend, playing Knitting Factory on Sunday (5/22) opening for Damon & Naomi. We've got a pair of tickets to give away to this show. Just send an email with your name to BVCONTESTS@HOTMAIL.COM with the subject line "Amor de Dias" and we'll pick a winner at random.
As you may know, the duo (Amor de Días) are Alisdair Maclean of The Clientele and Lupe Núñez-Fernández of Pipas, a group who played the first ever NYC Popfest back in 2007. I actually thought it was going to be Amor de Días in the "TBA" slot at the Thursday night Cake Shop show that turned out to be Pains of Being Pure at Heart. For this show to be happening at the same -- but not part of -- the 'Fest seems a little criminal.
MacLean and Núñez-Fernández formed Amor de Días back in 2008 and wrote and recorded whenever they had time, with help from current tourmates Damon & Naomi, indiepop legend (and master arranger) Louis Phillipe and Ladybug Transistor's Gary Olson. Their debut, The Street of the Love of Days, came out this week on Merge and is a lovely little album as you might imagine from the talent involved. Their styles and voices are a perfect match for one another and the arrangements are just perfect. Among the treats is a particularly nice version of The Clientele's "Harvest Time." You can download "Bunhill Fields" at the top of this post.
Damon & Naomi's new album, False Beats and True Hearts, is a really nice record too. And if it's still pouring out Sunday night, all the better. It's an evening of rainy day music.
BNLX

A much louder duo, also in town this weekend, are Minneapolis' BNLX, who play Pianos on Friday (5/20) and The Rock Shop on Saturday (5/21). I've written about them a couple times this year already and I do really dig their mix of rockin' tunes and corporate humor. I'll quote myself again:
Volume isn't just for punishment, though in the wrong hands it most certainly is. But sometimes you just can't achieve that clarity of sound, that particular strain of feedback, that shriiiiiiinnnnng you get from flicking the strings above the headnut, that tone...without cranking the amp. Ed Ackerson, a 20-year veteran guitar slinger of such Minneapolis bands as 27 Various and Polara, knows what he's doing. BNLX didn't just blow eardrums, they kinda blew minds...

...for being just two of them and a laptop, they made quite a racket at the Rock Shop. Normally I'm one to complain about bands using canned backing instead of a real drummer, but vintage drum machine sounds -- right out of 1987, be it Jesus & Mary Chain or Age of Chance -- are kind of integral to what BNLX are doing. With a stroboscopic lightshow (what, no smoke machines?) you didn't really need anyone else.
You can download two tracks from EP#5 at the top of this post, and I have a good feeling they'll have EP#6 at the merch table for the NYC shows. Also playing The Rock Shop show is Black Onassis, which is not the ex-drummer of Urge Overkill but a new group from former member(s) of Kasabian and Daylight for the Birds. Don't know much about them.
More interesting is what's happening earlier that same evening at The Rock Shop: a tribute to Brian Eno's Here Come the Warm Jets featuring a cavalcade of indie rock talent. Here's the press release:
When Brian Eno's first solo record, Here Come the Warm Jets, came out in 1974 it turned heads. It continues to baffle great minds due to the sneaky way it overlays whimsical pop with the beginnings of Eno's whole philosophy of creativity and experimentation.

Indy music stalwart Rob Christinsen (Eggs, Grenadine, East Ghost West Ghost) and Rock Shop booker Jack McFadden team up to present this great curiosity of a recording LIVE with a melange of rockers and experimentalists.

"It sounds fantastic but one of the things that I tried to do with Warm Jets was to bring musicians together who would normally never play together and to play a music that they couldn't agree upon. The music would come from the chemistry. But of course, it was impossible to do. I couldn't expect any of the session people I worked with to go along with it. They literally fought." - Brian Eno, 1974.

In that spirit, fifteen singers and ten instrumentalists from all musical worlds team up to perform this masterpiece.

The evening will be emceed by walking/talking Brian Eno encyclopedia, WNYC's John Schaefer.
Musicians performing include Travis Morrison (Dismemberment Plan), Hamish Kilgour (The Clean), Richard Baluyut (Versus), Rob Christiansen (Eggs), Amy Klein (Titus Andronicus), and Ben Trokan (Robbers On High Street).
Of course the big tribute this weekend is Sunday's Our Concert Could Be Your Life which celebrates the 10th anniversary of Michael Azzerad's chronicle of the American indie rock scene in the '80s. The talent assembled paying tribute to the bands covered in the book is pretty amazing, and it's changed/expanded a bit since first announced:
Nat Baldwin, David Longstreth and Brian McOmber play Black Flag
Delicate Steve plays the Minutemen
Citay plays Mission of Burma
Ted Leo plays Minor Threat
Grooms plays Husker Du
Titus Andronicus plays the Replacements
Tune-Yards plays Sonic Youth
Callers plays Sonic Youth
Dan Deacon plays the Butthole Surfers
St. Vincent plays Big Black
Wye Oak plays Dinosaur Jr
Buke and Gass plays Fugazi
White Hills plays Mudhoney
Yellow Ostrich plays Beat Happening
Janeane Garofalo and Eugene Mirman host the evening -- which is sold out, but I wouldn't be surprised if tickets were released day of show. Keep an eye out. UPDATE: They are back on sale as I type this.
[note: both Tune-Yards and Buke and Gass play a sold out show at MHOW one day earlier. Dan Deacon also plays more shows this week. Delicate Steve has a headlining show coming up soon at Brooklyn Bowl.]
---
Cymbals Eat Guitars

And lastly, Cymbals Eat Guitars play their first show in a long time this Friday (5/20) at Glasslands. The band are finishing up their sophomore LP which is due out this fall ,so hopefully we'll get a preview of what's to come which they'll be playing in full at the show. The whole line-up is pretty good, with fellow '90s loving indie rockers Radical Dads (whose member Robbie just announced a new album for one of his other bands), Iranian transplants Yellow Dogs, and the psychedelic sounds of Mirror Mirror.
A few more picks, day by day, are below.
THURSDAY, MAY 19
It should be a fun night at Union Pool with neo baggy kids McDonalds, volatile and soul-bearing Wild Yaks, and The Surprisers.
continued below...

--
SATURDAY, MAY 21
It's an unofficial Popfest show at Death by Audio, with many of the bands who are playing it: The Hairs, Bright Lights, Sea Lions, and Kids on a Crime Spree.
It's another unofficial Popfest show, right around the corner from the other! This time at Glasslands, with Sea Lions, My Teenage Stride, Beachniks, The Surprisers, and Plains.
Dinowalrus, who now (like McDonalds) owe a little to 1989 Manchester, play a late show at Brooklyn Bowl. Only $5.
SUNDAY, MAY 22
While the reemergence of Urge Overkill and the surprising awesomeness of their new album kind of makes all comers obsolete, you gotta still love the sloppy rawk of Cheeseburger who play a free show at Brooklyn Bowl tonight with Rolling Stone tribute band Mick's Jaguar and The Live Ones. "Additionally, after the show, fans can stay and watch an all-new episode of Superjail! with the show's cast and crew. (Christy Karacas, guitarist for Cheeseburger, is also the co-creator of the Adult Swim animated series.)" Cheeseburger also sing the show's theme song.
At Cameo it's a cool double bill: Regal Degal, who just released their first record, Speckled Fruit, and relative newcomers Beige that have been written up in Stereogum and Pitchfork in the last week. You can check out a Beige track (definitely Kraut-y, not so much Rock) at the top of this post.
And that's it for another busy week of music. Tour dates, flyers and a video for Amor de Dias are below.
--
Amor de Días - Late Mornings

Amor de Días - Late Mornings from Merge Records on Vimeo.
Amor de Días - 2011 Tour Dates
2011-05-19 Carrboro, NC Arts Center
2011-05-20 Baltimore, MD Metro Gallery
2011-05-21 Philadelphia, PA 1st Unitarian Church Chapel
2011-05-22 Brooklyn, NY Knitting Factory
2011-05-23 Allston, MA Great Scott
2011-05-25 Toronto, ON The Legendary Horseshoe Tavern
2011-05-26 Pontiac, MI The Pike Room at The Crofoot
2011-05-27 Chicago, IL Lincoln Hall
2011-05-28 Minneapolis, MN Triple Rock
2011-05-31 Seattle, WA Tractor Tavern
2011-06-01 Portland, OR Bunk Bar
2011-06-03 San Francisco, CA Bottom of the Hill
2011-06-04 Los Angeles, CA The Satellite
2011-06-05 San Diego, CA Soda Bar
...all shows with Damon & Naomi