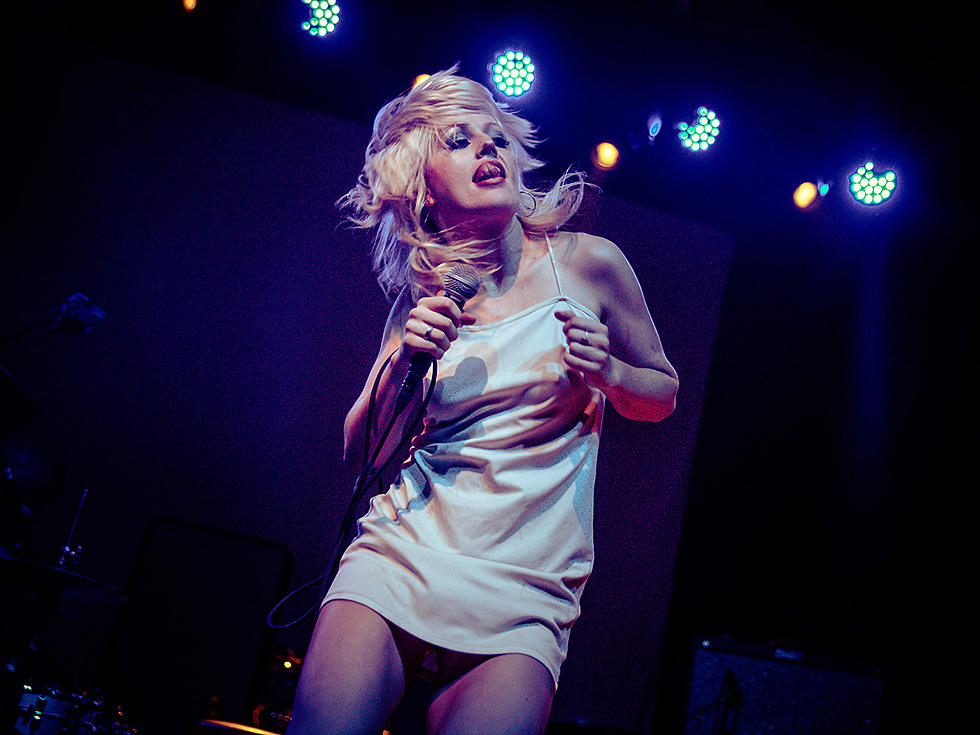 Amyl & The Sniffers share "Gacked on Anger," tell us about what they're listening to
Amyl and The Sniffers at Brooklyn Steel (more by P Squared)
Amyl & The Sniffers will release their debut album this week (5/24) and they've just shared one more early taste, "Gacked on Anger," a riffy ripper that burns hot and quick, over and done with in less than two minutes. "'Gacked on Anger' is roughly about being so angry that it feels like your gacked -- 'gacked' means like fucked on drugs, high," says singer Amy Taylor. "The lyrics 'stressed on tick because I'm gacked on anger' - tick is a roundabout way of saying debt/loan. The song lyrics are about money and class and my experiences with that, and the weird way my mind tries to wrap around the idea of having money/not having money/being in debt/getting paid or not paid as a musician. It's also about the rat race/pleasure/shame/stress of money and the power that it has on day to day life, and the power of class to keep us too busy and too dumb to help other people, or make any kind of change in the "system". We keep on working really hard for peanuts. I've been lucky in comparison and I'm grateful but in reality shit's pretty fucked sometimes, and there's lots to be angry about." Listen to that below.
The band will be back in North America this summer in support of the album, playing Brooklyn's Market Hotel on July 19 with Sähd Wyte Guyz (tickets). We also asked them to tell us about what music they're digging right now, which includes previous tourmates Surbort, Ceremony, X-Ray Spex and more. Check out their picks, including commentary from Amy, below.
AMYL & THE SNIFFERS - WHAT WE'RE LISTENING TO
Surfbort - "Flower of Hate"
"Off their recent 7" - I love this band and everything they do - huge inspiration and listen to them heaps."
C.O.F.F.I.N - "White Dog"
"This is one of the best bands in Aus at the moment. such good lyrics and so brutal."
Ceremony - "Terminal Addiction"
"Ceremony is one of the best bands ever. so good so brutal. Rohnert Park is one of my favourite albums."
X-Ray Spex - "I Am a Poseur"
"'I am a poseur and I don't care I like making people stare' one of the greatest bands."
Bo$$ - "I Don't Give a Fuck"
"This song is so bad ass."
AMYL & THE SNIFFERS - 2019 TOUR DATES
MAY 25 Victoria Park Saturday, 1:00PM London, United Kingdom
MAY 27 La Boule noire Monday, 8:00PM Paris, France
MAY 29 LA POUDRIERE Wednesday, 8:30PM Belfort, France
MAY 30 Bad Bonn Kilbi Thursday, 7:00PM Dudingen, Switzerland
MAY 31 Primavera Sound Friday, 7:00PM Barcelona, Spain
JUN 02 Sala Apolo Sunday, 7:00PM Barcelona, Spain
JUN 06 Sideways Festival Thursday, 12:00PM Helsinki, Finland
JUN 08 NOS Primavera Sound Saturday, 7:00PM Porto, Portugal
JUN 11 Het Bos Tuesday, 7:00PM Antwerpen, Belgium
JUN 12 Cafe Glocksee Wednesday, 7:00PM Hannover, Germany
JUN 13 Ilses Erika Thursday, 7:00PM Leipzig, Germany
JUN 14 De Nijverheid - Ateliers - Café -Terras - Expositie - Culturele Vrijhaven Friday, 7:00PM Utrecht, Netherlands
JUN 15 Muziekgieterij Saturday, 7:00PM Maastricht, Netherlands
JUN 16 Maifeld Derby Festival Sunday, 7:00PM Mannheim, Germany
JUN 18 Groove Station Tuesday, 7:00PM Dresden, Germany
JUN 20 Kantine am Berghain Thursday, 7:00PM Berlin, Germany
JUN 21 Vera Friday, 7:00PM Groningen, Netherlands
JUN 22 Merleyn Saturday, 7:00PM Nijmegen, Netherlands
JUN 25 Delicious Clam Tuesday, 7:00PM Sheffield, United Kingdom
JUN 27 The Piece Hall, Halifax Thursday, 4:00PM Uk, United Kingdom
JUN 29 Dreamland Margate Saturday, 12:00PM Margate, United Kingdom
JUL 04 Roskilde Festival Thursday, 7:00PM Roskilde, Denmark
JUL 05 Mosswood Park Friday, 8:00PM Oakland, CA
JUL 06 Mosswood Park Saturday, 12:00PM Oakland, CA
JUL 07 Teragram Ballroom Sunday, 8:00PM Los Angeles, CA
JUL 08 Soda Bar Monday, 9:00PM San Diego, CA
JUL 09 Rhythm Room Tuesday, 8:30PM Phoenix, AZ
JUL 12 Barracuda Friday, 9:00PM Austin, TX
JUL 13 Santos Saturday, 7:00PM New Orleans, LA
JUL 14 The Earl Sunday, 7:00PM Atlanta, GA
JUL 15 Kings Monday, 7:00PM Raleigh, NC
JUL 16 U Street Music Hall Tuesday, 7:00PM Washington, DC
JUL 17 Boot & Saddle Wednesday, 8:30PM Philadelphia, PA
JUL 19 Market Hotel Friday, 8:00PM Brooklyn, NY
JUL 20 Great Scott Saturday, 9:15PM Allston, MA
JUL 21 Bar Le Ritz PDB Sunday, 9:00PM Montreal, Canada
JUL 22 Velvet Underground Monday, 8:00PM Toronto, Canada
JUL 25 Cactus Club Thursday, 9:00PM Milwaukee, WI
JUL 26 Wicker Park Festival Friday, 7:00PM Chicago, IL