an all-Morrissey Holiday Gift Guide ++ video of Moz's Nobel Peace Prize concert
Throw your arms around Paris in this lovely sweater...

Hanukkah is behind us, and Christmas is two weeks away and we know what you're thinking -- "my shopping is done except for my Morrissey-obsessed friend/coworker/child/parent." If there's something you'd like to try buy, we're here to help. We've scoured the internet for 14 cool gifts that even the most fickle Moz fan would want, from records to books to clothing and more. There is probably a "shoplifters of the world" joke to make here, but there's probably enough Smiths lyrics quotes in the guide already, which you can peruse below.
Morrissey also just played that Nobel Peace Prize concert in Norway, performing "People Are The Same Everywhere," "Irish Blood, English Heart," and his cover of Lou Reed's "Satellite Of Love." Video of that is below as well...

---
Brooklyn Vegan's All-Morrissey Holiday Gift Guide
Smiths' 'Complete' box set

1) The ultimate gift for any Morrissey/Smiths fan is probably The Smiths' "Complete" box set which contains all eight Smiths albums on both vinyl and CD, plus 25 vinyl 7" singles, a DVD with their music videos, 8" x 12" original cover-art prints, a collectible poster and an eight-page booklet with expanded liner notes. At $500 bucks, it ain't cheap, but it's very nice. There's also a $250 version with just the albums on vinyl and CD.
2) Of course, there are a lot of copies of original Smiths vinyl out there, and who wouldn't want an original Rough Trade copy of Hatful of Hollow or The Queen is Dead? Discogs marketplace makes it very easy to buy stuff (too easy), but keep in mind shipping from overseas has gotten very expensive -- it could end up being more than the record.



3) The other hot item this year is Morrissey's Autobiography, where Moz tells his story from his hardscrabble childhood in Manchester to the Smiths, his solo career, and many many encounters with famous people. It's out now in North America, but true fans will want the UK Penguin Classics version.
4) For those who want a more rounded look at The Smiths, Tony Fletcher's 2012 book A Light That Never Goes Out: The Enduring Saga of the Smiths is an excellent, in-depth look at their career and demise, with lots of context to the world at the time. Fletcher interviewed just about everybody in the Smiths camp (minus Morrissey and Mike Joyce) and it's essential reading for any Smiths fan.
5) On the more irreverent side, there's Defensive Eating With Morrissey, an illustrated book featuring "13 Images Of Food Hoarding" based around Morrissey lyrics. Will Smith makes an appearance, and there's a recipe for "Handsome Devil's (vegan)food Cake."
6) Ugly Christmas Sweater parties are soooo 2010, but chances are someone you know probably didn't get the memo. You can still dazzle while showing disdain for the party concept in this lovely Morrissey ski sweater made from "100% vegan-friendly acrylic." ($72).
7) From the same site, which has a few other sweaters too: Getting dad socks is a cliche often dialed, but what father wouldn't beam on Christmas morn to recieve these dandy Morrissey socks. But it may lead him to ask, "Oh, how do I feel about my shoes?"
8) This weekend is prime "Christmas Party" weekend and what a nice surprise for your hosts to receive this "Mozzy Hexmas" Tree Topper ($6) for their tree.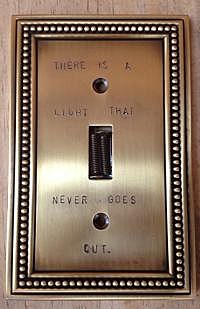 9) For a light that never goes out -- unless you need it to -- there's this "There is a Light That Never Goes Out" lightswitch cover ($25).
10) Put your newborn in this onesie that quotes from "How Soon is Now?" ($7). Never mind that the next lyric after "I am the son and the heir" is "of a shyness that is criminally vulgar." Suffer little children, indeed.
11) What should Morrissey and Johnny Marr wear today to their Peel Session recording session? Cardigan and National Health spectacles or just gladiolas? Your choice with Morrissey Miserable Paper Dolls (£10.99 on Ebay).
12) You won't have to wake up alone anymore if you sleep with this "S'Morrissey" pillow. Surely those are made with vegan marshmallows. $40.
13) Tthese Morrissey bobblehead dolls whose initial run sold out but can be found on Ebay for not too much.
14) And finally, there are these exquisite 9" tall beeswax candles titled "Half a Person: A Morrissey Effigy" which you can melt like Joan of Arc's walkman. $125, limited edition of 300.
Morrissey at the Nobel Peace Prize Concert