an interview w/ Dave Witte (of Burnt by the Sun, Municipal Waste, Human Remains, Black Army Jacket…)
They say that the clothes make the man, but in the music world, the drummer makes the band. That's the only way to explain the string of successes that have followed Dave Witte since he first sat behind the kit as a member of the influential yet under-appreciated Human Remains. Since then, Witte has played with some of the greatest bands in the heavy underground, laying the back beat to names as powerful as Municipal Waste, Discordance Axis, Anodyne, Black Army Jacket, Melt Banana, and we can't forget about Burnt By The Sun.
Burnt By The Sun recently released their swansong, Heart of Darkness, via Relapse Records. In celebration of this last LP, the band will embark on final tour of Europe in October with only one US date scheduled: October 2nd at Cake Shop with Tombs, Black Anvil, Bloodhorse, and Torchbearer. Considering the band members' current undertakings, it isn't out the question to say that this could be their last show for a very very long time.
With that as a primer, I fired some questions at Dave Witte about Municipal Waste, the end of Burnt By The Sun, and the possiblity of him returning to the kit for Human Remains, Discordance Axis or Black Army Jacket. The conversation is below....

==========
BrooklynVegan: So why is Burnt By The Sun calling it a day? Did you feel like you had something specific to say or was more of a healing process between you and the guys following the break up?
Dave Witte: BBTS can't be a full time band, everyone's lives have changed quite a bit since the last record in 2003. Families and careers take priority at this point. As for the record itself, it is part healing and part the same stance we've had as a band for making records, which is to make a record for ourselves and it express ourselves to the fullest on it. Kinda like the ultimate release of all things good and bad in our lives. That being said, we all felt that a part of our lives were missing without BBTS, so we decided to do another record and call it our last. We wanted to make a record we are proud of and have achieved that. That was the main goal.
Do you think you'll ever do another full on BBTS US tour? Or will it just be the one off dates in the US?
Its hard to say yes to a full US tour, I don't think that will ever happen. One offs are quite possible, its really all about timing.
Municipal Waste's new LP, Massive Aggressive, seems a lot more focused and, er, aggressive. Was that the goal or were the songs written and that was the final product?
I think the only real goal we had was to write the best songs for the time and I think we all agreed that we wanted to write some faster stuff. We also had plenty of time and did lots of demos so we could listen over and over and then change parts that we thought would make the songs stronger. No time limits or deadline really helped us.
As a band that has steadily graduated towards bigger rooms like your headlining slot at Gramercy, how has your playing style adapted since those early days?
I've learned that adaptation is so crucial for any band and that being able to adjust to any situation and make the show fun is super important. You learn what works and more importantly what doesn't, especially in bigger rooms. Drum-wise, by playing bigger venues and festivals, I've also learned to make any drum kit work and to adapt to the song with what drums I have to work with, so if that means changing or simplifying a fill due to the drum kit, so be it. I've learned to play for the song and when not to play and what I've also learned is to be well hydrated and warmed up to deliver the best possible performance.
There are some excellent bands lined up as the support on your forthcoming headlining tour. Lots of very cool bands, can you discuss why you chose Phobia, Brutal Truth, Goatwhore, etc.?
We wanted bands we like and would like to hear each night. Also, we are friends and have long history with them. I've known the Brutal Truth guys forever, as well as Phobia. I've wanted to tour with Goatwhore for the longest time as well.
As a drummer, who do you look to for inspiration? Metal, hardcore, or none of the above.
Everywhere, music is an endless resource. There's so much great music out there you just have to be open minded about it. Prog rock is my thing and I love death metal as well. All together I have a really wide range and tend to pull ideas from everywhere, from hip hop to jazz and beyond.
As for people, some of my greatest influences are Phil Rudd, Brandon Thomas, Dave Lombardo & Neil Peart.
King Generator. One off project, or possible new material in the future?
We planned on recording another record, but scheduling is pretty tough these days. It will happen eventually, I want it to. KG is fun to do.
How would you estimate the punk/metal scene in Richmond differs from NYC/NJ? It seems to be a very small but tight knit community.
I've been gone from NJ about six years now so I really can't say how the NJ scene is operating these days. When I was there, New Brunswick really carried the hardcore/punk scene with lots of house shows. I remember seeing Sick of It All at the Handy Street house, that was intense. There were many talented people then in NJ as there are many talented people today in Richmond. The Richmond scene seems to be pretty supportive of itself but, there have been some venue problems and police cracking down on house shows, etc. Things do still happen though and lots of touring bands still come through. There is also a ton of great bands in Richmond, like I said there is a lot of talent across the board in Richmond that falls under the independent music scene. Its very common to have bands sharing members of others as well, lots of projects. Someone is always trying something new.
Who are some of your favorite younger bands in both the Richmond and NYC/NJ scenes?
Costco sells everything nowadays!

You are widely known as a big foodie. What is a meal that you look forward to having when you are in NYC?
I would always go to Una Pizza, but Anthony (owner) sold his place recently. It was the best pizza ever. You can look it up on you tube or visit the old site. Such passion there! I recently discovered Sugar Sweet Sunshine on Rivington, they have the greatest cupcakes known to man.
Odessa was a good spot for me and I'm a big Gingerman fan. Cafe Raka was also a regularly visited spot in the Village. I really want to go to the Soccer Taco trucks in Red Hook so bad, I've just never have the time. Christinias (polish) in Greenpoint I think, is great too.
I need some new spots and suggestions are welcome. I do a food blog that is sporadically updated, please leave suggestions on it.
Do you have a favorite New York beer?
I'd love to spill my guts about beer, but NY is not high on my list for breweries, that being said.. the most consistent and diverse brewer in NY is Brooklyn Brewery without a doubt. They make real good beer across the board and their street festival that I've been to a few times years ago was plain awesome. I also love the oldest bar in NYC, McSorleys Ale House in the village. Light or Dark, its simple and damn good.
Birds Of Prey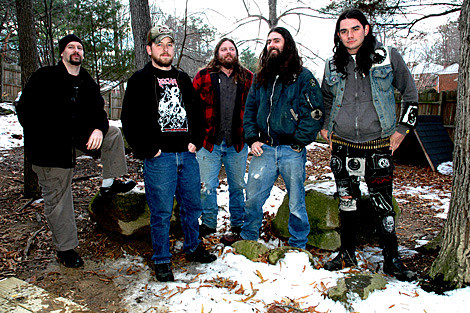 Birds Of Prey - so Maryland Death Fest is going to be your first scheduled show... will you do any other dates or just that one off. How many times have you guys played together?
I'm looking forward to this, should be fun. I'm not sure what we'll do around it, but a few shows would be nice. We've never all played together at the same time, in fact there are three or maybe four (erik and I) practices before we go into the studio and then that's when the other guys hear the drums for the first time. Everything happens pretty quickly with BOP, I guess it kind of has to.
With all of the important reunions going on, do you think that you would ever consider doing a Human Remains or Discordance Axis show? Do you keep in contact with those guys?
Those bands will not reform, it would take too much effort and time to make it happen. Although it would be fun, getting everyone together would be very hard. I still talk with everyone from those bands. DA wise, Jon is doing Gridlink and Hayaino Daisuki, and Rob just plays at home. HR wise, Ted is doing both bands with Jon Chang from DA and BBTS with me, Jim is in Monster Magnet and Riotgod. Steve is an at home player and Paul isn't really singing anymore. I actually don't know where Will is these days.
Human Remains

Yeah, we were supposed to do a reunion for Chainsaw Safety's 15 year Anniversary, but everyone's schedules couldn't sync up so it didn't happen.
So I assume that isn't happening then? Or is that still a possibility?
I really don't have an answer for the future, I'm so busy and so is everyone else that talks kind of ceased.
You have played with several different bands of varying styles, and in your myspace you list both your projects and possible future collaborators like the Pattersons (Coliseum, Young Widows) and Bruce Lamont (Yakuza). Are these wish lists, or forthcoming projects? If they aren't forthcoming projects, what do you have on deck? Obviously you did that one off with Young Widows at Best Friends day.
Bruce and I have talked on and off about doing some touring improv/free jazz like music and maybe some structured proggy type stuff, who knows. As for the Pattersons, Ryan and Evan write some of my favorite music, I love what they do. We spoke many times about doing something together, time is the only issue I think.
It was a thrill for me to play for Widows, I love them. I am very much excited to be a fan again on the other side though.
What is currently in rotation?
Russian Circles Station is in my CD player as we speak, can't wait for the new one. Lots of Mastodon, Code, Keelhaul & Cinematic Orchestra to name a few.
Discordance Axis

Fave albums so far in 2009?
These are my favorites so far
Mastodon - Crack The Skye
Keelhaul - Triumphant Return To Obscurity
Dalek - Gutter Tactics
Tombs - Winter Hours
Dysrhythmia - Psychic Maps
As someone who has been in the scene for a very long time, I am sure you have seen some very deserving and talented bands fall by the wayside. That said, who do you think is a forgotten band that, if the world were just, probably should have gotten a fair shake?
Growing up there were a lot of great bands that I truly loved and still hold dear. I'll break it into categories, for metal, Ripping Corpse without a doubt, the most talented, overlooked metal band that deserved greatness. I owe lots to them, they were my main influence locally. On the rock side was NY's Sweet Diesel, killer players and song writers. Hardcore. Rorschach, they were so crucial and I'm so happy to see them playing a bit now.
Currently, the band that's overlooked the most and still hammering away is Keelhaul. Do yourself a favor and investigate these bands.
=========================
Thanks to Dave Witte And Rich Hall!