an interview w/ Dan Friel, pics from New Years Eve
here's some new pictures & tour dates with a sort of old interview (that I'd rather post than throw away) (hope you don't mind)....
Dan Friel @ Cake Shop, NYC - New Years Eve (Dec 31, 2008)

ATP NY (2008) (think all the way back to September for a second) was littered with luminaries. We've previously documented our run-ins with some of the great performers, but we also ran into a few artists who were just there for the good time. One of those artists was Dan Friel.
Friel is probably best known for his participation in Parts & Labor, the Brooklyn experimental noise pop/rock band he formed in 2002 with BJ Warshaw (also of Shooting Spires). Over the years, Parts & Labor have released three LPs and multiple seven-inches, contributed to many a compilation, and even dropped a split LP with Tyondai Braxton (Battles). All along, Dan Friel has been working on solo material... dropping EPs and a cassette leading up to 2008's triumphant Ghost Town, out now on Important.
We cornered Dan Friel at ATP (literally... he could NOT escape) for a couple minutes to discuss the festival and his plans for the next few months.
So Dan, what were some of the motivating factors for you coming to ATP? What are some of the bands you really wanted to check out?
Dan Friel: Today I'm pretty excited about seeing Polvo. I've been sort of starting to listen to them again, a bunch in the last couple of years which I think a lot of people have, and it will be great to see them play again. I haven't seen Lightning Bolt in a couple of years, so that'll be pretty cool. I've never seen Low, and that's kind of a big deal because I like their records quite a bit. And Fuck Buttons and Alexander Tucker are both friends and amazing people. So I'm excited to check that out.
continued below...

So what's going on with you? Are you doing any more touring with your solo album?
DF: I have a couple more solo shows coming up in New York, but Parts & Labor is gonna be back in full swing starting in a couple of weeks. Our record comes out on October 21st [2008].
DF: Receivers. It's coming out on Jagjaguwar. It's gonna be the first one with the new four piece lineup.
DF: Yeah, she's fantastic...She has a bunch of solo work under the name Noveller, and it's like drone-noise work where she bows a double neck guitar through a bunch of pedals, it's totally amazing. She has a record coming out on No Fun next year, and she's been playing with Rhys Chatham in a quartet that he does, and also with Glenn Branca, doing like "guitar army" sort of stuff.
Wow, that doubleneck guitar bowing in particular sounds like some really interesting stuff.
DF: Yeah, it's pretty cool. This is kind of the first rock band she's been in. She does mostly drone stuff. So it's kind of like a perfect fit to add somebody to Parts & Labor.
Yeah, that definitely should add a different element to it. I'm interested in hearing that. So you said you're leaving tomorrow?
DF: I only have a pass for today, because my friends are playing today, but I got here and people are saying that they might be able to get me like a room and a place and a pass for tomorrow, so i'm juggling. I would like to go back to New York and I have like things I have to do, but...fuck...My Bloody Valentine.
Yeah, you cant really miss that.
Dan Friel shared a bill with These Are Powers @ Cake Shop in NYC on New Years Eve. Here are the rest of those pics...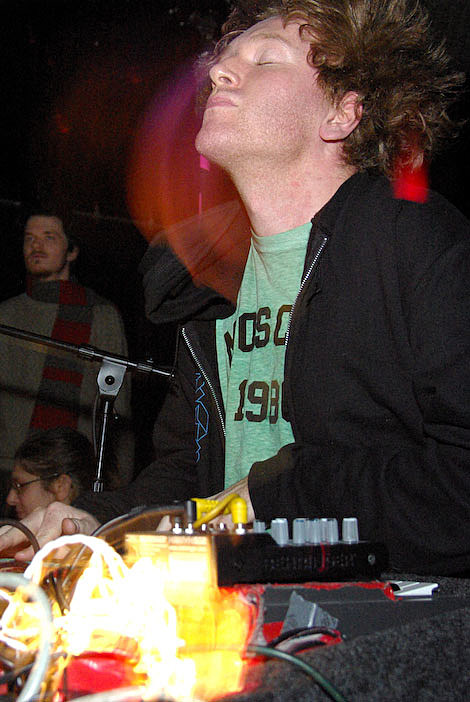 Dan Friel - 2009 Tour Dates
Jan 9 - Issue Project Room w/ Carlos Giffoni + Noveller Brooklyn, New York
Apr 17 - Front Room Gallery (gallery opening for Caveman Diaries 6) w/Clan of the Cave Bear Clevelyn, Ohio
Apr 18 - WIUX Culture Shock Festival Bloomington, Indiana