an interview w/ Dark Castle (and a song premiere too)
It's been a whirlwind couple of years for Florida's Dark Castle. After self-releasing the Flight Of Pegasus EP in 2007, Rob Shaffer and Stevie Floyd followed the release up with their debut LP for At A Loss Recordings, Spirited Migration. The LP was well-received, and the duo hit the road to tour behind it. And tour. And tour.
Following that relentless touring, the band took some time off at the tail end of 2010 to concentrate on other projects (Rob became drummer for French/Aussie doomers Monarch!), refocus, regroup, and plot their return to the studio where they made Surrender To All Life Beyond Form. Uber-producer Sanford Parker was on the case.
Next move? Prepare for the May 17th release of Surrender To All Life Beyond Form via their new home, the venerable Profound Lore Records. Check out the first track to emerge from that LP, "Seeing Through Time", premiering here, in addition to the album art (below). "Seeing Through Time" (download above, stream below) is the same blackened doom that Dark Castle is known for, chockfull of directional shifts and off-kilter chord-progression drenched in an ocean of queasy reverb.
We sat down with vocalist/guitarist Stevie Floyd to discuss the new LP and plans for 2011 (like touring with YOB!)...

=====
BROOKLYNVEGAN PRESENTS: Dark Castle - Seeing Through Time

Surrender To All Life Beyond Form Album Art

Surrender To All Life Beyond Form is your new LP due on Profound Lore. What were some of your goals coming off of your breakout LP Spirited Migration?
To dig deeper, to open our minds more, to write an album that is more primal, raw and in the moment. To draw inspiration from all forms of music. We have been more influenced by traditional multicultural forms of music than ever. This album was written mostly in Hungarian and Japanese scales. These patterns of notes have been around for hundreds of years...long before there was heavy metal. They pull your heart out of your chest while giving comfort at the same time. Creating a union of disaccorded decrepit chords and beauty.
How did your recording experience differ with Spirited Migration vs working with Sanford on the new LP?
Both experiences were incredible. I feel like with every recording we grow as individuals musically, as well as together and in the way that we write. With every year that passes we connect more into the vibe that each other writes within. We are usually very in sync when it comes to this. Sanford really became a part of our band on this recording and offered such a deeply creative outlook that was separate from our own. He has a way with hearing where things should be placed... how they are layered and how they build and decay that is genius. He ties everything together in such a consistent way...and isn't afraid to try new and weird ideas, which we love. Man... we had the room filled with guitars, amps, pedals, synths and chords intermingling all over the place. It was a dream. Recording the main tracks live at Electrical was mind blowing.. the ceilings were 3 stories tall with brick walls, making such a mountain of sound. Atmosphere is everything when recording. To be engulfed in the moment and in the flow.
The vocals in the new LP seem to be a bit more prevalent than on the last, where the vocals were more part of the doom roar. What were some aspects about the last LP that you wanted to change?
There wasn't anything that I wanted to change really. I just wanted to pull a more primitive and raw voice from myself that may or may not have already been there. I feel that these vocals are more passionate and more clear and were in that moment that this happened. I had to get this out in a certain yet organic way. They are hardly polished or masked by tons of effects, but that is what I felt needed to happen. And it felt right.
Dark Castle will make appearances at both SXSW and Scion Rock Fest. Who are you most excited to see?
Morbid Angel!!, Obituary, Immolation, Death Angel, Athiest, Rwake, The Body, Cough, Royal Thunder...man so many more
DC drummer Rob Shaffer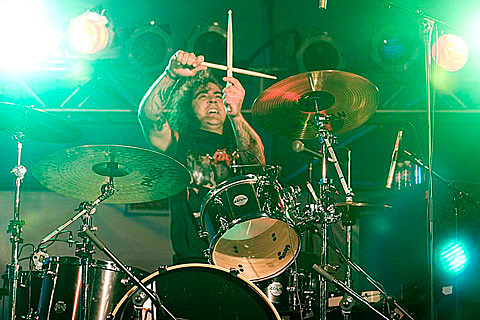 You recently moved to the Pacific Northwest. How has the move informed your influences? How has the move changed the dynamic between you and Rob?
I have been in love with Oregon for years and wanted to move here. It breeds creative energy with the rainforest air, mountains, waterfalls and exotic trees and plants. Everyone is so inspired and moved by this place and so am I. There are endless amounts of art and music. I still go to Florida often and practice with Rob. After the 4 tours we did last year and recording this new album, we agreed to take a break so that I could move out west and so that we could work on our other musical projects. After these festivals we have some super exciting tours coming up this summer and fall!
What are the plans for 2011? Will you tour behind the new record as hard as last year?
We plan on doing a full on tour with Yob in the states and in Europe. Which is beyond thrilling. Yob is and has been such a huge influence to us over the years. We are honored and super happy to open up for them. They blow me away. I can't wait to see them perform night after night!
You've been asked to curate a show in honor of the new LP. Five bands, one stage in a venue. What five bands would you choose and why? What venue would you choose and why?
-aw man, umm... in a dream world....Death would headline, Bathory, Dead Can Dance, Lurker of Chalice and Yob....Live at Pompeii!
Word association, tell me the first word that comes to mind.
Florida... Death
Floor... Steve!!!
New York City... Bloody Panda
Buzzoven... Dixie Dave!!
Slow Southern Steel... CT!!!
Bullet Belts... Black Blood Division
Thanks so much to Stevie, Rob, and Chris.