an interview w/ Wolvhammer and a new song (premiere)
Wolvhammer 2011 (photo by Samantha Marble)

"Motorhead meets black metal," was how Minneapolis's Wolvhammer was originally described to me. The "black n' roll" description is apt and got me salivating, but neglects to note the many other influences that crept their way in - an inevitably when dealing with four individuals.
Wolvhammer masheds up Eyehategod's misanthropic sludge to Craft's nihilistic black metal on their impressive debut LP Blackmarketeers Of World War III (which we streamed in its entirety), a path that is further explored on The Obsidian Plains, their new LP due on Profound Lore on 10/25. The band released "Writhe" from the new LP previously. Now their Sanford Parker-produced monster "Shadowhorn" makes its debut in this post. Check them both out below, alongside some questions that I asked drummer Heath Rave about the new song, album, and his adopted hometown of Chicago.

=================
There is definitely a signature Wolvhammer sound that mixes black metal, sludge, doom, and crust punk that is prevalent through out your output, despite the fact that you recently changed half of the lineup. Who is Wolvhammer 2011? What do you think each member brings to the table as far as personal dynamic within the team?
Wolvhammer as a collective now consists of Andy Schoengrund, Jeff Wilson, Adam Clemens and myself. Andy wrote most of the new record and played all the bass parts on it, he definitely brought more dynamic songwriting when he joined for Black Marketeers, but on The Obsidian Plains he was really able to stretch out and show everything he was capable of as a guitar player considering there was a point last year when it was only him and I working and didn't know where this was going. Jeff definitely brings a subtle melodic dynamic in his leads that we didn't have before. Him and Andy really seem to compliment each other as guitar players. Adam as a vocalist is monster, that guy is capable of anything vocally, and plus he had no problem joining 3 days before a tour and learning our stuff. That's a true soldier. As for myself, I just play drums. I'm fortunate to have these guys, they made this record what it is.
Wolvhammer in a previous incarnation @ FFF Fest 2010 pre-party (more by BBG)

You recently changes cities and labels as well. How have the recent changes in Wolvhammer shaped the material on Obsidian Plains?
The city itself didn't have much to do with writing process, as it was done before I moved here. I'd say the lineup shifts and adversity we faced with that shaped things more than anything. Between personal lives, traveling and losing/gaining people I think it added a sense of urgency you can hear throughout the record. As far as switching labels, that was just a great thing that happened and no brainer when we got the offer.
"Shadowhorn" makes its first appearance here today. Care to give any background on its composition, or your state of mind during its production? What is your take on "Shadowhorn"?
This was a song that was wrote before the lineup changes. I barely remember that time, if that gives you a sense of the state of mind.
Plain and simple, its a rock song. One of the most rock and roll things thats been wrote for this band. Its a fucking blast to play live.
The Obsidian Plains art

How have your personal goals with respect to being in a band shifted (if at all) between the last release and this one?
We've never had goals. Or dreams. Those are two things that will surely send you on your way to disappointment and failure.
Are there any plans for a vinyl release of The Obsidian Plains?
Definitely, discussions have been going on the last few weeks about that, stay tuned. We got something special planned.
As a tattoo artist by trade, who are some artists that have inspired your work both as a musician and as a tattoo artist?
Pushead from the beginning for sure. I was copying his skulls out of Thrasher magazine when I was 9, and listening to Metallica and the Misfits. I'm sure that's pretty standard, but seems to be a thing that goes hand in hand. These days I listen NPR when I'm doing artwork, its less distracting, metal in the car of course though. For artwork though, Grime and Phil Holt are two guys that have never stopped inspiring since I started tattooing, I'd say my favorite tattooer around these days would be Tony Hundahl at Rock Of Ages in Austin. You want to see some heavy fucking tattooing check that guy out. At the end of the day for music/tattooing though, it begins and ends with Jef Whitehead. The minute you think you have something figured out in either of those mediums, he'll come along and school you, son. And before I forget, Motley Crue.
How was Jeff Wilson recruited?
There was a point a ways back where one of us was having some legal stuff before a tour, and Jeff's been a great friend since we met and I was talking to him one day about what was going on and he offered to fill in for that one. When the time came to change some things around he was the first person I asked.
Are there any touring plans in the cards?
We're working on some stuff for sure. Probably some shorter runs for now. Touring is getting tougher and tougher, but we're definitely gonna get out there and play this stuff.
Wolvhammer at the BrooklynVegan/Profound Lore day party (more by Samantha Marble)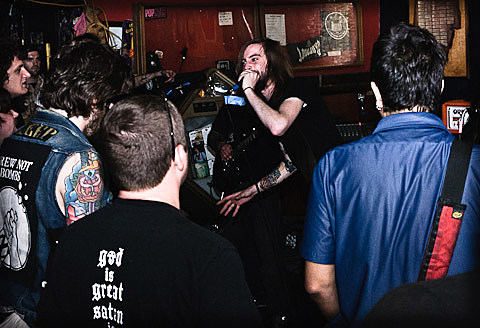 How do you think your move to Chicago has changed your personal outlook, and possibly your view on Wolvhammer?
Nothings really changed for Wolvhammer, if anything I'm getting more excited about it now. I'm a lot happier in Chicago, especially with my job and getting to spend more time with some of my best friends, I'm still just taking it all in but its been fucking awesome. Chicago is what you make of it, if you don't work hard there it will eat you alive, and I guess that's my favorite part about.
Favorite Chicago haunts? Favorite Chicago bands?
I go to the Rocking Horse a lot since its so close to my house and they have some of the best chicken wings I've ever had. Occasionally I'll stop by Flatiron, its in the building I work in and some good friends work there. The Empty Bottle for shows.
Bands- The Atlas Moth, Indian, Lord Mantis, Nachtmystium, Bloodiest, Circle of Animals.