an interview with Mike Hill of Tombs
interview by Black Bubblegum, photos by Toby Tenenbaum
DOWNLOAD: Tombs - "Gossamer" (MP3)
DOWNLOAD: King Generator - "Tell Me Why" (M4A)
DOWNLOAD: King Generator - "Plagues" (M4A)
DOWNLOAD: Tombs - "Course Of Empire" (M4A)
DOWNLOAD: Tombs - "Darker Than Your Nights" (M4A)
DOWNLOAD: Versoma - "Symbols & Abbreviations" (MP3)
DOWNLOAD: Versoma - "The Black Train" (MP3)
DOWNLOAD: Sino Basila - "Draconian" (MP3)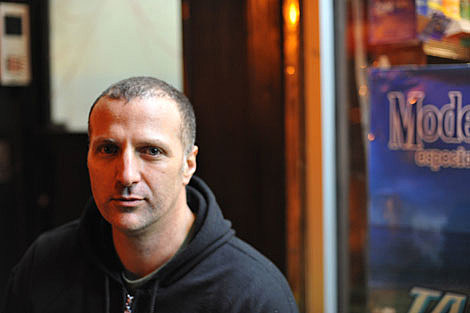 Recently I was talking to a record label owner about Tombs which quickly moved to a discussion about Tombs frontman Mike Hill. The label owner responded:
"He's a lifer."
It's evident by Hill's years slugging away in the metal underground, his many projects, recordings, and his label Black Box Recordings that Hill most definitely IS.
Mike Hill came up as a member of Anodyne, the noise-hardcore band formed in the fertile scene of Boston in the 1990s, a scene that also gave birth to Converge, Isis, Disrupt, Grief, and countless others. Over the course of eight years, two cities (Boston & NYC), two LPs, two EPs, and three 7-inches, Anodyne toured the world until finally dissolving in 2005. Hill's next project, the short-lived Versoma with Jamie Getz of Lickgoldensky, was a sharp left turn from Anodyne, but nonetheless lead to the critically-lauded EP, Life During Wartime. Jamie Getz went on to form Gods & Queens.
Outside from his time on stage, Mike Hill also stayed involved behind the scenes as owner of Black Box Recordings and as an engineer/producer. With Brian McTernan (Battery), Mike Hill co-founded Salad Days Studios which lead to a string of production/engineering work in multiple studios for a veritiable who's who of the hardcore underground including Isis, Premonitions of War, American Nightmare, Hot Cross, Burnt By The Sun, Lickgoldensky, and many others. As Anodyne came to a close, Mike Hill kicked off his Black Box Recordings imprint with The First Four Years: Discography Vol 1, a compilation of Anodyne's recorded output, eventually releasing records by Engineer, ASRA, The Wayward, and a retrospective by the late, great Black Army Jacket.
Which brings us to Tombs, Mike Hill's latest undertaking with Andrew Hernandez (ex-ASRA) and Carson James, who are readying their second LP and Relapse debut entitled Winter Hours. A tour de force of jaw-clenching hardcore, frosty black metal, and swirling shoegaze psychedelia, Winter Hours is one of the few records to stand head and shoulders above the pack in this young new year. We sat down to talk with Mike Hill about the new record, his collaboration with Dave Witte (Discordance Axis, Municipal Waste, others) as King Generator, his time in Versoma, and who he feels is a truly unsung band from the heavy underground.
=====
Winter Hours is very powerful... not just in a "killer riffs" sense, but more importantly, in an emotive sense. That said, do you care to share your thought process on or where you were (emotionally/personally/spiritually) when you were writing "Merrimack"? Seems to me to be a very cathartic track.
It's about choosing the wrong path with someone and completely destroying something that could have been beautiful. Basically, the character in the song gave into selfishness, ego and immaturity and ended up alone at the end of it; it's similar to gambling, thinking that you can achieve more than you need and losing it all.
continued below...


The S/T material definitely has that shoegazey-Swans/Neurosis feel to it, and while there definitely is that aesthetic on Winter Hours, the split with Planks is decidedly black metal influenced and Winter Hours has it's moments in that vein as well... does this signify a small directional change for you guys?
The answer to that question is complicated because I don't really see there being much of a departure. I think the newer material is definitely much more aggressive, but I view the band as a continuum of all of our influences; it like having a really diverse collection of cooking books and pulling ingredients from different types of cuisine.
In an attempt to give you a more direct answer, I will say that the overall tone right now is to be more brutal and aggressive, so I suppose the black metal and doom influences will be a bit more apparent.
Do you write alot of the stuff before you head into the studio? Do you write alone and then present it to the guys?
All of the material is written before we head into the studio even though it may not sound like that sometimes. In general I like to be prepared. I write most of the raw material on my own, the main riffs, lyrical ideas etc. and bring it to rehearsal. Carson and Andrew then compose their own parts and the arrangements are more or less collaborated on. If a bridge or intro is needed, a lot of that stuff is written in rehearsal kind of on the spot.
When we have a body of songs, we usually do a rough demo of the material and I use this as a sort of quality control on the process. Structural issues are usually identified.
In the case of Winter Hours, the demo phase was really intense. The process started about 2 months prior to entering the studio and involved recorded all of the tracks on the record as if we were doing it for real as well as a lot of lyrical revisions. Once we had the basic tracks laid down, I worked on tightening up my vocal approach and reworked a lot of the lyrics to address issues like making sure the tenses were consistent throughout the songs and I didn't switch between first person and second person narratives.
How has adding Andrew Hernandez changed the way that you write?
Andrew is a much more technical drummer and can pull of a lot of the more typically "metal" stuff like blast beats and double kick. A lot of our newer material is faster as a result of that.
Tombs, moments before they played The Charleston with Kylesa

How did you arrive at Ian Whalen with Etching Tin? Why didn't you produce? Was it for a different flavor or to get an outside opinion, and if so, what do you feel like he added?
Ian was referred to us by Relapse. We had plans on recording the LP here in Brooklyn but there was some sketchiness with the studio that we had booked time with; essentially, I got a call from them five weeks before the start day telling me that they had to change the dates. We had already booked out mastering session and were scheduled to be on a plane to Germany a couple of days after that so we really didn't have the flexibility to comply.
Gordon Conrad from Relapse, the man with all of the answers, sent me a few names and some of the recent work that they had done. Ian won out. Also, Richmond is a town that we feel comfortable in; a lot of friends, cool places to hang etc.
Ian engineered that record and I acted as the producer. I really just wanted to focus on the performances and qualitative aspects of the project and not worry about mic placement and phasing issues. Ian was a total pro and easy gut to work with, I see us working together on the next record. When it came to mixing, I feel like it was good to have an outside set of ears to provide a sanity check. One of my biggest problems is where to place my vocals so it was awesome to have someone else at the controls telling me "Dude, you're wrong, the vocals need to be louder." Also, Ian is a master drum sound guy.
Any material that possibly didnt fit on Winter Hours? If so what are your plans for that? Splits or EPs?
At the time of the recording, that was all of the material that we had ready. Since then, we've written a bunch of new material. If you've seen us recently, the opening song "To Cross the Land" is brand new. As far as splits and the like, we're really just concerned with fine-tuning all of the material before we release it. It's a process, so since there is nor pressure on us to produce another record just yet, we're going to just keep hammering away. So far I'm really excited about what we're doing; some of the newer songs are more "extreme" and aggressive while the other material is more "gazey" and depressing.
You guys recently completed a video for "Gossamer" When can we expect that? Anecdotes, etc?
I think Relapse is figuring out how they're going to "debut" the video. I'm not really sure what their plan is at this point, since we haven't really signed off on the final cut. I'm heading over to Kevin's studio to review the latest cut this weekend. I was quite impressed by how quickly he was able to get this all happening. From start to finish, the whole thing has taken less than a month, and that's even factoring the holidays.
[note: since this interview was completed, the video was released and debuted at Pitchfork.TV. Watch it below.]
So Relapse is doing the vinyl... care to drop any details on that? Single? Double? Gatefold? Special pressings?
Ah yes, we just got our copies of the LP. It's single lp gatefold. The artwork reproduction is amazing and we all feel comfortable with the way it looks. Thomas Hooper is happy with it so I'm happy. [ED: Hooper designed the artwork] There's a limited black vinyl press, but I don't know the actual pressing numbers. [ED: Turns out there is 400 of the 180Gram in Black and 500 in Brown, not to mention 100 in 180 Gram Clear that isnt available to the public]
Mike Hill at his most metal

Tombs is obviously your current primary focus. Do you have any other side projects/material that you are working on that doesnt fit your idea for Tombs? (Outside of King Generator & Vasilek that is)
Currently, King Generator and Vasilek are my only side projects, but you never know what may come up.
What is the history behind King Generator? Was that just born out of your friendship with Dave Witte? Can we expect more material?
Pretty much. Dave and I have been talking about doing a band for about 6 years. I actually didn't know Jamie Thomson at all until we started working on the King Generator stuff. Now we're old mates, tearing it up in foreign countries and making Germans feel really uncomfortable.
There will definitely be more material and hopefully some live shows from us. When I was in Europe a few months ago, Jamie said he had some new songs written. I suppose it comes down to schedule and everyone's availability. KG was asked to play Dudefest out in Indianapolis this year, so maybe there will be a tour or something.
You describe Vasilek as "a one-man production focusing on electronic music and sound construction". Is it more on the ambient side ala Lustmord? Vasilek is Russian for guardian, any significance to the name?
Vasilek is an evolving project. Originally, it was a collaboration with Andrew Hernandez before he joined Tombs. ASRA was still active and we both rehearsed in the same room so it was convenient to play. Now that Andrew is in Tombs, it has veered into the one man concept. I can best describe it as an aggregate of Whitehouse, Darkthrone, Burmese and I guess Bastard Noise. I use a drum sequencer, but the drums are distorted and manipulated to the point where they don't really sound like drums. I rely heavily on synths, but once again, I jack them up so it's more of a noise kind of trip. There are guitars and bass on there as well. So far one song has vocals, but I think a lot of the material will be instrumental. Some of the other material is soundscape oriented with manipulated "fourn-sounds" that I collect with my portable hard disc recorder. Thomas Hooper will be adding some vocals as well. He painted the artwork for the Winter Hours record as well as being quite a rising star in the tattoo world.
What is the current status of Sino Basila?
Sino Basila is defunct. That was a project that was situational and I don't really see the three of us all playing together as Sino Basila.
You've said in the past that you and Jamie Getz created an album's worth of material for Versoma outside of the released material... did any of that morph into earlier Tombs material? If not, will any of your material see the light of day?
Actually some of the best stuff we wrote was written prior to the recording of the record. The original line-up of the band featured Myles Karr (Books Lie) and Jared Shavelson (The Hope Conspiracy, Paint It Black) and we wrote a bunch of songs that didn't make it onto "Life During Wartime." I have rehearsal tapes of that material, but nothing of adequate quality to be officially released.
I recycled some of the material that I brought to the table at the very end. The songs "Fountain of the World 666" and "Course of Empire" from the Tombs EP were based on riffs that I wrote in Versoma.
[ED: If you're interested in more on Versoma, Robotic Empire posted a thorough and thoroughly interesting piece at their blog]
What is the status of Black Box Recordings? Any releases on deck?
Things are going well in general. I have distribution with RED through Megaforce Records which has helped sales quite a bit. Most of my releases can still be found at Ebullition, but you can also find them at more corporate outlets in case you don't have access to a cool punk rock record store like Armageddon Records in Providence or the defunct Trash American Style in Danbury. I'm bummed that ASRA broke up, but their LP still gets my blood boiling. Totally sick grind.
My next few releases will be split 12-in's like the Tombs/Planks split. It's kind of a series. Next up is the Dead In The Woods/Diet Pills split. They're two of my three favorite UK bands, the third being The Process. That will be out hopefully by April.
The sold-out Tombs/Planks split is being repressed right now and will be available again in February.
In general, I'm going to focus vinyl and downloads. I'm still pressing CD's, but I feel like that is a dying medium and I want to be ready for the future. In 2009, I'm going to be re-conceptualizing my game plan about releasing music and maybe expand into doing some kind of aggregate of audio/video/art/performance.
Let's talk about the blog, Everything Went Black... is the purpose of the blog for dialogue between you and your fans, or more of a personal journal? Some entries feel like a "progress on Tombs" post and others feel alot more personal. A little of both?
It's a little of both. I do a lot of writing on my own but I'm still very much a neophyte. I've contributed some reviews for Metalkult but that's pretty much the extent of my forays into writing for an audience. The everythingwentblack blog is just a venue for me to post concepts and ideas that I think may be interesting. At this point, it's pretty formless so from entry to entry, the content will vary from a tour journal, to a review of the new GNR record, to a rant about the yuppy invasion of Greenpoint.
You've been a staple in the underground between here and Boston for many years, that said, what bands would you single out as never getting their due?
There was this band in Boston called La Gritona from the mid-90's that were ahead of the "noisecore" trip that should have been gigantic. They were victims of what I like to label "Too smart for the dumb kids and too dumb for the smart kids." The guitar player, Dana Embrose, moved back to Cleveland after that band's demise and formed Keelhaul, another band that should be gigantic.
In my opinion, Keelhaul should be enjoying the same level of success as bands like The Fucking Champs and Pelican.
What bands are on the come up?
In New York, my vote is for Black Anvil.
Get to any great local shows lately?
The best local show I saw recently was Defeatist and Disassociate at ABC NO RIO a couple of months ago. Triac from the DC area also played.
Any bands that you are producing?
I just wrapped up a project with an Italian band called Slowdown. They're an excellent Hydrahead-esque sort of metal-hardcore band. They tracked everything in Italy and sent me the sessions to mix. Scott Hull mastered it.
Producing other people's material isn't really a focus these days for me. If someone approaches me, and I'm into it, I will take on the work, but it's not something I'm actively pursuing.
Heavy music fans would be surprised that I am a fan of _______.
Psychedelic Furs. In general, I'm a huge fan of 80's dark pop, but the Furs always grabbed me. Unlike The Cure (who I also admire), the singer Richard Butler had a little more weight to his voice. His lyrics were also very good: checkout "Love My Way" and "Pretty in Pink." I especially dig "Love My Way" with it's eerie synth and cold, mechanical drum sequencing.
=====
Special thanks to Mike & Tombs, as well as the Relapse staff.
Our readers should be pretty familiar with Tombs by now, but if you aren't, check HERE and see Tombs live at Union Pool with Dysrhythmia on Feb 4th (part of a small tour they're doing together).
Tombs have also lined up a Record Release show on Feb 21st at Death By Audio with The Wayward, Defeatist, and Engineer, as well as an ABC No Rio show the same day with Woe, Black Anvil, and Bastard Sapling.
Tombs recently dropped their video for "Gossamer", check it out, as well as Tombs full tour schedule below.
TOMBS - "Gossamer"

TOMBS - 2009 TOUR DATES
Feb 2 2009 The Church Boston, Massachusetts^
Feb 3 2009 Savannah's Albany, New York^
Feb 4 2009 Union Pool Brooklyn, New York^
Feb 5 2009 Kung Fu Necktie Philadelphia, Pennsylvania^
Feb 6 2009 Talking Head Baltimore, Maryland^
Feb 7 2009 Nara Sushi Richmond, Virginia^
Feb 8 2009 Velvet Lounge Washington, DC^
Feb 20 2009 Cafe Metropolis Wilkes-Barre, Pennsylvania
Feb 21 2009 ABC NO RIO MATINEE SHOW 3PM New York, NY*
Feb 21 2009 DEATH BY AUDIO TOMBS RECORD RELEASE SHOW New York, NY**
^ w/ DYSRHYTHMIA
* w/ BLACK ANVIL, WOE, BASTARD SAPLING
** w/DEFEATIST, ENGINEER, THE WAYWARD