an interview with Kat of Salome & Agoraphobic Nosebleed
Who has the gnarliest throat? The answer may suprise you...

Turns out the whole "big things, small packages" thing is not just a way for your family to cheat you on birthday gifts. Case and point: Kat from Salome. This pint-sized terror could scare the "grrr" off a tiger with the ferocious voice showcased on two recent releases, Salome's self-titled debut and the coming Agorapocalypse by ANb (due via Relapse on April 14th). A few weeks ago, Salome scared the pants off us at Show No Mercy and as a result, we felt it necessary to confer with said instigator using a few choice interrogatives. Check 'em out below.
How long has Salome been in existence? What were the circumstances behind the formation?
We started playing together in 2006. I met Aaron at a music store and we started talking about music and realized that we liked a lot of the same stuff. We were both interested in doing a doom type project. Rob and Aaron had played together in other bands before Salome, so we started jamming and the fit was really natural.
continued below...

How did you hook up with James Plotkin for the record?
Khanate is one of my favorite bands, so I got in touch with James Plotkin a few years ago saying how much I appreciated the work he did on their records and his other projects. We've kept in touch, and when Salome was ready to master the full length, he offered to do it for us.
The S/T dropped last year... anything new in the works?
Right now we're working on recording a split with Thou that will come out on Vendetta later this year. We're also contributing a cover song to a compilation called the Clone Project that will come out on Blinddate Records sometime this year.
Kat with Salome @ Show No Mercy (more by Justina Villanueva)

What were the circumstances behind you joining up with ANb?
Scott got a hold of a demo of mine through JR Hayes, who I met when he was still in Hissing Choir. Scott liked my vocals and asked if I'd do guest vocals on "Lost Cause" for Pig Destroyer's Terrifyer. During that session, Scott mentioned doing something with ANb, which I thought would be incredible. It took a few years to culminate, but when he was finally set to record for the split with CROM, Scott had me come in. I was nervous as fuck during the recording, but Scott seemed impressed with the work I did, so things took off after that. I got the invitation to join full time on my birthday. Best birthday present ever.
You are from the NoVa/DC area, an area rich with excellent hardcore and metal... were there any locals that inspired you?
I started singing in metal bands at fifteen, so I've had the opportunity to play with and watch some great bands.
Out of all the bands in the area, Pig Destroyer has been the biggest inspiration. When they came out with Prowler in the Yard, I listened to that album almost everyday. I love everything about that release. JR has been one of my biggest influences vocally and lyrically.
Kat with Salome @ Show No Mercy (more by Justina Villanueva)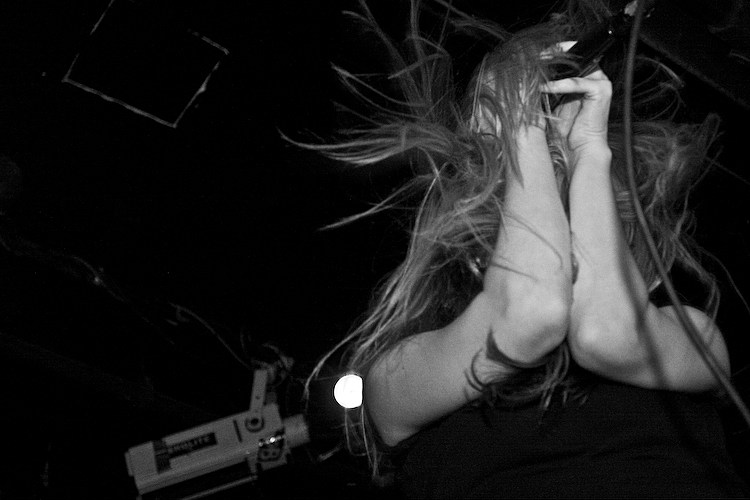 Who are you most excited to see at Scion?
I'm really excited to see Mastodon, Neurosis, and Harvey Milk. There are so many amazing bands on the roster I'm looking forward to it all.
Thanks to Kat, Aaron, and Betsey. Tune in tommorow for my final interview of the week.... Steve Brooks of Torche!
Find all the other interviews HERE.