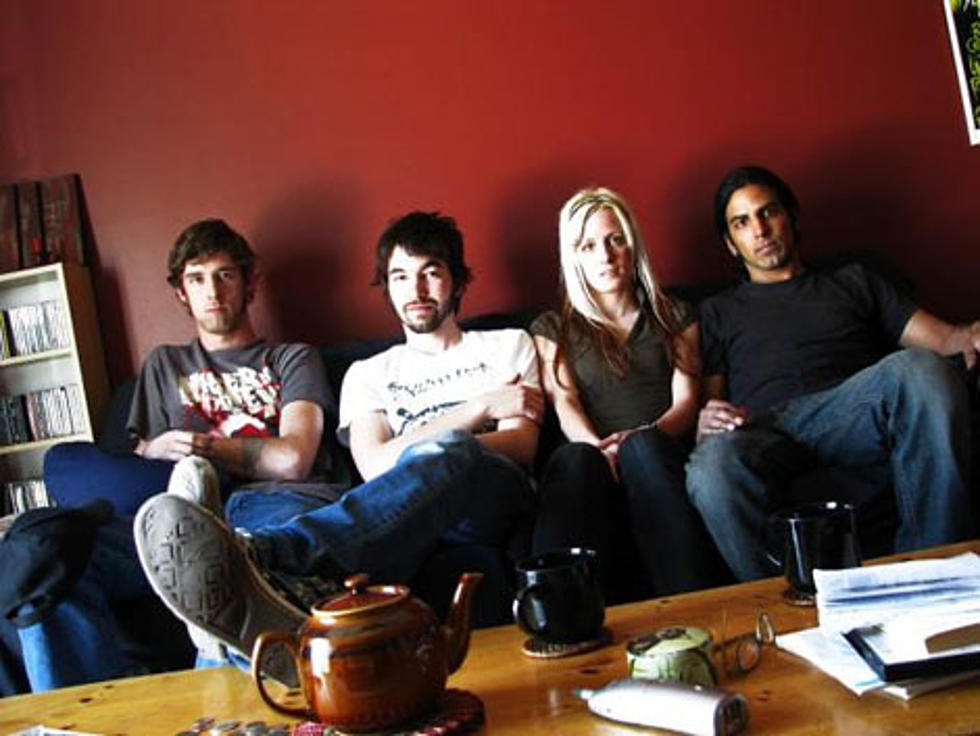 an interview with Topon Das of Fuck The Facts
Fuck The Facts 2009 (Topon Das on far right)

Fuck The Facts practice artisanal brutality. Not only do the Canadian grinders jackhammer the listener with fierce and unrelenting precision, they do it in their own abstract and punishing way. With Disgorge: Mexico a year and change in the rearview and Maryland Deathfest in the approaching distance, Fuck the Facts have prepared a new testament to pound into your cranium with Unnamed EP, a new vinyl/digital only release on presale NOW via the band. This self-released EP features a pair of re-recorded tracks (including "La Tete hors de L'eau" available above) and as well as some new joints compacted into an endlessly repeatable 11-minutes. Highly recommended!
With this awesome release on deck, I threw some questions at Topon Das of Fuck The Facts to discuss the EP, an upcoming LP, and the Disgorge Mexico MOVIE by David Hall....

===========================
Fuck The Facts live (more by Justina Villanueva)

What prompted a self-released EP?
There's really a lot of factors involved. Since the beginning of this band we've consistently recorded for a release every year. The split w/ Leng Tch'e was recorded in 2008, Disgorge Mexico was done in 2007, Stigmata High-Five in 2006, etc... The Unnamed EP is our 2009 recording. This recording was also a good test run for the next full length album (which we just tracked in January). We knew we wanted to go the route of tracking the new album entirely ourselves so doing this EP, which we're all very happy with the final sound of, made us realize we could do it. Also, just having a new release for our upcoming tour of Europe and all other places we'll be going back to, seemed like a good idea. 2 years between albums
feels like a really long time to us.
The idea to self-release it just seemed to make the most sense. We didn't 'shop' it around or anything and doing this on a tight schedule, because we wanted to have these ready for Europe, we knew we wouldn't get to do it with a label that we would have been stoked to work with. I could also say that our last couple of experiences of dealing with 'labels' made me not want to have our music released by just anyone.
Dumb question: Is the title of the EP "Unnamed"?
It's called Unnamed. The first song of the EP we call "Unnamed" as well, but it's listed as just a blank space. We often joke about it by referring to it as silence. I guess it's pretty artsy fartsy, but we're a pretty artsy fartsy band and we have no problem making fun of that shit ourselves.
You said earlier that the new album is tracked, whats the status on that release? I assume completion after your European tour and then release later this year?
We don't really know. This is all music we've been working since mid-late 2008. Three of the new songs on the EP are left-overs that didn't make the cut to the album and one song we recorded again for the full length. We consistently have something on the go, so at some point we made the decision that we would record our next album in January and we made sure not to book anything else around that time. That's why we had a 3 month break from playing shows. If we didn't do it now who knows when we could. So ya, we got the next album pretty much all tracked and it's going to be in the hands of Mr. Craig Boychuk very soon so he can start the mix while we're in Europe. We're aiming to have it completed around April/May, before the US tour, but we have no ideas of a release date. I would love to see this released by the end of the year, but we'll have to wait and see. Right now our priority is this new EP, releasing the DVD and these upcoming tours/shows we have lined-up.
What is your current status with Relapse?
We're currently still under contract with Relapse.
Underneath all of that hair... Topon Das (more by Justina Villanueva)

Are there any plans to hit the road in the US this year?
Yes! US dates are being booked now for May (around MDF). We're heading as west as Chicago then as south as Texas and across east and back up. Shit should be announced soon. We also have some tentative plans to head out west late summer/fall.
The DVD with David Hall... were you involved in the making of it from a conceptual level or was it strictly a stand alone piece that Hall worked based on his vision of the record.
Disgorge, Mexico: The Movie is basically Dave Hall's baby. He sent me a few updates along the way and I made a couple of suggestions but it's pretty much his vision of the album. I love that guy, he's crazy. The only reason I have a Facebook account is to read his status updates. That DVD will be coming out and if nothing crazy horrible happens that should be in late April/early May. It's gonna have Dave's movie and our full set from our 'Disgorge Mexico' CD release show where we played the whole album from start to finish.
Who are you most looking forward to seeing at MDF?
I'm sure it's very different for everyone of us in the band. There's so many awesome bands that I never thought I would ever see that I can't pick just one. But my tops are: Autopsy, Blood Duster, Deceased & Pestilence.
Topon Das (second from left) with Fuck The Facts (more by Justina Villanueva)

Thanks to Topon Das and Fuck The Facts! Catch them at MDF or on tour, Europeans!
FUCK THE FACTS - 2010 TOUR DATES
Mar 5 2010 Jailbreak Roma
Mar 6 2010 Atlantide Bologna
Mar 7 2010 Rock N' Roll Arena Romagnano Sesia
Mar 8 2010 Dynamo Werk 21 Zürich
Mar 9 2010 Sopa Box Bar Nancy
Mar 10 2010 De Rots Antwerpen
Mar 11 2010 Little Devil Club Tilburg
Mar 12 2010 Az Mullheim
Mar 13 2010 Alte Meirei Kiel
Mar 14 2010 1000Fryd Aalborg
Mar 15 2010 Funhouse Oslo
Mar 16 2010 Underjorden Goteborg
Mar 17 2010 Bergendalska Gården/Musikhuset Vaxjo
Mar 18 2010 Dödsmaskinen Copenhagen
Mar 19 2010 AJZ Neobrandenbourg
Mar 20 2010 Kopi Berlin
Mar 21 2010 CONTACT TO BOOK Somewhere
Mar 22 2010 Zoro Leipzig
Mar 23 2010 AZ Conni Dresden
Mar 24 2010 CRK Wroclaw
Mar 25 2010 Triangel Club Namestovo
Mar 26 2010 Bogota Ostrava
Mar 27 2010 Modra Vopice Prague
Mar 28 2010 Club Pod Lampou Plzen
Mar 29 2010 U Teutora Club Zlin
Mar 30 2010 Frankie Club Nitra
Mar 31 2010 Escape Metalcorner Wien
Apr 1 2010 K.L.E.T. Ptuj
Apr 2 2010 Pieffe Factory Gorizia
Apr 3 2010 Boulevard Cattolica
Apr 23 2010 The Alex Brantford, Ontario
Apr 24 2010 Hard Luck Bar Toronto, Ontario
May 29 2010 Maryland Deathfest Baltimore, Maryland