an interview with Laura Marling (who plays MHOW tonight)
TIMOTHY S. GRIFFIN
Laura Marling @ MHOW at BV-CMJ 2009 (more by Tim Griffin)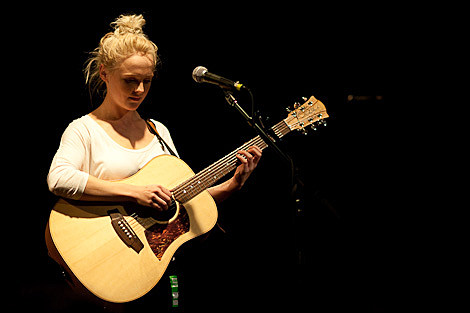 Laura Marling's current tour comes on the heels her sophomore LP, I Speak Because I Can, which came out in the US at the beginning of April. The record builds on her vigorously personal debut with songs that are measured yet fiery, taking inspiration from wartime love letters and fables, as well as fellow folkies (at a recent gig she covered upstate songwriter Jackson C. Frank's "Blues Run the Game"). The rest of the year will have Laura touring the world, playing for a second time at Glastonbury (and other high-profile UK gigs like at London's Serpentine Sessions in Hyde Park), and recording and releasing a third LP.
On this tour, Pete Roe, Laura's pianist and banjo player, will be opening with his own material from an EP due out in June (a track from it is streaming here). Also on the tour are dusky-voiced London duo Smoke Fairies. They released a single on Jack White's Third Man Records late last year (which features Jacks White and Lawrence on drums and bass, respectively), and just released Ghosts, a compilation of singles and b-sides, in the US.
Laura talked with me over the phone about her upcoming projects, tours and playing New York. That's below...

--
BV: Congrats on the new album.
Laura: Thank you.
It's gotten quite a good reception. Did you expect it?
No not at all. But it's been great. What else could you hope for?
You must have recorded it a while ago at this point. Do you feel that you've moved on?
A little bit, yes. I don't think there's way of avoiding that. You record it and you're in a particular mind set, and then once you're finished, that place or whatever you're thinking about has ended. And then I had a couple of months and then it came out, and it's nice to go back and remember what was the idea behind all the songs.
And now you're already working on the follow up?
We're recording the third one in June. So, quick succession but it's good.
Do you come in to the studio with fully formed songs? Or are they more roughly outlined - I know when Ethan Johns [I Speak Because I Can producer] works with someone like Ryan Adams they'll sometimes piece together the ideas collaboratively.
They're pretty fully formed and demoed and arranged already, or at least that's how we did the last one. And that's how I'm planning to do this one. Ethan works his magic on them once you get them into the studio with the band, but this next album will be more just me and him working on it as a smaller project. All the songs are written and kind of arranged already.
What's your plan for this upcoming tour as far as a band? Last time you toured the US you picked up Nathaniel Rateliff to play as your band.
That was really fun, playing with those guys, because I think the band is phenomenal as is Nathaniel. But this time around we have a different sort of band called the Smoke Fairies and they're from England - we are using their bass player and drummer and then I've got two permanent members of my band.
In the past you're played with Mumford & Sons quite a bit.
They've been very kind to me, the two boys Marcus and Ted, who've played with me for a very long time before Mumford and Sons took off really nicely. But they're so busy - if I had my way, they'd be my permanent band forever and ever, but unfortunately they write really good songs, and they're a really good band.
Does collaborating come naturally to you?
I'm not all that good at explaining myself, which can be frustrating I think for anyone coming in and having to play what people have played before. But it is fun because every type of musician brings a different style. It can be a little bit frustrating as well because you just start to jell with a couple of musicians and it just starts to get good, and then you say goodbye and there's new musicians. It can be a bit heartbreaking.
You've been playing in New York for a couple years now. What is your favorite place to play in New York City that you've played so far?
I played Music Hall of Williamsburg, a Brooklyn Vegan thing actually [for CMJ 2009] - for me, being a Londoner, everyone says that Brooklyn the place to be. That was fun and hanging out in Brooklyn after that was really fun. Because I'd never seen that side of New York, I'd always stayed in Manhattan, so I thought I was missing something and that was my first real time hanging out there. There were achingly cool places that we definitely were not cool enough to be in. It's got a really nice vibe about it. There's so many young people there, it's lovely.
What was the first time you visited New York like?
The first time I was 17. And we were staying on Avenue A and we played at Sidewalk Cafe , and that was really fun, you know, it felt like I was on a film set the whole time. It took me a while to understand New York, but now I get it. I totally understand what's so magical about it.
Did it live up to your expectations?
The first time I went there I was a bit overwhelmed and lost. I didn't know anyone that could show me around. But since I've been back a few times and gotten to make some friends there, it's always very exciting.
What kind of things have been inspiring your songs lately?
I've been touring for a couple of months now, so I have a lot of travel and then a gig. So I've had a lot of free time to read and catch up on films. A lot of new music that's been...I don't know. Everything is sort of influential in a way. I've been touring with this girl called Alessi - Alessi's Ark - and she's phenomenal and a really unusual person. She's got this incredible view on life and womanhood. And she's just been interesting to tour with. It's been a very good few month for thoughts and exploration.
Are there any books or anything in particular that she's turned you on to?
At the moment my boyfriend is absolutely obsessed with Steinbeck so I've been getting his hand-me-down books. Last summer I was in America, I did Grapes of Wrath and East of Eden, and I just read a couple of short stories and The Pearl.
What are you most looking forward to in your upcoming months of touring and recording?
Hmm...I am really looking forward to seeing parts of America I haven't seen before.
Which in particular?
Like...Florida, Phoenix and Georgia, and Portland, Oregon.
Laura Marling - Rambling Man Later...with Jools Holland April 30th, 2010

Laura Marling - Goodbye England (Covered In Snow) Later...with Jools Holland April 30th, 2010

Laura Marling - Devil's Spoke Later...with Jools Holland April 30th, 2010

thanks Laura! Check her out at one of the following shows....
Laura Marling - 2010 Tour Dates
May 13 - Blue Flowers NYC @ Music Hall of Williamsburg Brooklyn, NY
May 14 - City Winery New York, NY
May 15 - Johnny Brenda's Philadelphia, PA
May 16 - IOTA Club & Cafe Arlington, VA
May 18 - The Earl E Atlanta, GA
May 19 - 3rd & Lindsley Nashville, TN
May 21 - Warehouse Live Houston, TX
May 22 - Central Presbyterian Church Austin, TX
May 23 - The Loft Dallas, TX
May 25 - Larimer Lounge Denver, CO
May 26 - Kilby Court Salt Lake City, UT
May 27 - Neurolux Boise, ID
May 28 - Doug Fir Lounge Portland, OR
May 29 - Sasquatch George, WA
Jun 3 - The Guardian Hay Festival Hay On Wye, Hereford, UNITED KINGDOM
Jun 26 - Glastonbury The Park Stage, GB
Jul 1 - Serpentine Sessions London, Hyde Park, UNITED KINGDOM
Jul 3 - Hop Farm Festival Tonbridge, Kent, UNITED KINGDOM
Jul 16 - Latitude Southwold, Suffolk, UNITED KINGDOM
Jul 27 - Great American Music Hall San Francisco, CA
Jul 28 - El Ray Los Angeles, CA
Jul 31 - Splendour in the Grass Festival Woodford, QLD, AUSTRALIA
Aug 2 - Metro Theatre Sydney, NSW, AUSTRALIA
Aug 4 - Hi Fi Bar Melbourne, VIC, AUSTRALIA
Aug 7 - The Gov Adelaide, SA, AUSTRALIA
Aug 8 - Capitol Perth, WA, AUSTRALIA
Aug 22 - Green Man Festival Brecon Beacons, Wales, UNITED KINGDOM