An interview with Carl Porcaro (Breakdown '87 / Killing Time / Kings Destroy)
Carl with Kings Destroy at Saint Vitus, July 2011 (more by Fred Pessaro // BBG)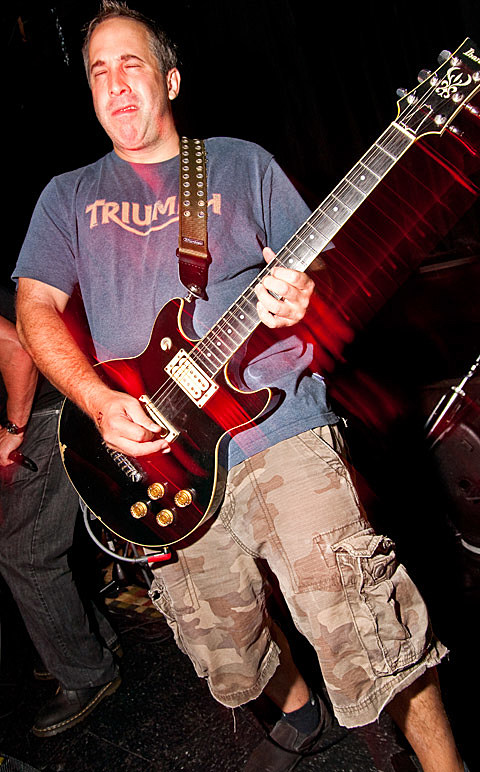 It goes without saying that Breakdown's 1987 demo will go down as one of the most important releases in hardcore. The band's toxic brew of negative hardcore and metal influenced legions of fans and bands, eventually spawning hardcore as we know it today. If you haven't heard it, make sure and pick up a copy when the demo is released on vinyl for the first time ever via 540 Records.
The 1987 lineup splintered in the years that followed, with member Carl Porcaro going on to form what would eventually become Killing Time. Having played Chaos in Tejas and This is Hardcore earlier this year, it isn't till now, 25 years after the fact, that the demo lineup is resurfacing to play their first NYC show on Saturday at Public Assembly (12/22). Look for supporting slots from Long Island hardcore favorites Incendiary, as well as The Last Stand, Get Involved and Shell Shock. Tickets are still available.
With this monumental reunion on the horizon, we cornered Breakdown guitarist Carl Porcaro about the reunion as well as about Killing Time and Kings Destroy. The results of that conversation are below.

---
Breakdown (not a recent picture)
Why did Breakdown decide to finally reunite after such a long time apart? What was the impetus for reunion and what was it like to get together and practice again as the original line-up?
The seeds of the reunion were planted on Facebook with a shared joke between Drago and Jeff on a mutual friend's post. What started as "what if we..." quickly turned into a "when are we gonna start. The original band recorded that demo and played no more that 15 shows before it all blew up over some shit which seems pretty trivial this far in the rearview mirror. I guess we felt like we still had some shit to do. Jeff's band The Slumlords had broken up, Killing Time had gone fairly quiet, and Don was free and game for it and the next thing you know we were playing Chaos in Tejas and This Is Hardcore.
There were a few interviews back in the day where members of Breakdown decried straight edge in NYHC as a bandwagon. Because Breakdown didn't identify with the Youth Crew/edge bands that were popular in NYHC at the time, did you feel ostracized?
Good question. The truth is that we didn't feel ostracized at all. If you were to look at the shows we played in those early days they were with Gorilla Biscuits, Uniform Choice, Side By Side, Youth Of Today, Underdog, Slapshot, etc etc. Hell Ray Cappo even helped us get our first gig at the Pyramid in NYC which was a big deal because we had already played out of town like 10 times and no one was booking us at home. We we're inspired by a lot of the same bands and hung out together at the same shows with all the sxe guys. It wasn't that we were big drinkers or partiers or anything; we just didn't identify as straight edge. As a whole we're a cynical bunch of dudes and the earnestness and the whole ra ra ra "we're a crew" thing just didn't resonate with us. So why were we calling bandwagon? Imagine getting into hardcore in the mid eighties where there were lots of influences being traded and a lot of variety and then when the straight edge thing took hold the whole thing started to become codified. You'd go to a show and there would be 5 bands playing the same riffs with the same lyrics, same sneakers, same blond dyed crewcuts, same sweatshirts and the same intolerable preachy banter. Wasn't our trip.
Kings Destroy at Saint Vitus, July 2011 (more by Fred Pessaro // BBG)

What influenced you and helped you create the songs on that demo? What bands drive you currently in your new project Kings Destroy?
Breakdown's sound was like a multi car pile up of our influences at the time which included the heavy metal and thrash metal that we grew up on, the punk and hardcore we started to discover in the mid 80's, the hip hop and graffiti culture, and most importantly the NYHC scene. From the very first time we stepped into a CBGB matinee the fuse was lit on what we we're gonna do. We were helped along by the fact that we had to work within our limitations as young musicians and that our goals were really simple at the time; to get the band on the CBs stage and get the crowd to kick off!
With Kings Destroy, we have been at this for so long that loads of different influences creep in. A reviewer recently described what we do as "genre defiance" To me it's quite simple though. It starts with the obvious like Sabbath, Priest, Maiden, Frost etc., is tempered with the anger and energy of NYHC such as AF and The CroMags, and then reinvigorated by seeing the likes of Melvins and Sleep in the early part of the '90s to give you an idea. Lars's from Get Involved! described us as a hardcore band with all mosh parts. Kinda makes sense as we are a slave to the slow, heavy riff but we are equally addicted to creating moods and atmosphere and trying to put our own creative stamp on things from a lyrical and melodic standpoint. Our second record "A Time Of Hunting" comes out next year.
Carl Porcaro

Even thought the 87 demo lineup has already played at Chaos in Tejas, this is going to be your first show back in NYC. BkWhat are your expectations for Saturday? What are you most looking forward to about it?
I'm not sure what to expect, but what I am hoping for is to see the place packed with both old heads and younger kids having a great time and making things get crazy. I'm psyched to see some old friends and also to give the new kids a chance to see these songs played by the guys that originally wrote and recorded them.
So now that you guys are continuing to perform as the original demo line-up, what can we expect from Breakdown in the future? Where does this leave Killing Time and your current project Kings Destroy?
We are going to continue playing Breakdown shows as long as people want to see it and as long as we continue to enjoy doing it. After this gig, we have plans to play Providence in February and then maybe Europe in the spring. Kings Destroy will be releasing a new album and touring a lot in 2013 including a spot on this years "Day Of The Doomed" fest. Nothing planned for Killing Time but never rule us out. See you on Saturday!