an interview with Shirley Manson of Garbage who just played two NYC-area shows (pics from The Space at Westbury)
Gregory R. Cristman
"Now's the time, kids! Go for it!" - Shirley Manson
Garbage @ The Space at Westbury 10/23/2015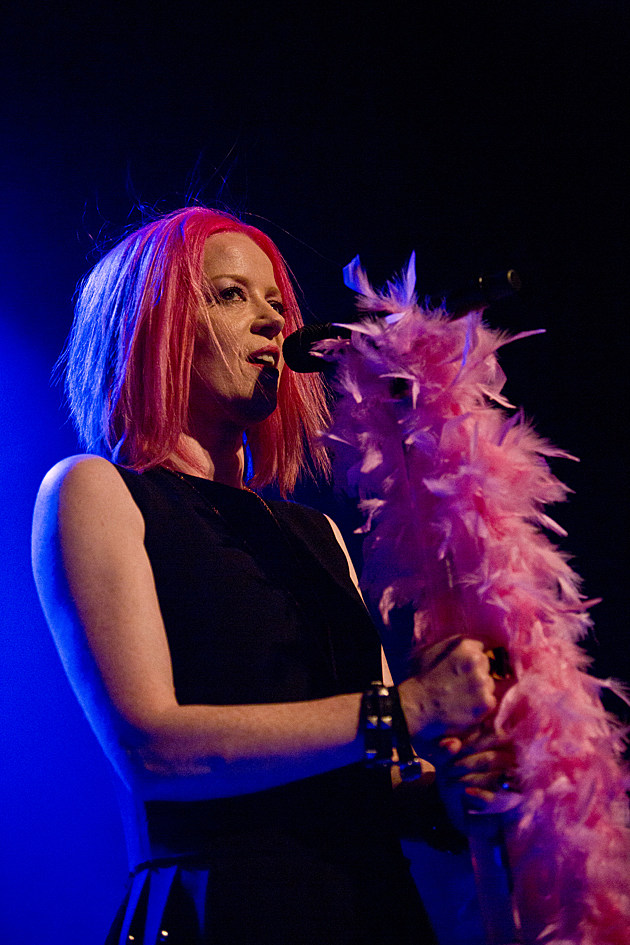 In the two decades since their eponymous debut, Garbage have had no qualms with remaining one of the post-grunge era's most anomalous bands. Industrial, techno, electronica, trip hop, grunge - the descriptors for Garbage make for a long list that has and continues to challenge and enamor audiences to a degree that few bands from that same era have managed to maintain. The band's tour celebrating the 20th anniversary of Garbage just swung through NYC, hitting The Space at Westbury on Friday (10/23) and Brooklyn's Kings Theatre on Saturday (10/24). Photos from The Space show are in this post along with an interview with the band's vocalist, Shirley Manson.
Shirley views their successes with equal parts pride and careful scrutiny. For the Scottish singer, actor, and producer, context is as crucial to understanding as accolades, perhaps even more so as retrospect allows for a clearer view of experience. It's a point Manson was eager to discuss during our recent conversation over the phone, and one in which she unsurprisingly approached with disarming self-awareness and laughter.
BV: It's been twenty years since Garbage released its self-titled debut. There's a lot that's happened in the meantime, of course, both professionally and personally for you. Looking back to who you were in that context, do you see the album and the music under a different light now?
Shirley: Absolutely. I think I view the music differently now than I did back then. When we first released this record I had no objectivity at all. It was something that we had just finished making, and I had very little self-esteem at the time, but since then my relationship to music has changed, my view of it has changed with the course of time and the luxury of being able to look back and appreciate the music on its own terms without my coloration that it suffered under in 1995. [Laughs.]
more interview and photos below...

---
Garbage @ The Space at Westbury 10/23/2015

You mentioned the luxury of retrospect, and obviously twenty years provides a wealth of maturity and, as you said, that objectivity. Is that professional and personal maturity something you see as having a profound influence on your change in perspective?
Well, it's arguable whether it has occurred. I'm not sure that I'm very mature, actually. I wish I was. [Laughs.] You know, I think when you do something for long enough, and when you put in the work and all the hours, and you do it for the sake of doing it as opposed for any other sort of external affirmation or praise or attention; when you just simply do something for a long time, you create a basis which you can stand. As an artist that is a good privilege. To create your own solid ground is phenomenal, and I certainly didn't have that in 1995, and it took me a long time to even get to a point where I felt like an artist. I didn't even feel like a musician for a decade, and yet I'd been making music since I was fifteen. I mean, that's really fucked up. [Laughs.] But then eventually I did it long enough, and with that experience comes confidence, and that changes how you relate to music, and how you relate to the world. It becomes a prism through which you can see everything.
Going along with transition and changes in perception, the music industry is something you've always been very vocal about and with good reason. Given the enormity of changes that have happened in the context of how we access and even create music now as opposed to twenty years ago, from your perspective are we still in the same shitshow or have things improved at least somewhat for artists in terms of success?
We're definitely all in the same shitshow. That's a given. [Laughs.] Those are the murky waters of life, but in terms of the industry, in some ways I think it's a lot harder for young musicians now to be heard and make a scene and attract a loyal, long term following, because there's just a deluge of music and ideas and thoughts that we're bombarded with every single day through social media and the Internet. So in some ways I think it's harder. What I think is easier, though, is once you've actually managed to make a dent into the world's consciousness, you can blow up to such alarming proportions. It's this massive distribution machine at your disposal that takes large things and makes them even larger to the point where they're almost omnipresent. That wasn't there in the 1990s when we came out, and we had to do the work and travel all over the world just to basically make an impression in each country. Now you can basically stay at home and can play a gig, and it gets broadcast all over the world simultaneously, and you can touch people in ways that you couldn't back then.
Thinking about your decision to walk away from the industry just a few years ago and the fact that a significant part of that was your disenchantment with the industry, was there something in particular that compelled you to enter back into the fray, so to speak? Was there a dynamic within the industry that changed enough to make you feel more comfortable as an artist?
The dynamic of the music industry is the same. You have a bunch of businessmen exploiting the desire of musicians to play music. That remains the same, and it will never change. That's life, and we just have to get our heads around that. It's a very exploitive industry, and it preys on creative minds. You get the occasional businessman in a band or as a musician, but in general, creative minds are not the best business people, so in some regards they need to partner with business if indeed they want to sell records or reach a large audience. It's an agreement you step into knowing full well that you're getting in bed with the devil, and I don't think that will ever change. It hasn't changed since the beginning of the music industry back in the '20s and '30s, so why would it ever change? It works for a lot of people. When we stepped away from the plate it was a result of a lot of things. Yes, the music industry had changed, and I was very aware of that, and I was really aware of my lack of understanding of it, because we had been in bubble for a decade touring the world. I had no grasp on what was going on in the street or the culture. I understood that, and I knew that was to our peril, so we stepped away. We didn't think it would last as long as it did. The hiatus lasted six years. I lost my mother in that time, and I ended up doing a TV show, and before you know it, your life has moved on and a lot of time has passed. Once we did step back in to play together again, it was for pure reasons, and we had rid ourselves of all our obligations, and in a lot of cases the obligators had gotten rid of us, so it all worked out fine in the end. Now I feel more free than I probably ever have. We have our own record label. We won't have to deal with a lot of the music business industry types. We have a very small team we hired who we trust and think are very special people, and we can operate pretty much clear of any interference which is a really lovely place to be.
In thinking about that freedom and the mindset of creative liberation, it's hard not to look back to the debut album and that time period in the context of those perceptions of female artists and how they were marketed to listeners and how or if those perceptions have changed even minutely in twenty years. Having witnessed that firsthand yourself, do you see any progression in the context of how we view and value female artists, or are we simply using different terms for the same stereotypes?
I think my generation when we came out in the 90s, as a result of our mothers' endeavors, we were all of the mindset that we had to push, and I'm talking specifically of female artists of my peer group. I think all of us grew up understanding that we had to push. That is was possible for us to get ahead in the world, but we need to push, and we did. As a result, we managed to break through a certain glass ceiling that had existed up to that point, and all of a sudden you were hearing voices from women who were not playing the traditional female role in the music industry. That was incredibly exciting, because we had grown up with mothers who hadn't enjoyed the same amount of freedom that we had, and we were all very aware of how unbalanced the world was. Then I think our generation started to breed, and young women grew up looking at these incredibly empowered women, and they took for granted their rights and their freedoms. Particularly in America and Europe, I think women enjoyed a certain period of freedoms that they'd never enjoyed up to that point, but then this new generation started refusing to identify with feminism and refusing to identify with the problems that still existed in our culture. They were either uneducated or chose not to look at the fact that women were getting paid less than men to do the same kind of jobs, and they were expected to look a certain way, act a certain way, and so on and so forth. I think that's why we're seeing right now what seems like a reversion back to the 1950s in terms of how women are presenting themselves in the public forum. I think they've misunderstood and mistaken what rights are, and what they actually mean, and how quickly they can be taken from you. I think they took it all for granted, and now they're all flipping out. Now all of a sudden there's a reversion where it's cool to be a feminist, and every pop star on the planet is falling over themselves to align themselves with feminism, which is wonderful. I don't care how we get there as long as we get there, but it's kind of amusing. [Laughs.]
You've been fairly vocal when it comes to the valuing or devaluing of artists and music, specifically with how our current culture tends to dismiss or simply remove itself from the responsibility of paying for the art we enjoy. With that, are there aspects of how we access music now that you see as a possible benefit for artists?
I've made it very clear right from the start I don't agree with stealing music, and I don't agree with how artists are paid with regards to streaming music. I think it's absolutely outrageous what's going on, but again that's been happening since the beginning of time surrounding talents that don't have definitive monetary values attached to them. Music is so abstract, and people need it like they need oxygen, but over the past twenty years, the connection between actually paying for music and enjoying music has been completely broken, and now we have an entire generation who just don't believe they should have to pay for music because it's like oxygen. [Laughs.] When Napster first reared its ugly head, everyone was so desperate to fall over themselves to look cool and look like they were in the know, and everybody supported Napster as they were coming in and reaching into musicians' pockets and stealing from them. Nobody blinked an eye. Nobody gave a fuck. Nobody stood with musicians. Lars from Metallica who attempted to take the action to court was vilified, and now twenty years on where it's beginning to impact movies, television, and photographers, and fashion designers, and so many other things, everyone's speaking out, but it's too fucking late. [Laughs.] There's nothing really that I can think of that can be done about it. I vaguely hope that Apple can slowly start to readdress the balance as they have, or at least certainly when Steve Jobs was at the helm. He was very keen to assist artists, and I hope at some point the legal world will suddenly pay attention and act to protect musicians, but until that point it's just a free for all.
One thing that always comes to my mind with that is the fact that music's history has always shown that some of its most significant paradigm shifts have been born out of challenges, whether it be something like the homogenization we're seeing now or the resistance against generational obligation in the 1960s. Being a significant part of what happened in the mid-90s when the music scene was sort of undergoing another identity crisis, do you see a similar setting now for that same kind of revival in creativity?
[Laughs.] Well, I do hope so. I keep saying that to everybody, whispering in really dramatic terms, "The stage is set. It's a perfect time for a band who's got the right message to come in and clean up," because bands have become almost obsolete, and yet there's something so incredible when you have a bunch of people coming together and doing something collectively. It's powerful. It's romantic. It's like a little microcosm of the perfect society in a certain way where everyone compromises and tries to sit together, and that's incredible. We see so few bands now because they're not economically viable for the record labels, but regardless they still come, they still form, and they still do exciting things. Sooner or later I think there's gonna be a band that comes in soon to really shake things up, because things have gotten so homogenized and so bland and so unchallenging in a way. Everybody wants to fit in, and nobody wants to fluster anyone or ruffle anyone's feathers, and it seems like now's the time. Now's the time, kids! Go for it! [Laughs.] Whatever comes now would have to frighten people like us, like you and me. It would have to be something that scared us and challenged us, and I can't even begin to conceptualize what that would be, but in order to really connect with the youth, it's gonna have to be something that you and I don't particularly want to look at our listen to, and I don't know exactly what shape that will be in. It's gonna be something we've never seen before. It's gonna be something multicultural and political. It's exciting.
more photos of Garbage @ The Space at Westbury 10/23/2015
SETLIST: Garbage @ The Space at Westbury 10/23/2015
Subhuman
Supervixen
Queer
Girl Don't Come
As Heaven Is Wide
The Butterfly Collector (The Jam cover)
Not My Idea
Driving Lesson
Milk
Fix Me Now
My Lover's Box
Sleep
Vow
Dog New Tricks
A Stroke of Luck
Only Happy When It Rains
Stupid Girl
#1 Crush
Encore
Kick My Ass (Vic Chesnutt cover)
Trip My Wire
Cherry Lips (Go Baby Go!)
Push It