an MP3 from Damian 'Pink Eyes' Abraham's side project Millenial Reign & 2 sets of Fucked Up pics from Austin
words by BBG, photos by Andrew Frisicano
Fucked Up at MWTX, 3/20/10

A389 Records have released their new label sampler, downloadable to one and all, with some fierce and antisocial hardcore, a good portion of which is currently unreleased. The free comp features faves like Integrity, Pulling Teeth (the previously discussed "Grudgeholder") Gehenna, Ringworm, Seraphim (we posted one track, a second appears on the comp), Gluttons (the previously posted "Point Break"), The Love Below, Triac, Hatewaves (we posted one track, includes a second hilarious track "Facebook Abuser"), Oak... the list goes on and on. Download it now with the code "A3892010".
One of the more notable bands (that I didn't just rattle off) from that compilation is the Fucked Up side project known as Millenial Reign:
After five years of promising each other that they would start a "clevo" style band [ED: as in Cleveland hardcore like Integrity, Ringworm, Pale Creation, etc] one day, Jordan (ex No Warning) and Damian (Fucked Up) finally just said fuck it and did it with the help of Jesse (ex No Warning). This band is about old friends getting together and playing heavy music again.
The project is not a new one though. According to A389 label head (and Pulling Teeth guitarist) Dom who said that the recording "was supposed to come out years ago on another label but fell through the cracks." Download the first Millenial Reign track from the forthcoming Bones... Dust... Nothing 7" above.
Fucked Up at Beerland (3/18)
Fucked Up at MxTx, 3/20/10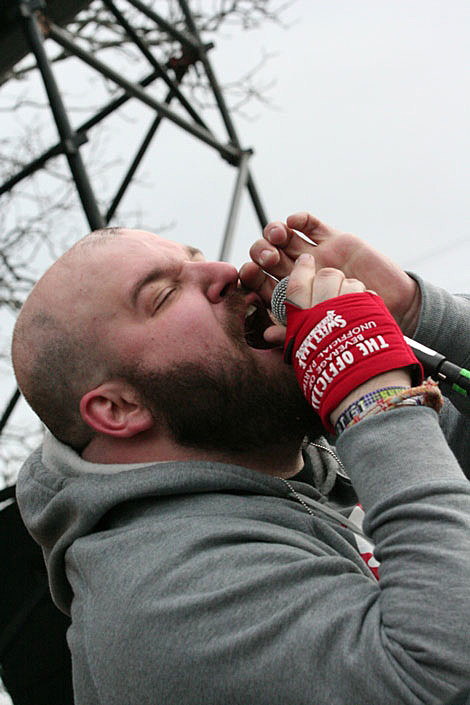 The Gwar pictures from this show are HERE.