Andrew Bird playing w/ John Wesley Harding, Wesley Stace released a book, David Wax Museum heading to SXSW
John Wesley Harding and Eugene Mirman at LPR in 2009 (more by Tim Griffin)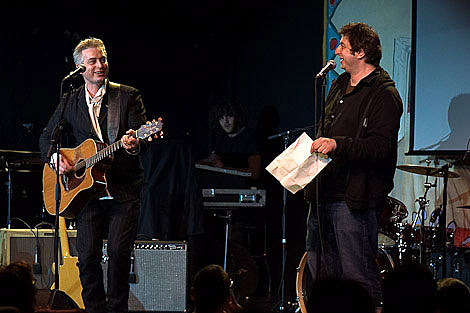 "I wanted to bring together my novel writing friends (who mostly envy my musician friends) and my musician friends (who mostly envy my novel writing friends) under one flag," says John Wesley Harding. "Then add Eugene Mirman and his comedians of comedy... The fact is: I like everyone who's performing.
Novelist/singer-songwriter John Wesley Harding brings his Cabinet of Wonders back to City Winery on March 11th. Joining him in his quest for the perfect variety show will be an all-star lineup featuring Andrew Bird, David Wax Museum, Paul Muldoon, Tift Merritt, Daniel Felsenfeld & The Jessold Consort, Eugene Mirman, JWH, Jonathan Coe and Kristin Hersh. A little more than a month later, he'll do it again with another show at City Winery on April 22, this time featuring "Rick Moody, Eugene Mirman & more". More details on that one TBA.
In between (and before) those dates, John Wesley Harding AKA Wesley Stace will do readings in and around the area, including one on 3/10 at Book Court in Brooklyn and one on 3/17 as part of a panel at LIO in Brooklyn. He'll be speaking about Charles Jessold, Considered as a Murderer, his new book. Maybe you read about it in the New York Times:
WESLEY STACE'S new book, "Charles Jessold, Considered as a Murderer," is both a murder mystery and a novel about classical music, with a character who sometimes assumes another identity. Mr. Stace, an enthusiastic, donnish Englishman with an honors degree in English literature from Jesus College, Cambridge, and a head stuffed full of historical trivia, is an expert on both double lives and music. Improbably, he is also John Wesley Harding, an Elvis Costello-like singer-songwriter and folk rocker who has released more than a dozen records and is cool enough to have enlisted most of the Decemberists as the backup band on a forthcoming album.
Eugene Mirman talks with Stace about the book in a video you can watch below. Eugene Mirman can also be found at Union Hall in Brooklyn this Sunday, 3/6.
The David Wax Museum, who recently played their own show at City Winery (and who are part of John Wesley's Cabinet on 3/11), will also be at SXSW where you'll be able to catch them at a BrooklynVegan day party right at noon on Friday, 3/18 at Barbarella on Red River. Stay tuned for more details on that party coming shortly (but I can say it is the same one Middle Brother is playing later in the day). More David Wax dates at their website.
All Stace & Andrew Bird dates are below...

--
Eugene Mirman talks with Wesley Stace about Charles Jessold, Considered as a Murderer

JOHN WESLEY HARDING - 2011 TOUR DATES
March 3 Los Angeles, CA Central Library (reading)
March 4 Portland, OR Live Wire! Radio At the Alberta Rose Theater (radio)
March 6 Portland, OR Powell's Books (reading)
March 9 Boston, MA Newtonville Books (reading) With Jonathan Coe
March 10 Brooklyn, NY BookCourt (reading) With Jonathan Coe
March 11 New York, NY City Winery (Cabinet of Wonders)
March 12 Metuchen, NJ The Raconteur With Jonathan Coe (reading)
March 22 Philadelphia, PA Free Library With David Levithan (reading)
April 15 Chicago, IL Lincoln HallBuy (concert)
April 22 New York, NY City Winery (Cabinet of Wonders)
May 7 Moorestown, NJ Jen & Dave's (concert)
June 17 Brooklyn, NY Long Island U. Brooklyn Campus (Panel)
--
Andrew Bird - 2011 Tour Dates
Mar-11 City Winery (as part of John Wesley Harding's Cabinet of Wonders), New Your, NY
Mar-17 Teatro de la Ciudad Mexico City, MX
Mar-31 Bailey Hall @ Cornell University Ithaca, NY
Jun-24 Wanderlust Vermont Bondville, VT