Andrew Bird played 2 shows at Rough Trade w/ Tift Merritt (pics, setlist from early show)
photos by Caroline Harrison
Andrew Bird @ 6/7/2014

Andrew Bird played two sold out shows at Rough Trade on Saturday (6/7), marking the beginning of his tour supporting Things Are Really Great Here Sort of, his new short LP comprised of Handsome Family covers. I caught the early show and pictures from that set are in this post.
Singer-songwriter Tift Merritt pulled double duty as both the opener and a member of Andrew Bird's band, and did so with aplomb. Her powerful, husky voice easily grabbed the attention of the room as she played through her set, which included a cover of "Train Song" by Tom Waits.
Andrew Bird's set was a nice balance of old favorites and Handome Family songs. Bird often closes his eyes as he plays, appearing to channel energy he had been using on vision into listening. Bird and his band gave off the easy energy of a group of close friends and their casual banter was a charming match for the surprisingly intimate venue. Bird closed out the night with and encore of "Don't Be Scared," a Handsome Family tune he'd covered for Weather Systems a while back, as well as "Tables & Chairs." The full set list is below.
The night before (6/6) Bird played BAM as part of RadioLoveFest on 360 with Kurt Anderson. Tift Merritt will be back in New York playing "Americanafest" at Lincoln Center Out of Doors on August 7 which is a free show. Andrew Bird will be back even sooner with the Hands of Glory at Central Park Summerstage on July 8 which is also free.
Pictures from Tift Merritt's set, plus more from Bird's, below...

---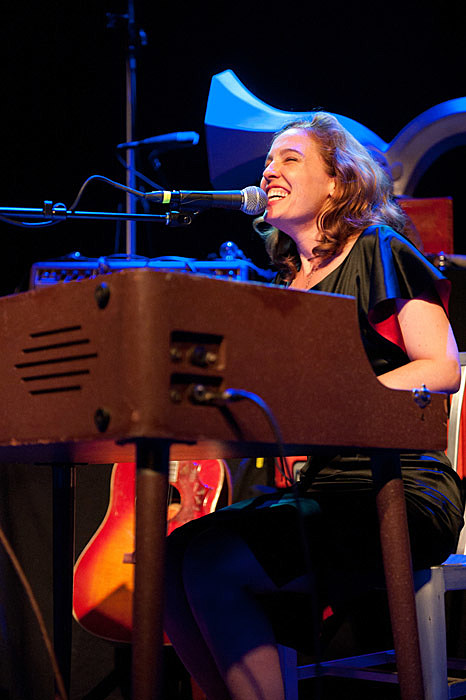 SETLIST: Andrew Bird @ Rough Trade 6/7/2014 (early show):
Dyin' Bedmaker
Give It Away
Cathedral In the Dell (Handsome Family)
Tin Foiled (Handsome Family)
Dear Old Greenland
Far From Any Road (Handsome Family)
Frogs Singing (Handsome Family)
Near Death Experience
Drunk By Noon (Handsome Family)
Three White Horses
Pulaski At Night
Danse Caribe
Don't Be Scared (Handsome Family)
Tables & Chairs