Andrew Bird, Questlove, Thundercat, Kim Gordon and others played the 'Night of Improvised Round Robin Duets' (pics)
Gregory R. Cristman
"A night of Round Robin improvs and Julia Holter just adjusted her sheet music??? #undeadjazz #redmusicacademy" - Bill Bragin
"James Chance. You too with the sheet music?" - Bill Bragin
Andrew Bird & Joe Lavano / Kim Gordon / Julia Holter & Thundercat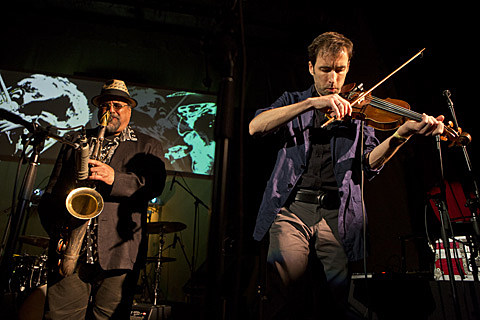 The Red Bull Music Academy NYC residency continued last night (5/1) with the sold-out Night Of Improvised Round Robin Duets, which went down at the Brooklyn Masonic Temple. The night featured a ton of incredible performers, including (in order of appearance) Jameszoo, Questlove, Matana Roberts, Mary Halvorson, Thundercat, Julia Holter, Kim Gordon, Dosh, Roy Hargrove, James Chance, Kim Gordon, Andrew WK, Bernie Worrell, Glenn Gotche, Erik Friedlander, Vijay Iyer, Robert Glasper, DJ Spinna, Don Byron, Andrew Bird, and Joe Lovano. Pictures from that night are in this post.
Many of the performers have other upcoming Red Bull Music Academy events (or non-RBMA shows) in NYC too. Kim Gordon plays tonight (5/2) at Knockdown Center in Queens as one half of the duo Body/Head with Bill Nace. Other artists on the bill include Stephen O'Malley, Prurient, Vatican Shadow, Hunter Hunt-Hendrix, Noveller, Mick Barr, Pharmakon, Pete Swanson and many more. That show appears sold out is back on sale.
The "Night of Improvised Round Robin Duets" also doubled as part of the Undead Music Festival, which includes another Andrew Bird and Martin Dosh show on Saturday (5/4) at Shapeshifter Lab, where he'll be playing as a duo with Martin Dosh. The rest of that bill includes Jeremy Ylvisaker and Todd Sickafoose. Tickets for that are still available.
More pictures from the "Night of Improvised Round Robin Duets" below...

---