Andrew WK adds dates, guesting on Greg Barris' "Mind Warriors"; Fred Armisen & more doing 826NYC benefit
Greg Barris (photo via Michael Alex Newman)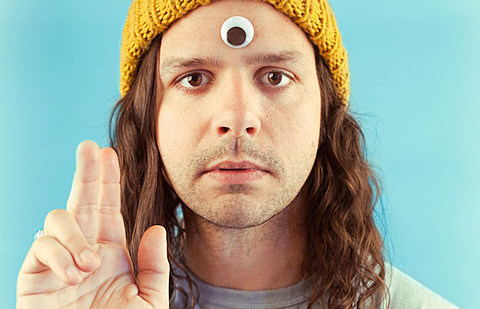 Comedian Greg Barris is a busy guy. He's co-hosting the Doctors Without Borders benefit at NYC's Irving Plaza on November 19 (tickets) and, among other things, started a new series/podcast this year called "Mind Warriors" which mixes science and laughs:
Mind Warriors: Bringing you the most cutting edge information from the edge of the universe (that's two edges). Mind Warriors is a comedic, science interview show hosted by Greg Barris that delves into the spiritual and scientific research and practices of each guest Mind Warrior with a question and answer session at the end with the audience.
The next edition of "Mind Warriors" happens at Brooklyn's Union Hall on January 11 with Andrew WK as guest. Tickets for that are on sale now. The first "Mind Warriors" video is below.
Andrew WK is busy too, playing a solo show at Knitting Factory on November 22 (part of their Fifth Anniversary celebration), and will be with Marky Ramone's Blitzkrieg at Gramercy Theatre on January 17. He'll also be on WNYU on December 11 at 4PM for a " live radio interview and party DJ set!" so mark your calendars. Updated AWK schedule is listed below.
And in related funny/smart news, there's a benefit for 826NYC (the nonprofit that promotes creative and expository writing skills) at The Bell House on December 8 with Eugene Mirman, Reggie Watts, Sarah Vowell, Fred Armisen and more to be announced. Tickets are on sale.
Reggie Watts also plays The Bell House on Friday (11/7) as part of the NY Comedy Fest, and then later in the evening at The Blue Note.
Andrew WK dates -- including New Year's Eve in Chicago -- are listed, along with the first episode of "Mind Warriors," below..

---
Andrew WK - 2014 /2015 Dates
November 22, 2014 Brooklyn, New York Knitting Factory Solo Music
December 11, 2014 WNYU 89.1 FM New York WNYU
December 19, 2014 Corpus Christi, Texas House of Rock Solo Music
December 26, 2014 Amityville, New York Revolution Bar & Music Hal Solo Music
December 27, 2014 Howell, New Jersey GameChangerWorld Solo Music
December 28, 2014 Boston, Massachusetts House of Blues Solo Music
December 29, 2014 Poughkeepsie, New York The Loft Solo Music
December 31, 2014 Chicago, Illinois Thalia Hall Concerts
January 11, 2015 Brooklyn, New York Union Hall Other
January 17, 2015 New York, New York Gramercy Theatre W/ MARKY RAMONE
February 2, 2015 Miami to The Bahamas ShipRocked Cruise Concerts