Animal Collective Terminal 5 TIX, Bowery pics & recordings
photos by J Caldwell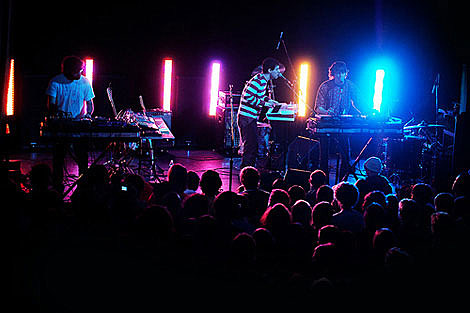 Tickets are on sale at noon for the May 13th Animal Collective show at Terminal 5 in NYC. The date is part of a much larger tour.
Animal Collective played Grand Ballroom in NYC on Tuesday night. Grab a live recording of the show HERE. They played Bowery Ballroom one night later. Grab the live recording from that show HERE.
Since our last Bowery post, J Caldwell wrote in with some more pictures of the show. More of them below...


and pictures from Grand Ballroom HERE.
All tour dates HERE.
Animal Collective @ Bowery Ballroom - setlist (via)
01 Also Frightened
02 My Girls
03 Blue Sky
04 Slippi
05 Leaf House
06 Summertime Clothes
07 Guys Eyes
08 Lablakley Dress
09 Fireworks
10 Lion in a Coma
11 Brother Sport
12 [encore break]
13 Winters Love
14 Comfy in Nautica
Animal Collective @ Grand Ballroom - setlist (via)
01 In The Flowers
02 Leaf House
03 Blue Sky
04 Guys Eyes
05 Summertime Clothes
06 Daily Routine
07 Lion in a Coma
08 Lablakely Dress
09 Fireworks
10 My Girls
11 Brother Sport
12 [encore break]
13 Banshee Beat
14 Slippi