Announcing the BrooklynVegan/Power of The Riff/Southern Lord/Thrasher Official Showcase at SXSW 2012
by BBG
Black Breath at Santos (more by BBG)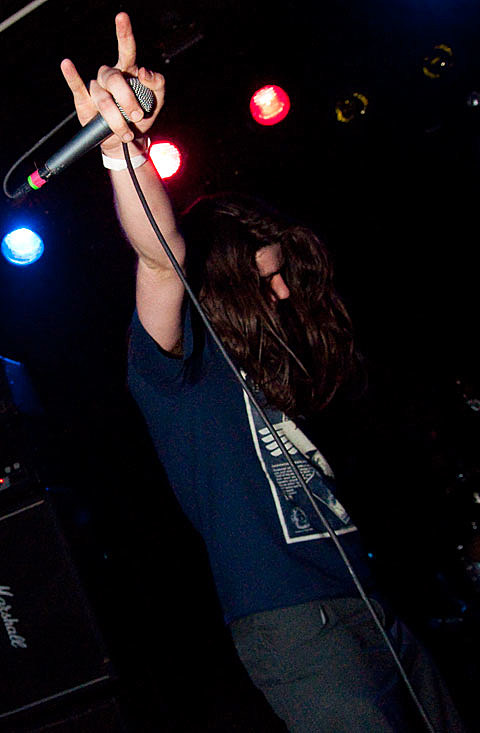 Just to be clear, in addition to many day parties (some at Hotel Vegas), BrooklynVegan is presenting THREE official SXSW showcases in Austin this year. Two are still unannounced (Tuesday and Wednesday night). Here is info on the third...
After the sun goes down on the BrooklynVegan/Power of The Riff day party at Converse/Thrasher Deathmatch (literally and figuratively), BV, POTR, Thrasher and Southern Lord will begin preparations for our OFFICIAL SXSW showcase that Friday night at the same venue! Starting at 7PM, look for appearances from:

Scoot Inn on Friday night (3/16)
Black Breath (their only SXSW appearance!)
Ringworm
All Pigs Must Die
Narrows
KEN Mode
Young and In The Way
Enabler
That's right, the ONLY time you can catch Black Breath during SXSW is at Scoot Inn on Friday night (3/16)! So get to Scoot Inn early and stay all day and into the night for the party! Set times are forthcoming.
Black Breath are currently gearing up to release their new LP Sentenced To Life via Southern Lord on 3/27. Stream a new track, "Mother Abyss" alongside a bunch of video from some of the other bands at the official showcase, and the flyer, below...

--

Black Breath - Mother Abyss

All Pigs Must Die April 2, 2011 The Barbary Philadelphia, PA

Ringworm August 12, 2011 The Starlight Ballroom Philadelphia, PA

Narrows FULL SET (The Smell 10.14.2011)

KEN MODE live at Hellfest 2011

Young And In The Way January 21, 2012 Sonar (A389 VIII Bash) Baltimore, MD

Enabler @ Blind Bob's - 1/14/12