another interview w/ Dan Boeckner of Wolf Parade and Handsome Furs
"For me the most depressing, the worse thing, that has happened with Wolf Parade, is how the media pit me and Spencer against each other."
Dan Boeckner (Wolf Parade) @ Terminal 5 (more by Kyle Reinford)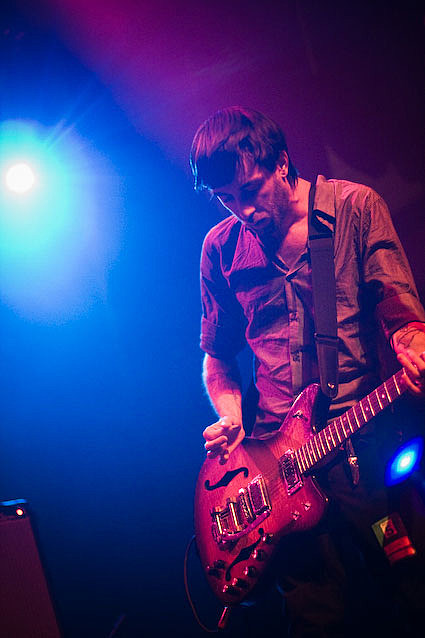 We first spoke with Dan Boeckner from Wolf Parade two years ago. He had just had a rough set and a kerfuffle with a mid-90s college act. Last year we caught up with him again - that time with Alexei Perry and we talked Handsome Furs. Another year has passed and the ever prolific Boeckner (and the rest of Wolf Parade) are back with a new record called At Mount Zoomer. We spoke with Dan AGAIN - this time after Wolf Parade's biggest Montreal (August 3rd) show to date (a show that was still smaller than the two NYC shows they played a few days earlier). We talked about the NYC shows, the record, the upcoming Furs record, Fine Young Cannibals, and those persistent Dan/Spencer rivalry questions.
Before we talk Wolf Parade, I just read online that there is already a title for the new Handsome Furs record?


Dan: It's called Face Control, which is a policy of entry into clubs in Russia.
"Face control is practised at the doors of many upmarket Ukrainian/Russian nightclubs and is similar to dress code regulations enforced at many western clubs. The major difference is that potential patrons are judged by their attractiveness, as well as what they are wearing. If you hear the words, 'Sorry, members only' it usually means they think you're a minger." [visitkievukraine.com]
I heard about it before but I thought it was an exaggeration. I think the western media likes to exaggerate how chaotic Russia is. But it's actually true. When we went over there, there was this policy of face control which basically means certain clubs charge a deposit of anywhere from a hundred to, one top end club we heard of was charging, fifteen thousand dollars. This is a deposit you don't get back - more like a donation to the club to reserve a VIP table. Everyone including the depositees are subject to face control. If you don't look good enough according to the bouncer, you don't get in, deposit or no deposit. There is a really famous bouncer there who denied Russia's top model three times three years ago.
Plus I just like the way the name sounded. It also reminds me of a mirror I saw in Taiwan that just said "face secret." We've been working on it with Arlen [Thompson] and it's quite a bit different from the last one. I don't know, maybe once it comes out the media can tell me what it is. I honestly thought we made a pop record last time and apparently we did not. It's dark, but it's more uptempo.
If you count Montreal as the band's hometown, is this [Metropolis] the largest [approximately 2300-capacity] audience you've played here?
I think so, besides Osheaga, this is the largest. Unless you mash together the four Sala Rossa shows but even then I think it comes up short.
When we first spoke two years ago, you said in passing that because of the sound problems you faced at Osheaga that as a band you decided to stop doing festivals and focus on smaller venues. And now, coincidently, you are competing against Osheaga..
We played the Sup Pop 20th anniversary festival which actually wasn't a lot of people. It was a pretty small affair. And that was actually the best festival we played. I like the idea of festival outside, a rock show outside, but I kinda feel that at things...I mean, how many times can you fucking see Jack Johnson? And furthermore, does Jack Johnson do anything else except play festivals? There are a lot of bands that just do the festival circuit because the money's really good. I think the guarantees that some bands are asking for are fucking ridiculous and sooner or later this bubble is gonna burst. Every year there's another festival. There's like three of four festivals in Seattle this year. It's a lot of the same bands. And I don't fault bands for playing them. The money is good. People gotta eat, right?
In a way, it cheapens the performance. It's a conveyer belt. The sound is gonna be shit. It's usually union sound men. You get shit like Prince going overtime at Coachella and costing something like ten thousand dollars a minute in union fees and he went forty minutes over. I don't know if that's true, but I do know he had to give back some of his guarantee. It kinda restricts your freedom. You are gonna play for a lot of people. I think I would still rather play indoors for a smaller audience.
About the new record, there was a couple of things I was fascinated by. The first is the press release, which read unlike any press release I've seen. I'm not sure if it was a concerted effort to cut "sophomore slump" talk at the pass or what. There was this kind of mood to it that stated "this isn't going to be the album you expect. Deal with it."
If there was any sort of gerrymandering of the press release, it was that we decided to get Matt Derby, who has been a longtime fan of Wolf Parade and a big supporter of us when we started, to write it. We wanted somebody who was a fan to write it. I remember buying this album New Plastic Ideas by Unwound, which was an early Kill Rock Stars band. They put out their second record, third if you count their demo tape, and they're all like 20 years old and they got this 1960s style effusive glowing writing on the band in the tape and it got you really excited to listen to it. I kinda wanted Matt to do the same thing. We thought the [new] album was so weird and different from Apologies that we didn't want to apologize for the thing we just put all of this work into.
Try as you might, the media is always going to find a way to cliché the record, you know? It's either the sophomore slump of the "difficult" second record.
Yeah, but they don't call it the difficult second record, they call it a "brave depature," which is equally bullshit. It's just a way to sell records. So we thought why don't we get this guy whose a screaming big dude at the front of the stage at our early shows and have him write what it was like to see us then and his impressions about the record now. We didn't tell him to write anything.
I'm curious about the sound of the record, production wise. I remember reading an interview with either you or Spencer that stated the band preferred some of the original e.p and demo versions over the final [Apologies to the Queen Mary] versions because they were rougher. I agree, but on this record, there is a very clean sound. Was that because you settled into that sound or you thought it was needed for this record?
I think it was more like, for like a song like "Fine Young Cannibals," the idea was like very, very clean. Warm, but clean and spacious. Whereas the songs we were writing for Apologies needed to be more dirty and that was a bit of a struggle.
So playing the new songs live off and on for the past year, do you guys still stand behind that decision? You obviously can't keep it clean on stage.
No [you can't], and that's a really important thing with this band. Me personally, I believe we are a live band and the capture of those songs are in their infancy when they're recorded for the record. We're very careful with them and they're tense in parts. I think it works for the record. But live, they breathe a bit more and are a bit more chaotic. People are going to see a rock show, if they're going to pay twenty dollars or whatever it is to see Wolf Parade, and they deserve to see the songs in a different context. I know it sounds simple and arbitrary and stupid but I really believe that's true. You come and see a rock show, you're gonna see the humans that made you pay twenty dollars to see them on stage but you kinda deserve to hear something slightly different then the album.
A lot was made last record about constant references to snakes and trees and ghosts but that hasn't really occurred yet with Zoomer. How would you characterize the songs on the record?
I don't think there was any overreaching theme on this record. My songs...thematically [are] in a certain bubble. I'm really obsessed with urban environments and ways of living and geography. I'm not concerned with personal relationships. It's something I really got out of my system with the last Handsome Furs record. Spencer will do what he does.
So what exactly happened with the whole mess involving the title of the record?
Basically what happened was I was on tour with the Furs, Spencer was on tour with Sunset or at home, I can't remember, Arlen was in Montreal. We were all spread out. I kept getting these emails from Sub Pop constantly like "decide on an album title now." And in all fairness, we really should have come up with an album title sooner. We tried. We wanted to call the album "Fine Young Cannibals" but Roland Gift wrote us a very terse, but polite email saying that people would be confused and that many fans would think that Fine Young Cannibals have a new album out called Wolf Parade. It's possible and it's fair. And their first record was self-titled. So that was out.
We were emailing back and forth. Spencer brought up Kissing The Beehive as a title. So we're like, "this is a potential title," we weren't a hundred percent on it yet but it is something we could all agree on. Pitchfork Media, according to Sub Pop, had been pestering them for about a month with like "what's the fucking album title? WHAT IS IT?" [laughs]. I don't know if Sub Pop is exaggerating but I do believe Pitchfork called multiple times so Sub Pop said "it's Kissing the Beehive" and Pitchfork said "ah ha, this fucking album title is terrible." in that classic Pitchfork self-reflective bitchiness. So I was really disappointed with that.
But they did love the album cover.
Which is very nice. We were gonna stick with Beehive until we found out that a writer Jonathan Carroll had written a book called Kissing The Beehive which no one in the band had read or heard of. On his blog he wrote "Wolf Parade named their album after our book" and we were like "no we didn't." [laughs].And we thought it would be a good idea to change the album title.
One of the rumors was the whole name mess was a way to prevent piracy.
No, that had nothing to do with it. We knew it was going to be pirated. Actually, that was an argument we had with Sub Pop at the beginning of the album's release. We asked "what is the point of giving the album promo copies to print media when the internet reviews are going to come out way before print media?" As long as it takes to write the physical review of the record, it's up, you know? They said "we have to do this." We had to battle this press cycle which is par for the course. And of course they sent it to either Under the Radar or one of the other ones and the dude fucking leaked it. He claimed his internet server was compromised. I wasn't surprised but I was disappointed. Me and Arlen thought this record should be released to the press and to the public at the same time. When we do another record, that's the way it's gonna have to be. Generally, any time a record is leaked, it's print media. I don't get it.
I'm not saying print media is irrelevant because some, like Spin, have tried to adapt. They'll do a four page interview with Bradford Cox from Deerhunter just because they like his stuff and want to show a window into his world. It's a very good read. I don't understand why record labels need to give Rolling Stone or Spin or Under the Radar first dibs...not to shit on those publications, but because it's just gonna happen anyway we might as well just release the albums at the same time to press as to the public.
I'm sure you've read or heard people picking sides between you and Spencer. Some message boards you'll see things along the lines of "I LOVE Wolf Parade but I don't like Dan's songs" or "I don't like Spencer's songs."
For me the most depressing, the worse thing, that has happened with Wolf Parade is how the media pit me and Spencer against each other. Spencer and I are very different people. We're not different ideologically but we're different in how we behave on stage, our presentation of stuff, songs, art. We're really close friends. We're basically like brothers. We have our arguments but we're very close to each other.
There's been this pitting of me against Spencer. Spencer's side against my side. My side is "bone-headed, blue collar, roots thing. Real gruff" [laughs] and Spencer stuff is "baroquely precise songs," you know? There are musical differences between us but to pit us against each other? We're in the same band. We work our asses off to get to some kind of agreement as to what comes out. It's a total labor of love.
This is just to be a devil's advocate, but couldn't you say that at some level you guys antagonize this non-feud? The first record was split down the middle as is this one, with one song co-written. Band democracy never works that well, you know?
Maybe, but I think that Spencer and I have really strong personalities and this band would not work if the scales we tipped in any one direction or the other. And this conversation downplays what Hadji and Arlen and Dante brings to the band. I'm not saying you are but at the end of the day somebody is gonna sit down with a piece of paper and write the music and somebody is going to sing the bulk of the song.
Is it something that is ever talked about in the band?
It totally gets talked about.
I felt great about that show. The first night was pretty good and the second night was probably one of the best shows we've ever played in the short existence of this band. It felt great to feel connected to that many people. As the sizes of the venues go up, the intimacy is lost. We're not cartoon performers. The only thing that has bummed me out about playing bigger venues on tour is playing Live Nation venues. I have to play them because they got 60% of the U.S sewn up but when a venue is going to take 30% of your gross off the top, the machine of live nation. I wish there was a way to avoid it.
It's funny because 30 years ago, most of those venues were run by the mob but now it's corporations.
That's true. Wolf Parade has played a few mob run venues in Montreal [laughs].
Wolf Parade - I'll Believe in Anything

No Wolf Parade dates right now, but Handsome Furs have some...
Handsome Furs - 2008 Tour Dates
Tuesday, August 19 - Skullys, Columbus OH
Wednesday, August 20 - Howard's, Bowling Green OH
Thursday, August 21 - Crofoot Ballroom, Pontiac MI Pike Room
Friday, August 22 - Lees Palace, Toronto ON
Saturday, August 23 - Mavericks, Ottawa Canada
Saturday, August 30 - Lucky Bar, Vancouver Canada
Sunday, August 31 - Richard's on Richards, Vancouver, BC