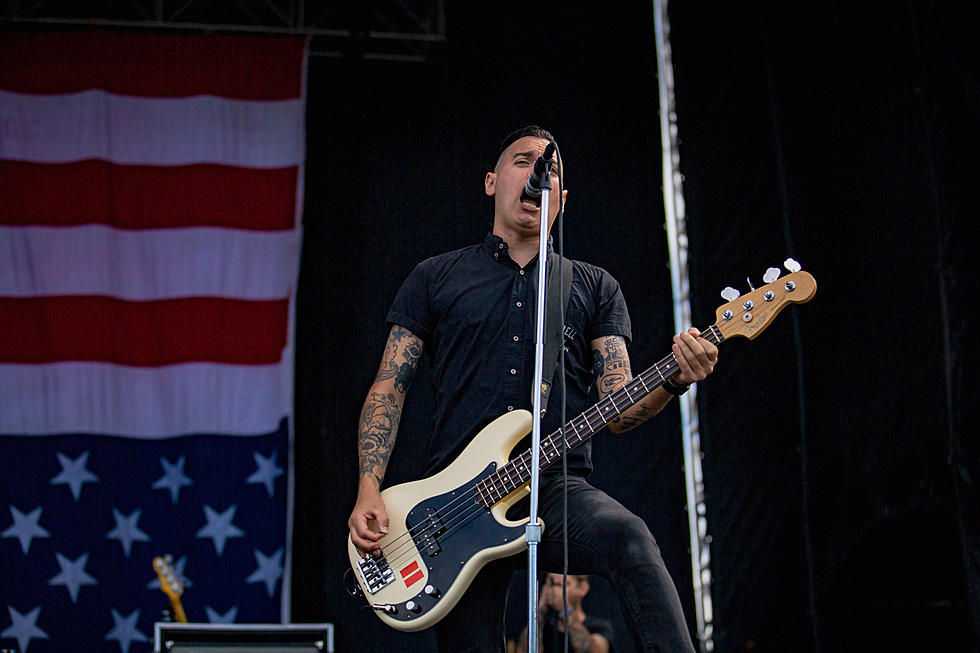 Ahead of the show, we caught up with bassist/vocalist Chris #2 to ask what music he's been listening to lately, and he included both new Anti-Flag singles, plus two of the bands opening their 2020 tour (Grade 2 and Grumpster), a few A-F Records bands (Homeless Gospel Choir, Russian Girlfriends, Rational Anthem), and other stuff like Control Top, Queen Zee, and Dream Nails. Read on to see his full list with commentary on each song choice.
20/20 Vision drops January 17 via A-F Records/Spinefarm (pre-order). Anti-Flag will also be in the NYC-area for an in-store/signing at Long Island's Looney Tunes on Wednesday (10/30) and an Asbury Park show on 3/17 with Grade 2 and Doll Skin (tickets). All tour dates are listed below.
WHAT CHRIS #2 (ANTI-FLAG) IS LISTENING TO
No Future. No Rights.
Songs of 2019 and the quest for empathy.
Been listening to the mixes of his new album as we work to finish it for this year. You're not privy to it all yet, so just listen to "Normal" in the meantime and prepare yourselves.
https://www.youtube.com/watch?v=6mWJWFnn5Z0
Rational Anthem - "Welcome to Paradise City"
Quintessential example of punk rock in 2019. Creating art for the paramount right reason, because they have to.
Anti-Flag - "Hate Conquers All"
There's this thing that happens when you make a record, you completely embed yourself into it, you write the song and work endlessly to get out the version that's in your head, then you vivisect that recording time make sure it's ready for human consumption. Then, you never listen to it again. I'm closing in on that final stage.
Grumpster - "Tunnel Vision"
I am in love with this band. Or perhaps I'm just in love with the feeling of optimism and hope for our shitty scene that I get when I listen to them. Do yourself a favor and do the same.
This is just cool. I've always had an affinity towards great English songwriting and the grit that accompanies it, perhaps it's the kinship between our hometown/steel town/working class Pittsburgh, PA and the hustle of so many similar English towns. Either way, this sound/aesthetic hasn't been done this well in a very, very long time.
Control Top - "Office Rage"
The first song on their perfect record. The Cure meets Joy Division meets Noam and Zinn.
Russian Girlfriends - "Redfield"
Story tellers letting the world into their world. Brilliant metaphors that shine a light on their part of the scene, how the view looks from there, the work of it all.
Incredibly timely and lexicon changing songs. Just uncontainable coolness, and a laundry list of other adjectives to describe the kind of art you just want to be around so that on the slim chance some of their creativity rubs off on you.
Dream Nails - "Corporate Realness"
Perfect song. Perfect band. Perfect humans. If you listen to this record when it's out, if you follow their socials, see them live, any of it. They'll become your favorite band.
Anti-Flag - "Christian Nationalist"
Always kind of blown away by Justin's ability to take words that should be literally impossible to sing, and then he somehow turns them into huge hooks. This one is no different. The NRA is the KKK. Fuck White Supremacy.
Anti-Flag — 2019/2020 Tour Dates
10/30 West Babylon, NY @ Looney Tunes (in-store and signing)
10/31 New York, NY @ Mercury Lounge SOLD OUT
11/08 Los Angeles, CA @ House Of Machines SOLD OUT
12/17 Erie, PA @ Basement Transmissions
12/20 Chicago, IL @ Reggies
01/08 Lisboa, PT @ RCA Club
01/09 Madrid, ES @ Caracol
01/10 Vitoria, ES @ Kubik
01/11 Zaragoza, ES @ Sala López
01/12 Barcelona, ES @ Estraperlo
01/14 Milano, IT @ HT Factory
01/16 Zurich, CH @ Dynamo
01/17 Graz, AT @ PPC
01/18 Vienna, AT @ Flex
01/19 Prague, CZ @ Roxy
01/21 Berlin, DE @ SO36
01/22 Munich, DE @ Backstage Werk
01/23 Nuremberg, DE @ Löwensaal
01/24 Chemnitz, DE @ Talschock
01/26 Warsaw, PL @ Proxima
01/28 Hamburg, DE @ Fabrik
01/29 Köln, DE @ Essigfabrik
01/30 Haarlem, NL @ Patronaat
02/02 Brighton, UK @ Chalk
02/04 London, UK @ O2 Academy Islington
02/05 Manchester, UK @ Club Academy
02/06 Birmingham, UK @ The Mill
02/07 Glasgow, UK @ The Garage
03/12 – Montreal, QC @ L'Astral%
03/13 – Burlington, VT @ Higher Ground*
03/15 – Boston, MA @ Brighton Music Hall%
03/17 – Asbury Park, NJ @ House of Independents%
03/18 – Hamden, CT @ Space Ballroom*
03/19 – Philadelphia, PA @ The Foundry%
03/20 – College Park, MD @ MilkBoy ArtHouse*
03/22 – Atlanta, GA @ The Masquerade @ Purgatory%
03/24 – Nashville, TN @ Exit/In*
03/26 – Cleveland, OH @ Grog Shop%
03/27 – Buffalo, NY @ Rec Room*
03/28 – Pittsburgh, PA @ Roxian Theatre*
05/03 – Columbus, OH @ A&R Bar^
05/05 – Toronto, ON @ Velvet Underground^
05/06 – Grand Rapids, MI @ Pyramid Scheme^
05/08 – St. Paul, MN @ Amsterdam Bar and Hall^
05/10 – Denver, CO @ Bluebird Theatre^
05/12 – Dallas, TX @ Dada^
05/13 – Austin, TX @ Barracuda^
05/14 – El Paso, TX @ Lowbrow Palace^
05/20 – Oakland, CA @ New Parish^
05/21 – Santa Cruz, CA @ The Atrium at The Catalyst^
05/27 – Sacramento, CA @ Holy Diver^
05/28 – Portland, OR @ Hawthorne Theatre^
05/29 – Vancouver, BC @ Wise Hall^
05/30 – Seattle, WA – The Crocodile^
* w/ Grade 2 and Doll Skin
% w/ Grade 2
^ w/ Bad Cop/Bad Cop and Grumpster