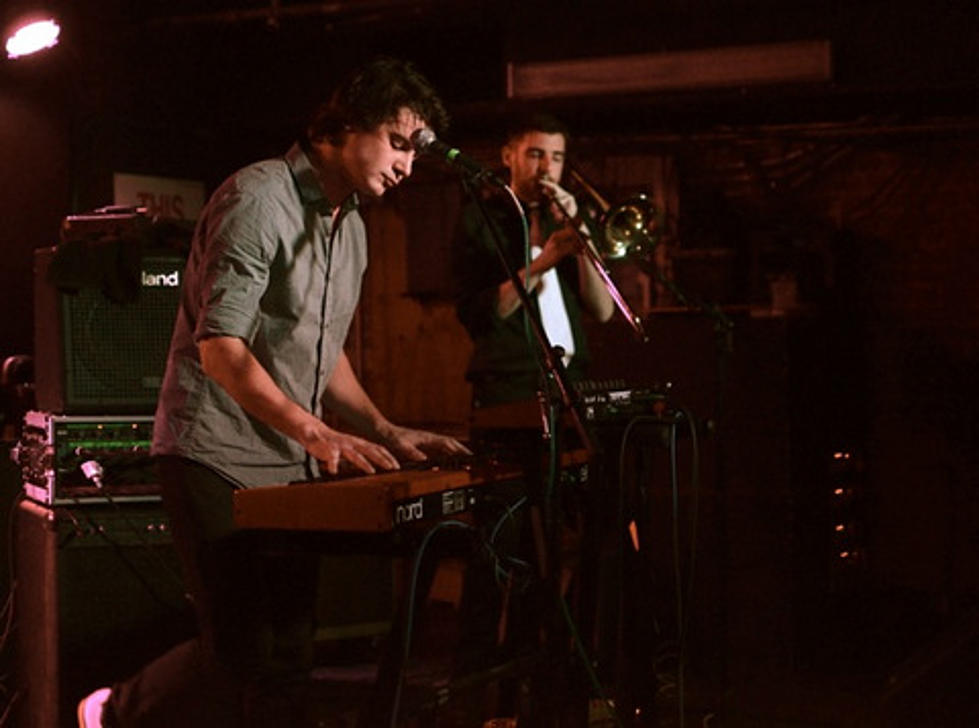 Antlers side project School of Night played Mercury Lounge, playing CMJ & other shows (dates, pics, full EP stream & video)
School of Night @ Mercury Lounge - 10/11/13

The Antlers have been pretty quiet lately because they're in the studio working on a new album, but one of the members, Darby Cicci, has been less quiet with his new side project, School of Night. His debut self-titled EP just came out this week (10/15) via Minus Green, and if you're a fan of the airy, layered indie pop that The Antlers make (or Grizzly Bear), you'll probably dig this EP too. The whole thing can be streamed, along with the video for its track "Fire Escape" (directed by Darby himself), below.
Just ahead of the EP's release, School of Night played a Mercury Lounge show last Friday (10/11), where Antlers singer Peter Silberman made a guest appearance during his set. Pictures from that show are in this post. Grand Resort opened, but we missed them.
School of Night also has more shows scheduled, including two this week for CMJ. Both shows happen on Thursday (10/17). First, he plays the I Guess I'm Floating party at Pianos (he's on upstairs at 2:30), and then he heads next door to the NYCTaper party at Cake Shop, which he plays at 4:30. Both of those shows are totally free.
All dates are listed, along with full lineups for those shows, more Mercury Lounge pics, EP stream and video, below...

---
School of Night - "Fire Escape" Official Video

School of Night - School of Night

School of Night -- 2013 Tour Dates
October 17 @ 2:30pm New York, NY, Pianos (Floating Fest CMJ 2013)
October 17 @ 4:30pm New York, NY, Cake Shop (NYCTaper CMJ Party)
October 29 Brighton, UK, The Haunt*
October 30 Bristol, UK, Exchange
October 31 London, UK, Shacklewell Arms
* - w/ Youth Lagoon
I Guess I'm Floating CMJ Party at Pianos - 10/17/13 Schedule:
Downstairs:
1 PM The Bots
2 PM TV Girl
3 PM GEMS
4 PM The Preatures
5 PM Wild Cub
6 PM Holychild
1:30 PM The Everywheres
2:30 PM School of Night
3:30 PM J Fernandez
4:30 PM The Range
5:30 PM TBA
NYCTaper CMJ Party at Cake Shop - 10/17/13 Schedule:
12:45 PM Slow Down Molasses
1:30 PM J Fernandez
2:15 PM The Moondoggies
3 PM Bent Shapes
3:45 PM Julia Weldon
4:30 PM School of Night
5:15 PM The Echo Friendly
6 PM Caged Animals