Antony and the Johnsons & orchestra played Radio City Music Hall (pics, review, setlist)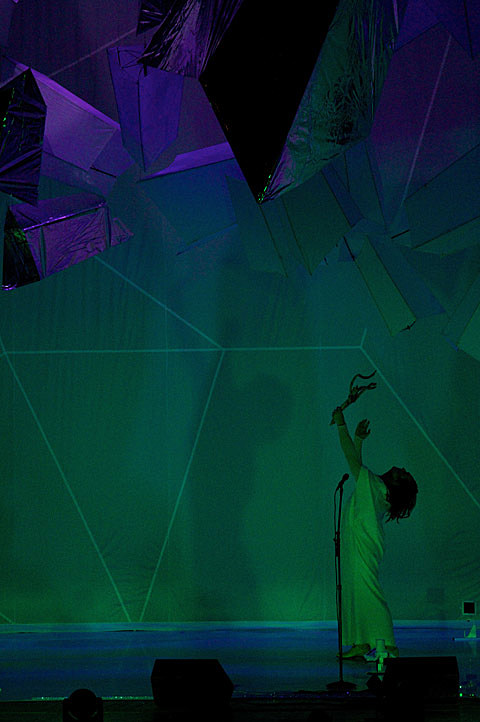 A thick cloak of darkness draped the stage of Radio City when Antony Hegarty began to sing. My eyes trained on his white floor-length robe, the only thing that shone through the fog and shadows.
With its piano melodies and strings arrangements, the Antony and the Johnsons discography is far from sonically lacking. But after hearing the opening measures of "Rapture," the aptly named first song of the evening, it quickly became clear that Hegarty's music was destined to be bigger. And tonight it got that chance, thanks to the addition of a talented sixty-member orchestra. Under the guidance of conductor Rob Moose, Hegarty's music unfurled and exploded into a host of symphonic crescendos. And soon, the darkness on stage subsided as one-by-one, the screens that blanketed the stage began to lift to reveal a dream-like installation of hanging 3D geometric shapes. A restrained laser show only added to the mystique, at times blanketing Antony in a twinkling world of colorful light.
It was that rare kind of performance that breaks your heart only to have the pieces lovingly reassembled, down to the tiniest, most tender bloody shard. Hegarty's lyrics may reveal inner turmoil, but filtered through his sprawling multi-octave voice and unflinching poise, the painful material becomes mesmerizing, life-affirming, and wildly triumphant.
Combining songs from all four Antony and the Johnsons albums and at least one EP, the set revealed the evolution of the band's music, as well as Heggarty's emotions. He even threw in a surprisingly moving rendition of Beyonce's "Crazy in Love" (slowed down and fleshed out to make it nearly unrecognizable). Hegarty powered through the majority of the set, playing some fourteen songs without speaking. But following the dramatic unveiling of the orchestra during "Her Eyes Are Underneath the Ground," Hegarty broke his spell of silence to introduce and sincerely thank everyone who helped make the MoMA-commissioned one-night event possible, including Thomas Bartlett (aka Doveman) on piano and Nico Muhly who - along with Maxim Moston and Rob Moose- arranged much of the music. "Well that's quite the bulk of the show," said Hegarty. "I'm so fucking glad. It was so ambitious, this production! It was really insane."
After the applause and laughter died down, Hegarty and his 60+ band mates signed off with two additional songs before the golden velvet curtain slowly made its descent, prompting the audience to collectively exhale before erupting into an elated standing ovation that resonated beautifully throughout the cavernous hall.
More pictures and the setlist from the 1/26 show, below...

--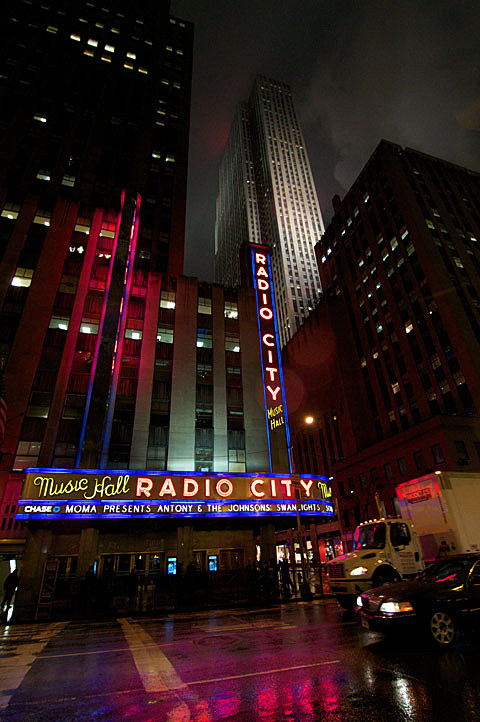 Antony and the Johnsons @ Radio City Music Hall in NYC
1/26/2012 setlist
Rapture
Christina's Farm
For Today I Am a Boy
Everything Is New
Another World
Crazy in Love (Beyonce cover)
Everglade
Swanlights
Ghost
I Fell in Love With a Dead Boy
Dust and Water
Cut the World
Cripple and the Starfish
Her Eyes Are Underneath the Ground
Salt Silver Oxygen
The Crying Light
--