Arca released '&&&&&,' interpreting it w/ Jesse Kanda at Pitchfork-presented MoMA PS1 show (mixtape download)
Arca at Le Poisson Rouge in March (more by PSquared)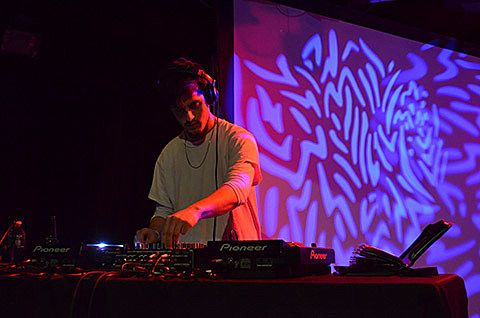 It's been a pretty incredible year for Brooklyn-via-Venezuela producer Arca. It wasn't that long ago that he was playing around the forward thinking UNO scene with CFCF, SFV Acid, Mykki Blanco (whose career has also seriously escalated), and others. Now, he's taken on the role as co-producer for hot, rising, Young Turks-signed UK singer FKA twigs, and contributed to the dark, twisted production of Kanye West's Yeezus (along with another once-underground producer, Evian Christ).
Arca's next NYC show is the just-announced Pitchfork's FORMS and MoMA PS1-presented show in the VW Performance Dome at MoMA PS1 on October 6 from 4-7 PM (not the first time he's played MoMA PS1). The show is part of the venue's Sunday Sessions, and is with London director Jesse Kanda (who also directed FKA twigs' "Water Me" video). They'll be premiering a film that interprets a section of Arca's recent &&&&&, a mix that goes through Yeezus-style darkness, uplifting wordless vocals, clamoring percussion, and more in its 25+ minutes.
The MoMA PS1 show "will feature abstract renditions of Arca's music with a vocal ensemble led by Abby Fischer accompanied by lights and a set designed by video/art collective Thunderhorse." Tickets are on sale now.
Arca's &&&&& can be downloaded above, and streamed, along with FKA twigs' "Water Me" video and Kanye's "I'm In It" (prod. Arca, Evian Christ, etc), below...

---
FKA twigs - "Water Me" Official Video (co-prod. Arca, dir. Jesse Kanda)

Kanye West - "I'm In It" (prod. Arca, Dom Solo, Evian Christ, Kanye West, Mike Dean, Noah Goldstein)