Arcade Fire & Explosions in the Sky played 'The Backyard' in Austin, Texas (Win's home state, sort of) — pics & setlist
Timothy S. Griffin
Win and Will Butler are currently visiting their birth state for a few shows. Last night (5/3), Arcade Fire and Texas band Explosions In The Sky played to a roughly-5000 capacity crowd at The Backyard at Bee Cave in Austin. Arcade Fire, who co-headlined Coachella just a few weeks ago, also played the other night with Okkervil River in Dallas, and they do it again with EITS in The Woodlands tonight, near Houston where Win grew up, a fact that has not gotten past the locals....
"Yes, we're all excited that Arcade Fire is playing the Cynthia Woods Mitchell Pavilion Wednesday night. And, yes, it's exciting that lead singer Win Butler spent his "formative years" growing up in that community which makes this -- to borrow a title from a beloved U2 anthem -- A Sort of Homecoming.

But it's time all of the greater Houston area suck on the bitter pill of reality for a moment and come to grips with a very real truth: Arcade Fire is not a band from The Woodlands.

It is not even a Texas band. It is not even an American band and anyone saying anything to the contrary must also accept the equally preposterous notion that country icon Willie Nelson hails from Vancouver, Wash., or that Madonna is British."
[says CultureMap Houston]
All upcoming tour dates (Bonnaroo included), along with pictures and the setlist from the Austin show are in this post, and they continue, along with a video of Will Butler & Marika recently singing "Take Me Out To The Ballgame" at Chicago's Wrigley field, below...

--
Explosions in the Sky...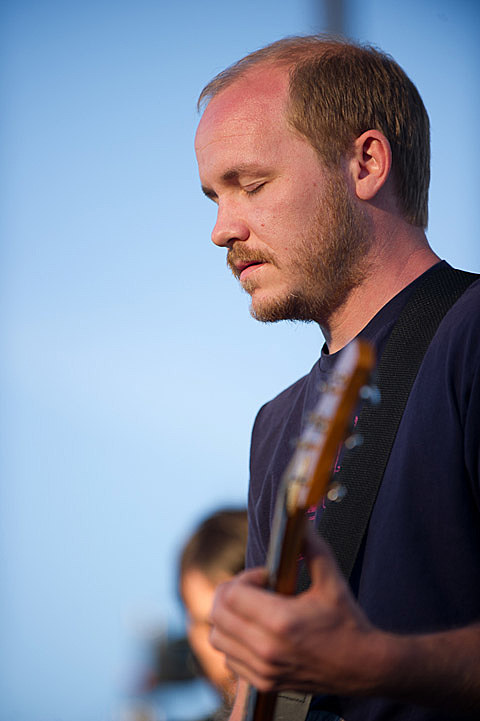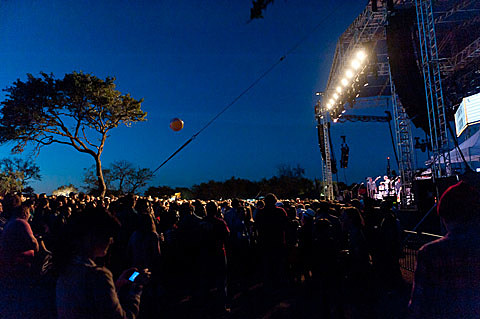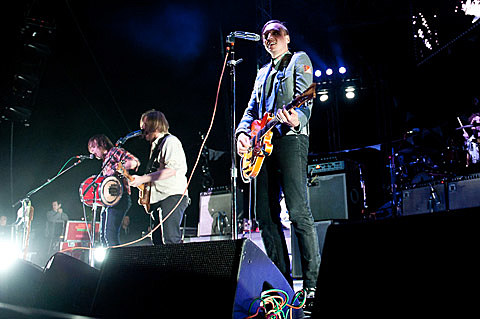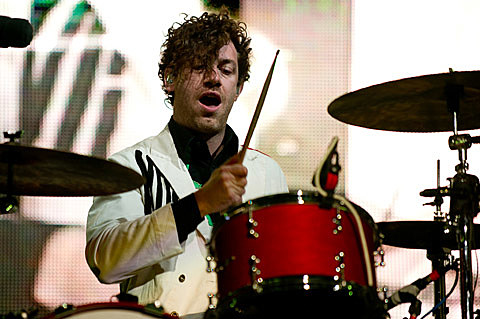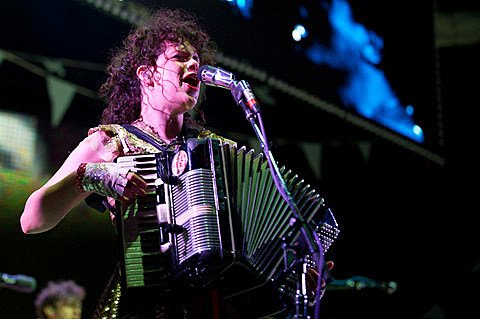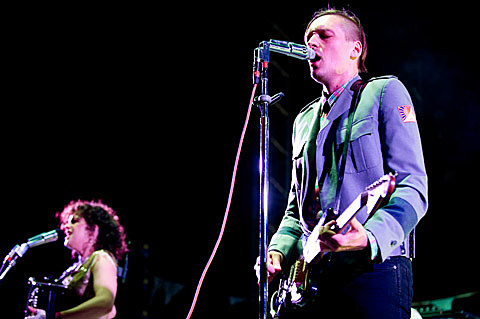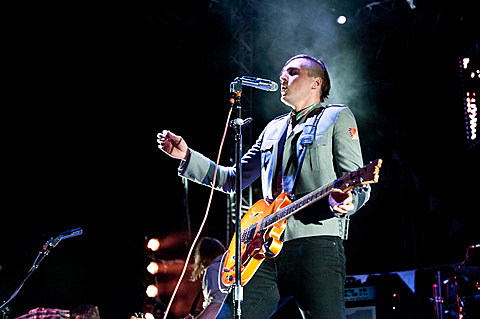 ARCADE FIRE 5/3/11 SETLIST
1. Month of May
2. Rebellion (Lies)
3. Neighborhood #2 (Laika)
4. Haiti
5. City With No Children
6. Rococo
7. Intervention
8. Suburbs
9. Suburbs (continued)
10. Suburban War
11. Keep the Car Running
12. No Cars Go
13. Neighborhood #1 (Tunnels)
14. We Used to Wait
15. Neighborhood #3 (Power Out)
ENCORE
16. Ready to Start
17. Wake Up
18. Sprawl II (Mountains Beyond Mountains)
--
Arcade Fire 7th Inning Stretch Wrigley Field

Chicago Cubs fans got a bit of a surprise on Saturday when Arcade Fire's Will Butler and Marika Anthony-Shaw (what do you mean, "Who?"? She plays violin and viola in the band, you asshole!) showed up at Wrigley Field to lead fans in a rendition of "Take Me Out To The Ballgame."

We'd say it was a "rousing" rendition, except most of the shots of fans in the stands show them swaying indifferently back and forth.

Would the response have been different if Win Butler and Regine Chassagne were the ones doing the singing? Given that Arcade Fire have prompted perplexed comments of "Who the fuck?" in the past... probably not. -[ChartAttack]
--
ARCADE FIRE - 2011 TOUR DATES
May 4 Spring, TX @ Cynthia Woods Mitchell Pavilion
May 6 New Orleans, LA @ New Orleans Jazz Festival
June 9 Manchester, TN @ Bonnaroo
June 17 Scheessel, Germany @ Hurricane Festival
June 18 Neuhausen Ob Eck, Germany @ Southside Festival
June 21 Zagreb, Croatia @ T Mobile InMusic Festival
June 22 Burgenland, Austria @ Festivalgelande Wiesen
June 24 Warsaw, Poland @ Torwar Arena
June 26 Luxembourg, Luxembourg @ Rock-A-Field Festival
June 28 Paris, France @ Le Zenith
June 30 London, England @ Hyde Park
July 2 Arras, France @ Main Square Festival
July 3 Belfort, France @ Les Eurockeenes
July 5 Milan, Italy @ Milano Jazzin Festival
July 7 Novi Sad, Serbia @ Exit Festival
July 9 Lucca, Italy @ Lucca Summer Festival
July 10 Montreux, Switzerland @ Montreux Jazz Festival
July 12 Forum Ruscino, France @ Argeles Sur Mer Les Deferlantes Festival
July 13 Bilbao, Spain @ Guggenheim Museum
July 15 Lisbon, Portugal @ Super Bock Super Rock
July 17 Benicassim, Spain @ Festival Internacional De Benicassim
July 30 Moncton, NB @ Magnetic Hill w/ U2
Aug. 27 Ballerup, Denmark @ Ballerup Super Arena
Aug. 29 Amsterdam, Netherlands @ Heineken Music Hall
Aug. 31 Manchester, England @ Manchester Evening News Arena
Sept. 1 Edinburgh, Scotland @ Edinburgh Castle
Sept. 3 Stradbally, Ireland @ Electric Picnic
EXPLOSIONS IN THE SKY - 2011 TOUR DATES
05/04/2011 Houston, TX Cynthia Woods Pavillion^
05/15/2011 Edinburgh, GBR HMV Picture House *
05/16/2011 Dublin, IRL Vicar St. *
05/17/2011 Manchester, GBR Manchester Academy *
05/19/2011 London, GBR Roundhouse *
05/20/2011 Paris, FRA Bataclan *
05/22/2011 Berlin, DEU Postbahnhof *
05/23/2011 Koln, DEU Essigfabrik *
05/24/2011 Brussels, BEL Ancienne Belgique *
05/25/2011 Amsterdam, NLD Paradiso *
05/27/2011 Barcelona, ESP Primavera Festival
05/29/2011 Bologna, ITA Rocker Festival
06/09/2011 Manchester, TN Bonnaroo
06/10/2011 Manchester, TN Bonnaroo
06/11/2011 Manchester, TN Bonnaroo
06/12/2011 Manchester, TN Bonnaroo
06/17/2011 Austin, TX, USA ACL Live at the Moody Theatre
08/05/2011 Chicago, IL Lollapalooza
08/06/2011 Chicago, IL Lollapalooza
08/07/2011 Chicago, IL Lollapalooza
08/11/2011 Oslo, NOR Oya Festival
08/12/2011 Gothenburg, SWE Way Out West Festival
08/13/2011 Gothenburg, SWE Way Out West Festival
08/19/2011 Brecon Beacons, GBR Green Man Festival
* w/Lichens
^ w/Arcade Fire