Archers of Loaf played Jimmy Fallon, Music Hall, Webster Hall (pics, video, setlists & a live recording)
Archers of Loaf @ Webster Hall

Archers of Loaf were part of a very large and very complicated tapestry of stuff I was sort of half-listening to back in the early 90s when my musical tastes started to diverge from standard metal fare. My now-imprisoned-for-probably-ever friend Bob was sort of the king of compilation tapes and he'd hand stuff off to me containing tracks by PIL, The Sex Pistols, Peg Boy, Samhain, Big Drill Car, Descendents, Dead Kennedys... whatever happened to be floating his boat at that particular moment. Archers made an appearance on these comps from time to time, and I freaking loved them, but as Bob's hobbies in life became more violent and centered around drugs and self mutilation, our hang-time diminished and as a result the compilations tapes also stopped. A lot of the bands he introduced me to became part of my daily listening library and remain a large part of what I listen to today... yet, for some reason, Archers, like other bands at the time, never stuck. I'd listen to the tapes, make mental notes to get over to Newbury Comics and get their stuff, but because of a short attention span and laziness nothing ever materialized. All I have, and still have, regarding Archers are those damned compilation tapes.
When they finally split in 1998 I was too busy finishing up college to really give it a lot of thought and attention, but I do remember having a flash of regret at never seeing them live or taking the time to amass their discography. (For the record, this isn't the only band I liked but neglected) (but this is a post about Archers of Loaf so that's who I am focusing on) (you dig?) (whatever) When I heard they were reuniting and that the reunited band would have all original members (unlike Helmet), I was beside myself. And when they announced their June 25th show at Music Hall of Williamburg, my beside self was beside itself. Everything about their MHOW show was perfection. And honestly 3 days later the show is still sticking with me. Besides sounding absolutely incredible, the crowd could not have been more active participants in the show. It was the kind of show where the place went nuts after the first 2 notes of a song and sang along to the entire thing. There wasn't a pit or anything, but the crowd was pogo-ing, fist pumping, shoving, and reveling. NYCTaper has a more fan-relatable analysis:
With a setlist that focused heavily on earlier material from the albums Icky Mettle, Vee Vee and various EPs (much of which material can be found on the compilation The Speed of Cattle) and ignored almost completely the later records All the Nation's Airports and White Trash Heroes, the band offered plenty of red meat to their most hardcore fans. Even for a Saturday night crowd, this one was going absolutely insane for their hosts, leading chants of "Welcome back! Welcome back!" as they took the stage and singing, screaming and caterwauling through the entire set. The band were so impressed with the Brooklyn crowd that they came back for a second encore featuring the non-album track "Smokin' Pot in the Hot City" and closing with "Bacteria," which was interrupted twice by a hilarious fan dancing onstage. As the house lights went up, the members could still be found onstage, high-fiving and shaking hands with the fans down front, many of whom had sung every word by heart.
For those of you who couldn't be there, NYCTaper was kind enough to record the event (with permission). The quality is pretty good and you can hear the crowd enthusiasm throughout. I hate to say it, but this event may have eclipsed GBV at McCarren; a show I prematurely regarded as the event to beat this summer.
One night before the Brooklyn show, Archers played Late Night With Jimmy Fallon. One night after Music Hall (where Guy Piccioto of Fugazi was spotted behind the merch table and Craig Finn of the Hold Steady was seen in the crowd), the band played another sold out show at Webster Hall. Both were with the great Mr. Dream (or Dr Dream as Archers bassist Matt Gentling accidentally called them).
The Fallon video, both NYC show setlists and more pictures from Webster Hall, below...

--
Archers of Loaf on Late Night with Jimmy Fallon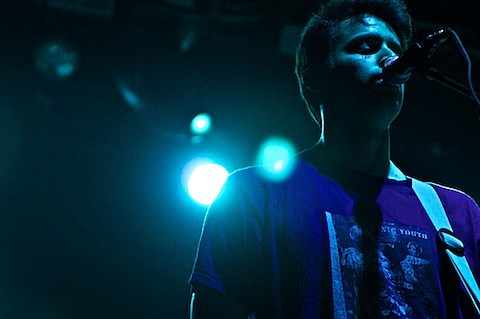 Archers of Loaf @ Webster Hall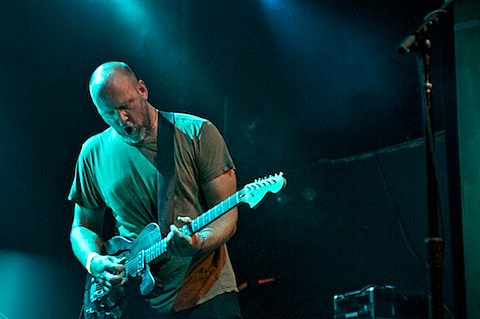 Archers of Loaf pictured setlist @ MHOW on 6/25 via Mike Dubin

PLUS:
Encore:
Wrong
Plumb Line
Slow Worm
Encore 2:
Smokin' Pot in the Hot City
Bacteria
---
Archers of Loaf setlist @ Webster Hall on 6/26
Strangled by the Stereo Wire
Wrong
Plumb Line
Nostalgia
1985
Fabricoh
Dead Red Eyes
Let the Loser Melt
You and Me
Might
Revenge
Smokin' Pot in the Hot City
Greatest of All Time
Lowest Part Is Free
Freezing Point
What Did You Expect?
Web in Front
Slow Worm
Encore:
Step Into the Light
Audiowhore
Harnessed in Slums
All Hail the Black Market
Encore 2:
Scenic Pastures
Form and File
-