Aretha Franklin talking about her new LP w/ Clive Davis at 92Y, played ACL Live in Austin (pics)
Timothy S. Griffin
Aretha Franklin @ ACL Live 9/3/2014

The purse stashed under the piano Thursday night foretold Aretha Franklin's arrival. Because the gospel priestess demands the AC be turned off for her performances, the 72-year-old Detroit native cut through the humidity with exquisite vocal power during another ACL Live at the Moody Theater sell-out. For 90 minutes, the crowd shivered nonetheless...

...In a flowing black and white dress, the Queen of Soul preached - "Natural Woman." Waving at the frenzied congregation, she urged, "Come on, sing." Wrapped in pure nostalgia, they obliged at full volume...

...After a hip-shaking rendition of "Respect," Franklin clutched her second bouquet of red roses. A final song then coated an audience aglow with sweat in mellow bliss: "The Way We Were." Kicking off her heels, Franklin demolished the Barbra Streisand ballad.

After her final exit, everyone waited hopefully as a stagehand retrieved her bag from below the piano - said to be the night's purse, the take: payment. House lights on. - [Austin Chronicle]
Seventy-Two and still going strong, Queen of Soul Aretha Franklin will release a new album this fall consisting of "diva covers" like "Midnight Train to Georgia," "Last Dance," and "What's Love Got to Do With It?" The record is executive produced by her old pal (and onetime Arista records head) Clive Davis with help from Andre 3000, Babyface and Daryl Simmons. A release date still hasn't been announced but she'll be in NYC to talk with Davis and journalist Anthony DeCurtis at 92Y on October 1. Tickets to the event include a digital download of the new album and are on sale now.
Meanwhile, Franklin continues to belt it out, as only she can, on tour. She was in NYC back in June for the Blue Note Jazz Fest, and this past Wednesday (9/3), she played Austin's ACL Live, sold out and sweaty. Pictures and setlist from that are in this post. She's got a few more dates coming up, including two more in Texas this week. All dates are listed, along with pics from ACL Live, below...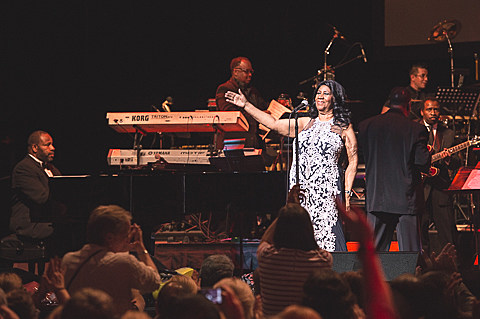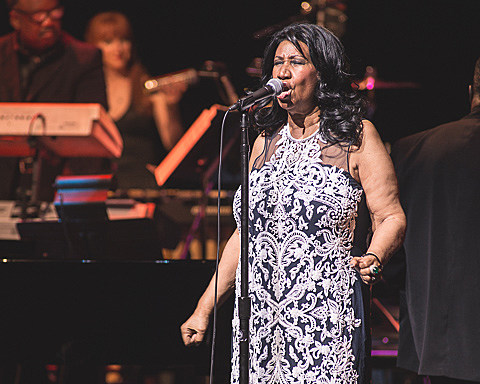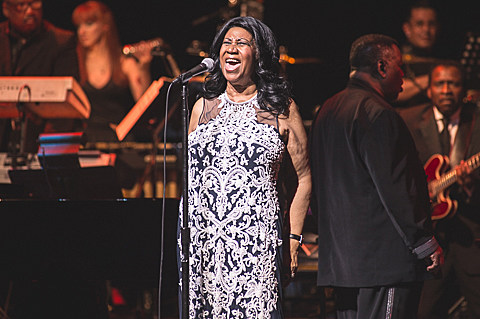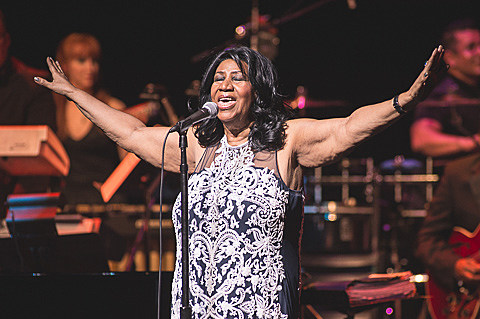 SETLIST: Aretha Franklin @ ACL Live 9/3/2014
"(Your Love Keeps Lifting Me) Higher and Higher"
"Angel"
"(You Make me Feel Like) A Natural Woman"
"Jump To It"
"Think"
"Sweet Sixteen"
Band instrumental
"Happy"
"Amazing Grace"
"I Remember"
"Chain of Fools"
"Ain't No Way"
"Sweet Bitter Love"
"Freeway of Love"
"Respect"
"The Way We Were"
Aretha Franklin - 2014 Tour Dates
Sat 06 Sep 2014 Winspear Opera House, AT&T Performing Arts Center Dallas, TX
Tue 09 Sep 2014 Arena Theatre Houston, TX
Sat 08 Nov 2014 Fox Theatre Atlanta, GA
Thu 13 Nov 2014 Modell Performing Arts Center at the Lyric Baltimore, MD
Mon 17 Nov 2014 Altria Theater Richmond, VA