Ariel Pink's Haunted Graffiti played Mercury Lounge with R. Stevie Moore (pics & video) & Viva Radio (video)
"Ariel Pink completely obliterating to the max at mercury lounge! and being wasted on top of that is a plus plus pus." - Neon Indian
"How long does it take for an indie rocker to become a musical granddaddy? About five years.

In 2004 the Brooklyn band Animal Collective -- nearly granddaddies themselves at that time -- introduced a musical prankster from Los Angeles called ARIEL PINK (real name: Ariel Rosenberg). His albums, credited to Ariel Pink's Haunted Graffiti, were a hazy mess, from the layers of cruddy tape hiss to the way the songs seemed to absorb chunks from other songs, like a radio tuning in random stations. Somewhere beneath all this interference shone nuggets of nostalgic pop.

Flash forward to 2009, as music blogs alighted with a wave of new acts like Neon Indian, Washed Out and Memory Tapes that used clouds of reverb to distort 1980s-esque electronic pop. (Think Depeche Mode, underwater.) These bands were alternately identified as chillwave or glo-fi, but they were following a trail first laid by Ariel Pink." [NY Times]
The always-interesting R Stevie Moore ("one of Mr. Pink's personal heroes") opened the Mercury Lounge show where Billy Jones reports that "Bright Lit Blues Skies was great but Ariel Pink didn't play the last chorus, outro to Round and Round. Kind of a dick move."
More pictures and a video from the Mercury Lounge show, and a video of Ariel Pink sort of performing "Round & Round" recently for Viva Radio, below...

--
R Stevie Moore (as Don Flaming Lips)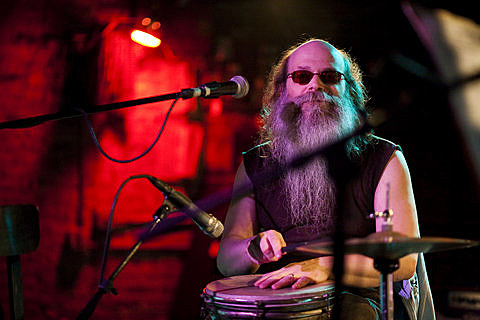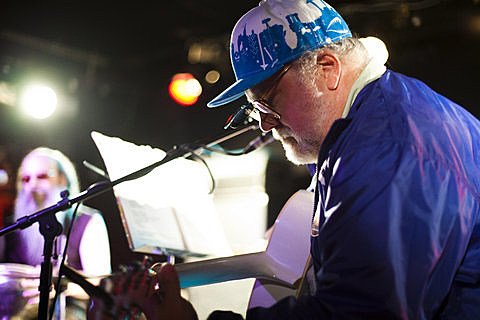 Ariel Pink's Haunted Graffiti
Ariel Pink's Haunted Graffiti "Round & Round" @ Viva Radio (Impromptu on Naked Fridays)

"AP & HG stop by Viva Radio for a DJ session and offer up a little bit more with this a cappella / beatbox / mouth kazoo / Yamaha keyboard rendition of "Round & Round" from their forthcoming album Before Today."