ASAP Rocky played Irving Plaza w/ special guests Danny Brown, Bun B, Waka Flocka & ScHoolboy Q (pics, video)
photos by Ryan Muir, words by Andrew Sacher
"ASAP Rocky show @ Irving Plaza was CRAZY!!!" - Atiba Newsome
"ASAP ROCKY KILLED IRVING PLAZA!!!!" - Vic Damone
"Shout out to Jim e stack bun b waka flocka and da homie school boy" - AsapTwelvyy
A$AP Rocky brought the A$AP Mob tour to Irving Plaza last night (2/1). He brought out a number of guests like Bun B, Waka Flocka, and ScHoolboy Q, and Danny Brown opened the show, along with Flatbush Zombies and G-Eazy. More pictures and a video from this show are below.
One day earlier, A$AP Rocky appeared on The Angie Martinez Show on Hot 97. He was shocked when during his interview, Rakim, who Rocky's mother named him after, joined Rocky and Martinez on the show. A video of this interview is below too.
The Irving Plaza afterparty went down at The Studio at Webster Hall where a very tall Jim E Stack DJ'd in celebration of his new release. Did any of the advertised special guests show up?
ScHoolboy Q also showed up at the recent Danny Brown show in LA.
More pictures and videos from the NYC show below...

--
A$AP Rocky at Irving Plaza 2/1/12 w/ Bun B, ScHoolboy Q, Waka Flocka

flatbushzombies
Danny Brown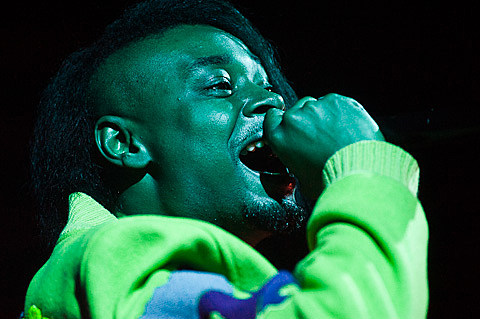 ASAP Rocky