Asobi Seksu, North Highlands & others played a Planned Parenthood benefit (pics)
Asobi Seksu @ Highline Ballroom

the great pumpkin: Asobi Seksu is based in New York where there is a booming coffee scene. Are you a coffee drinker? What is your favorite Local Coffee Shop & Drink of Choice?

James Hanna of Asobi Seksu: I love coffee, Qathra near my house in Ditmas Park is solid. I either like a double espresso or just plain old French press. Generally I make my own because few places make it murky enough for me. Viscosity is very important.

Fine dining is big in this city, but it's easy to get great food for a low price. Do you have any favorite cheap eats?

James Hanna of Asobi Seksu: I love Wonton Garden in Chinatown. There are some really good spots down there but mostly terrible ones. I miss Carmines Pizza in Greenpoint.

Do you have a favorite New York City restaurant? Yuki mentioned in her interview with Eater that she likes Five Leaves in Greenpoint.

James Hanna of Asobi Seksu: Yuki is a fool... No just kidding. There are too many restaurants in New York City, and not enough good ones.
If there was any food-related tension in the band (pretend or real), it didn't show at Highline Ballroom on 4/16, when Asobi Seksu stood in solidarity with Planned Parenthood. The NYC shoegaze crew were joined by North Highlands, Little Big & comedian Sara Benincasa at the Monday night shindig. Here are some pictures and a video. More, with tour dates (I hope the band likes Japanese food), below...

--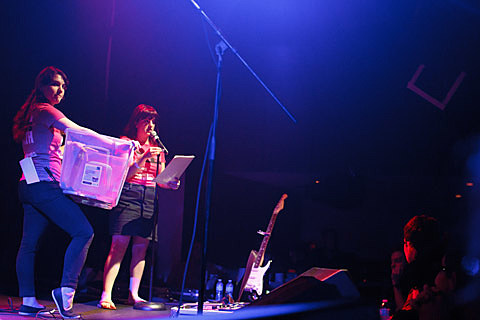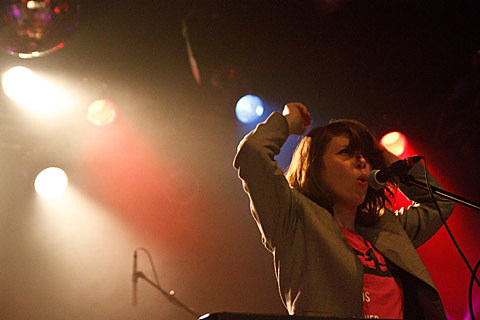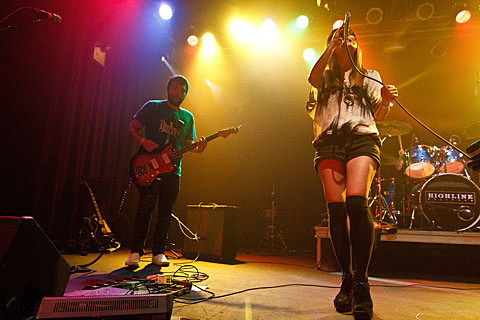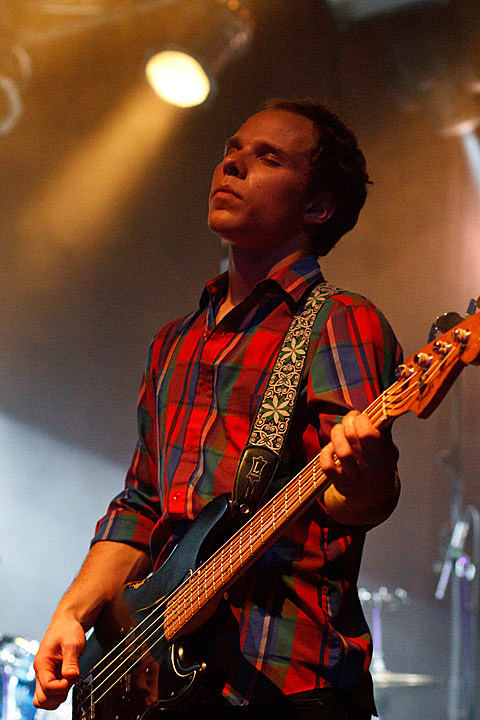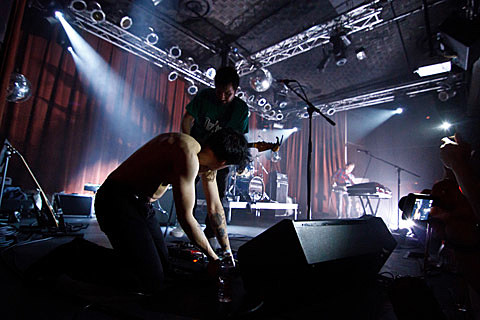 Asobi Seksu - "Strawberries" & "Me and Mary" at Highline Ballroom

ASOBI SEKSU - 2012 TOUR DATES
4/20 - Baltimore, MD @ Goucher College Central Courtyard
4/28 - Poughkeepsie, NY @ Vassar College
5/09 - Bangkok, Thailand @ SONIC
5/11 - Busan, Korea @ Vinyl Underground
5/12 - Seoul, Korea @ Rolling Hall
5/15 - Tokyo, Japan @ Shibuya O-Nest
5/16 - Nagoya, Japan @ Apollo Theater
5/17 - Osaka, Japan @ Shangri-La
5/18 - Tokyo, Japan @ Shibuya O-West