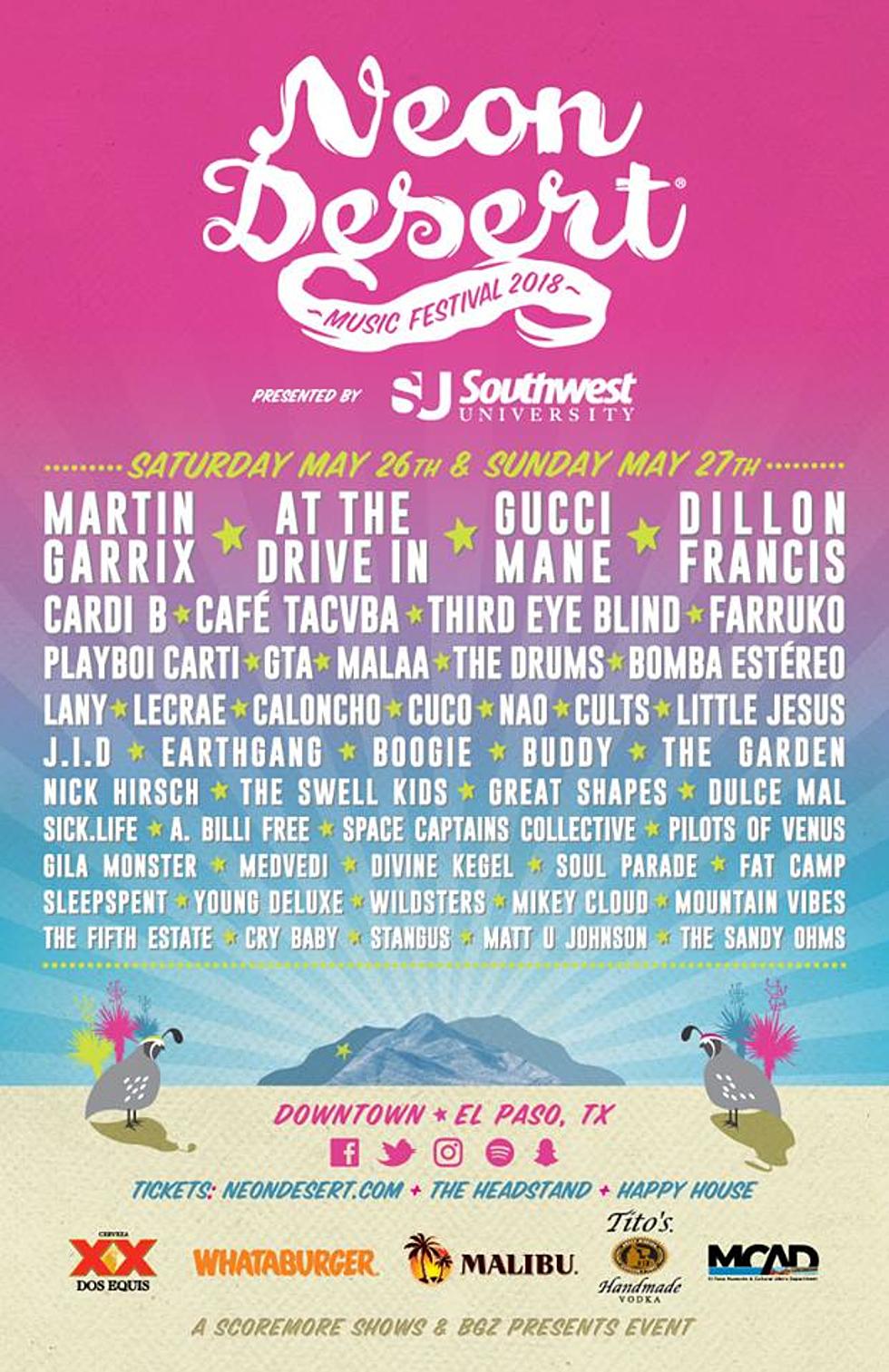 At the Drive In headlining El Paso fest Neon Desert (lineup)
El Paso's Neon Desert Music Festival has announced its 2018 lineup, and it features an array of artists from across the musical spectrum, headlined by EDM giants Martin Garrix and Dillon Francis, rapper Gucci Mane, and... At The Drive In.
While it might seem weird that At the Drive In are headlining a mostly-rap/EDM fest, the fest's mission is "to produce an annual music festival for El Paso by El Pasoans, while providing the local artistic community an outlet to showcase their talents alongside national and international headliners," so it makes sense that they would want to book their reunited hometown heroes. Plus, the ATDI family has had connections to Neon Desert since day one. The Omar Rodriguez Lopez Group headlined the first year, and ATDI offshoot Sparta co-headlined the second year, which Omar Rodriguez Lopez collaborators Le Butcherettes also played.
In keeping with the "for El Paso by El Pasoans" theme, there's a focus on Latin music (Puerto Rican singer Farukko, Colombian band Bomba Estereo, Mexican singer Caloncho, El Paso locals Dulce Mal, etc), and ATDI and their related projects have long incorporated Latin music into their sound.
The lineup also includes other cool stuff like Cardi B, Third Eye Blind, The Drums, Cults, Playboi Carti, J.I.D, EarthGang, Boogie, Buddy, The Garden, and more. Tickets are on sale now. You can view the full lineup below.
Neon Desert - 2018 Lineup
Martin Garrix
At The Drive In
Gucci Mane
Dillon Francis
Cardi B
Café Tacvba
Third Eye Blind
Farruko
Playboi Carti
GTA
Malaa
The Drums
Bomba Estéreo
LANY
Lecrae
Caloncho
Cuco
Nao
Cults
Little Jesus
J.I.D
EarthGang
Boogie
Buddy
The Garden
Nick Hirsch
The Swell Kids
Great Shapes
Dulce Mal
Sick.Life
A. Billi Free
Space Captains Collective
Pilots of Venus
Gila Monster
Medvedi
Divine Kegel
Soul Parade
Fat Camp
Sleepspent
Young Deluxe
Wildsters
Mikey Cloud
Mountain Vibes
The Fifth Estate
Cry Baby
Stangus
Matt U Johnson
The Sandy Ohms