Thom and Nigel's Atoms for Peace played Le Poisson Rouge (pics, setlist)
photos by PSquared Photography
Atoms for Peace @ Le Poisson Rouge, 3/14/2013

"It's something we've talked about doing for ages, and we finally got our shit together," explains Yorke. "We've basically just cut everything up into its constituent parts. We'll try to re-cut the tunes live, mixing in loads of other bits and pieces and collaging stuff together.
At the same time as manning the machinery, Yorke will be adding his own live vocals and guitar to the mix. "I sing - but I felt kind of weird about that to begin with, because it's quite this weird mixture," he says. "It's like fucking karaoke or something! But it's not, because it's all this other stuff as well, and I have my own machines, like a drum machine and a vocal looper. It's interesting - singing, trying to remember words and programming a drum machine at the same exact time. It's kind of tricky."
The performance will also feature dynamic visuals designed by Dutch artist Tarik Barri. "That's fucking bonkers," says Yorke. "It's not like anything else." - [Rolling Stone]
Thom Yorke and Nigel Godrich debuted their new Atoms for Peace "singing DJ" configuration at Le Poisson Rouge last night (3/15), celebrating the release of new album Amok. Following sets from Arca and Holly Herndon, Atoms for Peace went on around 1AM and did 12 songs from the new Amok and Thom Yorke's Eraser with those "bonkers" projections. Once their official set ended, the night turned into a dance party with Yorke and Godrich spinning tunes like De La Soul's "A Rollerskating Jam Named 'Saturdays.'" Not bad for a school night.
More pics from Le Poisson Rouge, plus Atoms for Peace's setlist, are below.

---
Arca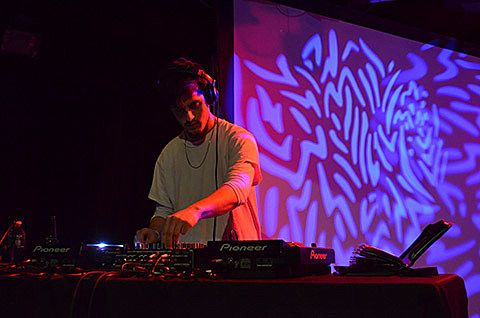 Holly Herndon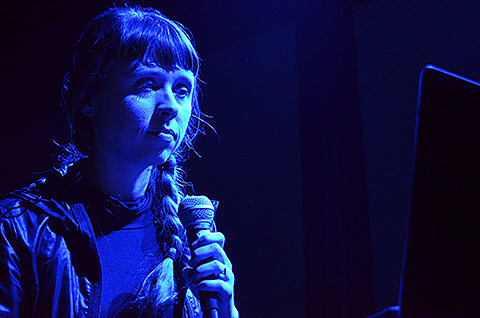 Atoms for Peace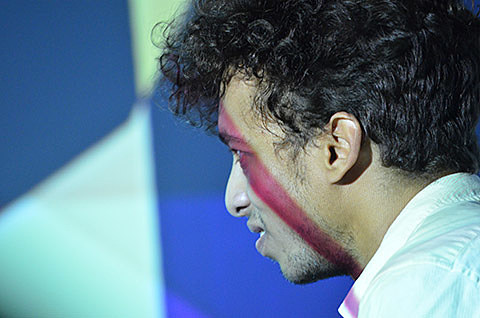 SETLIST: Atoms for Peace @ Le Poisson Rouge, 3/15/2013: (via)
01. Ingenue
02. Black Swan
03. Stuck Together Pieces
04. Dropped
05. Eraser
06. Amok
07. Before Your Very Eyes...
08. S.A.D.
09. Atoms For Peace
10. Unless
11. Harrowdown Hill
12. Default