ATP NY 2009 – Day 2 pics & review (Atlas Sound, Deerhunter, El-P, Boss Hog, Shellac, Animal Collective, Dead Meadow…)
words by Black Bubblegum, photos by Ryan Muir
Steve Albini in Shellac

"We're taking a bath, but I don't care," Barry Hogan told [Sasha Frere-Jones]. We were standing in the makeshift production office for the All Tomorrow's Parties festival, at Kutsher's, a resort in the Catskills.

Kutsher's, where Muhammad Ali trained and a thousand schticks were born, was once the jewel of the Borscht Belt. The main venue at Kutsher's, the Stardust Ballroom, has a capacity of 2,800. But Hogan seemed largely unbothered that only 1,800 tickets to ATP had sold. It is 2009, after all.
"My name is Sufjan Stevens and I am going to play all of my Seven Swans album. That should be a good early afternoon hangover sort of thing"
Considering the bad coffee situation and the fun that I had the day before, Sufjan was spot on. Clad in tie-dye that the band had purchased at the general store at Kutsher's, the five piece were delicate, light and lilting. Sufjan's bright banjo strums and songs, like the sunny "Sister", resonated so well in the Stardust Ballroom. The Seven Swans album was an excellent choice for a wake-up set on the second day of the three day upstate NY festival (Saturday, September 12, 2009).
After Sufjan, I wandered over to catch a crew of young Aussies named Bridezilla. Though their name is a touch offputting, guitarist/vocalist Holiday Sidewinder has a sexy and breathy coo that recalled PJ Harvey and their her cocktail-dress-ed crew were a surprise and a delight.
Grouper were next, and as a fan of 2008's Dragging a Dead Deer Up a Hill, I was eager to check out Liz Harris's ambient soundscapes. Playing to a projection of an ocean at night, the stage show wasn't much visually but the tides of noise was otherworldly.
Conversely, Black Dice in the same room was a psychedelic mindfuck. Blasts of tribal noise beats nodded heads and shook them in equal measure.
As a fan of Bradford Cox, it was great to see him pull a doubleheader on Saturday, beginning with Atlas Sound. Rolling solo with guitar, harmonica, and some backing tracks, Cox was engaging both in song and with between song banter. I would regrettably end up missing Deerhunter's set a few hours later. Drowned in Sound was there though:
Bradford Cox is a picture of serenity as he swaps his shirt for a more tasteful number and leads Deerhunter into their Saturday night set. He announces that this will be their last performance for some time, causing the band to roll out the hits in quick-fast fashion. They gallop through 'Cryptograms' and 'Nothing Ever Happened', the positively herculean double guitar sound feeling unstoppable and a sense of jubilation ricocheting between the walls as people succumb to these great big shining pop songs. The closing 'Calvary Scars' is a slab of beautiful kraut-pop, with Lockett Pundt's metallic Tim Gane-esque strum leading the way, face-painted kids jerking their bodies back and forth, and Cox looking genuinely sad that this will be the last time these songs will be wrung from his fingers and throat for a while.
Anti-Pop Consortium was my next venture, the first time I had ever seen the crew though I was a long time fan. On the Stardust Ballroom system, APC's distorted and creative beats sounded amazing but save for Beans energetic movement, I was less than impressed with their live show. Live hip hop is hard to pull off, and those who try should heed the great Rakim who said "to me MC means move the crowd". If you want to give them a chance, they're at Santos Party House on September 29th.
Sleepy Sun were line checking when I got back to the second stage, with vocalist Rachael Williams checking her levels in the monitor
"Check. Check. I. Hi. Me. You. All of you. Us. Getting nervous."
If they had nerves, the band channeled them into positive energy. Sleepy Sun's influences fit right in with their hometown, San Francisco, as the band dabble in a psychedelic California sound with some krautrock-y elements. I was most struck by their fantastic drummer Brian Tice as well as vocalist Williams, who ripped out a solo that had the crowd shouting and applauding. Wayne Coyne watched the band from stage left, clearly impressed.
After an elongated line check, El-P came on and with a four-piece band (Chin Chin) and hypeman (Mighty Quinn) to the sound of "Tasmanian Space Coaster". I have a soft spot for El-Producto's Blade Runner beats and post-apocalyptic rhyme styles, and it was great to see a Hip Hop artist who actually puts an emphasis on his live show. As a matter of fact, El-P put a little too much of himself out there, almost falling off the stage after pogo-ing around during "Smithereens". Careful dude... we need a follow-up to I'll Sleep When You're Dead.
I hadn't seen Akron/Family since the then more acoustic-centric band played Tonic many years ago (with Hamid Drake?) and it was refreshing to see their energy were still in place. Against a backdrop of a tie-dyed American flag, the band played a rousing and ripping set. It's good to see that the loss of Ryan Vanderhoof to a Buddhist center hasn't slowed them a bit.
Autolux had the discordant riffs, feedback squalls, and a 90s alt punk sound to hit all of the right influences (Joy Division, Sonic Youth, etc), but unfortunately didn't really distinguish themselves from their influences. Autolux isn't offensive by any means, just not compelling or distinctive, and I find it a touch disappointing that guitarist Greg Edwards was a member of Failure (a band that I dug).
Dead Meadow and their fuzzy freakout psych blues were riffing on Stage Two towards the end of the Autolux set, but by half way in, the crowd had diminished considerably due to Shallac on the main. For shame, as the trio played a ripping set!
continued below...


Shellac was already into "My Black Ass" by the time I arrived back at stage one, the exact same spot (and similar time) as last year. Not surprisingly, one of my 2008 highlights were excellent as usual. When he wasn't imitating Bob & Doug McKenzie with Steve Albini (who also did a fine job manning the poker table all weekend), Bob Weston took questions from the audience:
"What's my favorite band? Fugazi."
"Do I believe in heaven? No."
"Have I ever fucked any bitches? No, only beautiful women"
With a packed house for Shellac and the fact that the band was running 25 minutes late, it's no surprise that I was able to walk up near the front for Boss Hog in the other room. No one epitomizes cool like Mr Jon Spencer, and the band's sleazy brand of punk blues was tons of fun.
The next band that I caught was Melvins in the same room who hit the stage to the theme from The A-Team. Though I haven't seen this lineup in more than a year (the Houdini/Mangled Demos lineup played earlier in 2009), the band delivered with both firepower and a quirky sense of humor. As usual, Buzzo was wearing his giant black wizard robe while Jared (also Big Business) was wearing something much more ridiculous: a wig and a zebra print snuggie. Jared does not recommend the Snuggie:
"Don't believe the commercials. This thing is hot and itchy."
Melvins tore through a set that included recent faves like "The Talking Horse", "Blood Witch", as well as favorites like "Anaconda" from Bullhead and even Devo cover (so I have been told). A dependably awesome set from this foursome. They are on tour with, and played a show with, Down at Nokia Theatre in NYC one night earlier.
Though I am obviously a huge Melvins fan, I left a tad early to catch Animal Collective who I hadn't seen since the Feels tour. With jellyfish-like lanterns (which flashed in sync with their music) strewn throughout the venue, odd lighting from below their effects covered tables, and a giant globe that acted as a conduit for their video show, the band performed with their trademark quirky exuberance. Much like Black Dice earlier in the day and Panda Bear one day earlier, I enjoy their records immensely but am not a huge fan of their live show.
After a day of excellent shows, but nothing jaw-dropping, I was looking forward to Sunday, where I knew I had some amazing performances to look forward to.
---
Day One review & pics HERE. The rest of the pictures from Day Two, including Circulatory System (who we talked about when they played NYC a few days earlier), below....
Circulatory System
Black Dice
Atlas Sound
Antipop Consortium
El-P
Akron Family
Dead Meadow
Shellac
Boss Hog
Deerhunter
Melvins
Animal Collective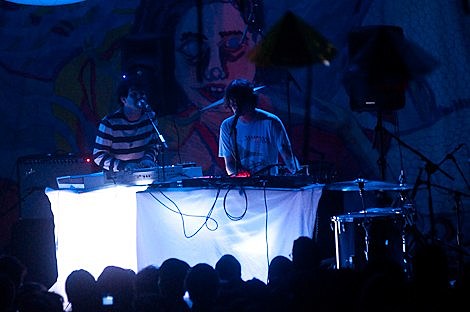 Sleepy Sun & Autolux pics HERE.
Sufjan Stevens pics HERE.
Day One pics HERE.
Flaming Lips (who headlined Day Thre) pics HERE.