ATP NY 2009 – Day 3 pics & review (Boredoms, Caribou, Deerhoof, Boris, Jarmusch, Oneida, that crazy guy…)
words by Black Bubblegum, photos by Ryan Muir
some of the stars of ATP NY 2009

What's almost the exact opposite of a soothing set of Seven Swans performed by one of the most delicate singers in indie rock? Try nine drummers (including Hisham Bharoocha, Zach Hill, and Kid Millions among other notables) bashing your fucking skull for so long that the stage manager has to come out to unplug their gear and remove toms from underneath them! That's how I started my ATP Day 3... with the Boredoms blowing my mind.
Starting off with sparse chords on the monstrous multi-neck guitar/percussive device, Eye set a calm and reflective mood... and then the cymbals. And then the toms. And then eight drummers pummeled away led by Yoshimi P-We. And then the synced rimshots that recalled an Animal Collective beat. All of this happened before a ninth drummer was carried into the show like an emperor while doing a call and response with the other eight.
Within about 10 minutes, I knew that Boredoms would take the prize as best show at Kutsher's that weekend. The sheer power of the coordinated drums, along with pregnant pauses and killer synth effects performed via keys, CD-DJ tables, and broomsticks (!) were beyond jaw dropping.
Following Boredoms, I poked my head into Oneida's Ocropolis for the first of many times. For 10+ hours, Oneida basically had the small and very decorated room all to themselves for a long jam session with their friends. Reportedly, the band had tape rolling the whole time (Ocropolis is the name of their Brooklyn recording studio) and had visuals provided by the Mighty Robot AV Squad. With local standbys like BJ Warshaw of Parts & Labor/Shooting Spires fame, Chris Weingarten (ex P&L), Todd P, and many others spotted in the Sportsman's Bar, it seemed like Brooklyn in the Catskills. Unfortunately, I missed every single special guest appearance (word is, and in part according to a sign on the door, Soft Circle, Yoshimi, Aaron from Tall Firs, Zach Hill, Steven Drozd and many others all popped in) but the band was very interesting to watch, alternating between songs, and droney ambient jams.
Caribou was next in the main room and the 16-piece(!) band including Sun Ra Arkestra member Marshall Allen, Koushik, Kieran Hebden (Fourtet) and many others. I had no expectations heading into the set and was pleasantly surprised, although I found the mix to have waaay too much low end.
I ducked out of Caribou early to catch the last twenty minutes of Hopewell who was billed to be playing "The Desperation Suite," "complete with a female choir and avant-garde saxophonist Mark Marinoff". From what little I saw, the three person "choir" did little but coo, ooh, ahh, and coordinate a dance, but the band did close with a rousing cover of Jane's Addiction's classic "Of Course".
continued below...

After a lull and a trip back to see Oneida, I managed to catch a few moments of Black Moth Super Rainbow. The band started out with a video presentation that included Eric Wareheim and devolved into an extremely simple live show, with their only energy coming from a bearsuited dancer wearing what appeared to be a Wayne Coyne mask. BMSR have some interesting songs, but their live show left something to be desired. I left pretty quickly.
There was no way that I would miss the mighty Deerhoof, who I hadn't seen since the addition of guitarist Ed Rodriguez. I made sure I was there for ths start of their set. The quirky and adorable band killed classics both old ("Flower") and new ("+81") as well as a new song "written last week". I personally believe that Greg Saunier is one of the great drummers in music today and Rodriguez is amazing, freeing up more space for Satomi to be cute and fun. Did I mention that John Dieterich is a killer guitar player? Deerhoof = nails.
After watching the tail end of Menomena, I hung tough to check out Boris who performed Feedbacker in its entirety. I was curious as to whether Michio Kurihara would make it to the show (he obviously did not play on the LP) but he did, adding layers of feedback and swapping out melodies with Wata. The soaring 30 minute crescendo came crashing down with a killer noise jam that forms the basis for the song title and is also (reportedly) a reference to a distortion pedal of the same name. Easily one of the best shows I have ever seen them play, and I have seen them many many times. Such discipline and such killer riffs!
And the award for oddest addition to the festival goes to..... Crystal Castles. Though I feel like this band did not fit the bill at all, their thumping 8-Bit music was the equivalent of a 1000 watt amp blaring Castlevania for Nintendo... but I dug it. Alice Glass is riveting and it was awesome to hear the band push the sound system to the brink, much like My Bloody Valentine did one year ago (albeit in an entirely different frequency range).
Next up was the No Age/Bob Mould show, and it was beyond amazing to hear Mould sing on some of the old Husker Du classics. I've heard criticism that there was no low end in the songs, which seems to me to be a bit nonsensical, and twenty or so kids in the mini mosh pit in front of the second stage would probably agree. As discussed, Bradford Cox came out to rock with the band on a cover of The Heartbreaker's "Chinese Rocks".
What hasn't been said about a Flaming Lips show? As cynical as I can get (very), and as much as I know every single trick that Wayne and the boys pull, when you're in in the moment, it's hard to resist getting swept up in the vibe. I enjoyed every second of their show, but found it a little irritating that the band only played one song from easily their best LP, The Soft Bulletin, and none from their prior albums, yet they had the time to sing "Somewhere Over The Rainbow", a schticky and obvious nod towards Wayne Coyne's poor singing voice (which he acknowledged during the show). Besides that, it was tons of fun, though I must say, I know their live show in and out and unless they change that or their setlist, I probably don't need to see them for a while. More thoughts, a detailed description of the show, and pictures from that set, here.
In all, I thoroughly enjoyed myself on Sunday, much more so than Friday or Saturday. I don't think that ATP 2009 was able to touch the vibe or the amazing artists in 2008, but I enjoyed it nonetheless, and you'll see me at Kutsher's in 2011 2010. Just look for the guy in the Darkthrone shirt.
Day One review HERE. Day Two review HERE. Crystal Castles pictures HERE. Flaming Lips pictures HERE. No Age / Mould pictures HERE. The rest of the pictures from Day Three (including some of Jim Jarmusch giving a Q&A in the Criterion Cinema room with Wayne Coyne in attendance, and Super Furry Animals), below...
Ice Cream Man was in the house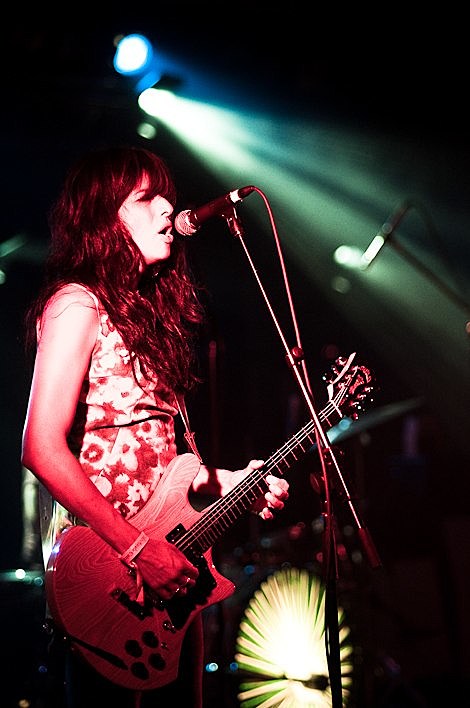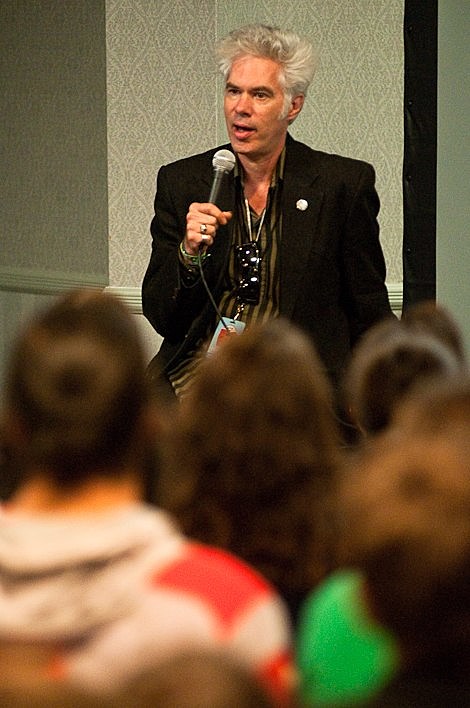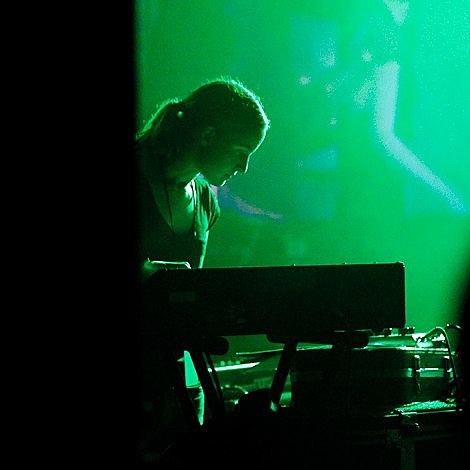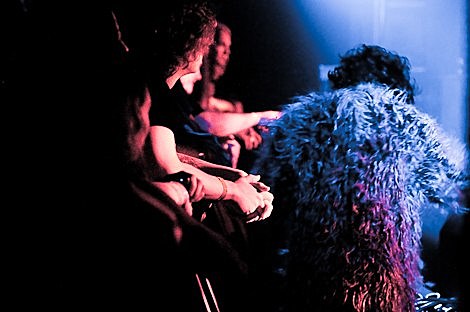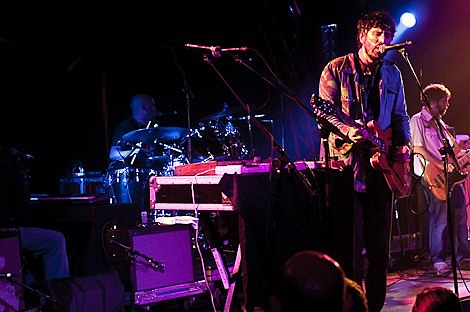 Day One review HERE. Day Two review HERE. Crystal Castles pictures HERE. Flaming Lips pictures HERE. No Age / Mould pictures HERE.