ATP NY 2010 – Day 3 pics (Jim Jarmusch, Thurston Moore, Ron Jeremy, Fucked Up, Girls, T Model Ford, Raekwon & more)
Thurston & Jim @ ATP NY (photo by Abbey Braden for ATP)

My 11 Most Notable Moments at ATP NY 2010 by Adrienne Day

(11) Book club with Samantha Hunt and Luc Sante. Apparently Nikola Tesla thought he was married to a pigeon. #ThingsIlearnedatATP

(10) Jim Jarmusch and Thurston Moore's silly but entertaining exchange about "weird New York"

(9) @janelerner's Mary-Poppins-like bag with its bottomless supply of comforts from home

(8) Sleep's defibrillating two-hour-plus set

(7) Blagdon Lake at dusk: http://twitpic.com/2m59gh

(6) Beak> opening with the terrific "Blagdon Lake" and keeping it surprisingly cohesive / groove-able for the whole set

(5) Injuries sustained while losing at air hockey: a heavily bruised knee and what feels like a torn rotator cuff

(4) Years of incontinence producing an unmistakably ripe aroma in Kutsher's front elevator

(3) Stooges scholarship ("Williamson should go back to designing computer chips"; "Iggy's slowed down a bit but still, holy shit")

(2) This little pumin has apparently already been featured on Brooklyn Vegan: http://twitpic.com/2m59bb

(1) no wifi as its own time warp, leading to in-depth convos and contemplative gazing on the lake
Our own ATP NY review now concludes with a recap of Sunday. If you're just joining us, start with Friday and then read Saturday, before continuing...
Ron Jeremy & new friend @ ATP NY Sunday night

How do you get out of a conversation with Ron Jeremy? It's 1:30 AM on Monday (Sunday night), my friends are talking to the porn legend, and all I can think about is rest. It's been a brutal weekend of fantastic performances, great conversation, contact highs, 30 packs of beer, fantastic people, not to mention great music. But by the end of Sunday (the final day of ATP NY 2010), I just needed some Zs.
After a day-opening set of psychedelia from White Hills on stage two (which I enjoyed though it didn't manage to give me the kick in the ass I needed), The Greenhornes held down my interest for what I caught of their set. The Detroit Cincinnati band's garage pop played to one of the biggest early day crowds that I had seen on all three days. Kurt Vile's garagey punk followed on the second stage, sounding much heavier live than I had anticipated.
Fucked Up was next on the main stage, so I made sure to secure a primo slot for the mayhem. Madman Pink Eyes, who sang 2/3 of the show from the crowd, did all of the following during his set in the Stardust Room: crushed a coke can like Stone Cold Steve Austin, sprinkled Cocoa Puffs on the crowd, smeared himself with Oreos, performed all of "Crusades" with a plastic bag on his head, laid down in the center of the crowd, instigated a group hug of 20-30 people, and took audience members on piggy back rides. After two days of festival madness, it was definitely the shot in the arm I needed. Vivian Girls, who followed them on the second stage, was a bit of a comedown, but then again who wouldn't be?
GZA's set was moved to later that night on stage two (which I would end up missing due to Altar), so his stage one slot was filled by comedian Hannibal Burress who had also performed Friday night. I missed his set and ended up catching Wooden Shjips' powerful psychedelic set on the second stage. There were many retro-leaning bands playing over the course of the weekend. My favorite sets in that category came from Dungen and The Black Angels. Powerful, trippy and fantastic.
With the lights down low, Hope Sandoval played xylophone and crooned with her enchanting voice to the Stardust Stage crowd. On any other occasion, I might have found the set mesmerizing, but at that moment another pick me up was needed and I surprisingly found that in Girls's sunny Elvis Costello brand of pop directly afterward. With all of the recent brutality (Fucked Up, Wooden Shjips, and in a much different way, um, Vivian Girls) it was a fun change to see the band run through tracks like "Laura" from their recent LP. Great set from this Cali crew.
T Model Ford

Of all the artists walking around Kutshers during ATP weekend, the two that seemingly had the most fans/people clamoring to meet them were Sunday's curator Jim Jarmusch, and T-Model Ford. It didn't hurt that T-Model was apt to take his guitar out and play anywhere with a little battery-powered amp. The bluesman finally got his time under the lights of the second stage on Sunday night though, and the adoration continued, with people cheering while he tuned (multiple times).
Raekwon took the stage a touch late with an introduction from Ron Jeremy, running through the classic Wu material: "Protect Ya Neck", "C.R.E.A.M.", "Ice Cream", set opener "Motherless Child", "House of Flying Daggers" and many more. Though I nerd out to the tracks and even ODB classic-that-felt-like-set-filler-in-a-Raekwon-show "Shimmy Shimmy Ya" on the Stardust Room system, the set felt phoned in. Not to sound insensitive, but is a few-minute shout out to your grandfather who is buried in Monticello really necessary? GZA, Kim Gordon, and Thurston Moore watched the set from the sides of the stage.
I missed GZA's rescheduled set completely on the second stage (because of Altar), but he reportedly delivered a freestyle-heavy set. The Wu-tang rep later showed up at The Deep End Bar to greet the legendary Kool Herc who was DJing late-night...
GZA & Kool Herc ATP (Kory Grow)

Partway into [Kool Herc's] set, in walked Wu-Tang Clan's GZA, who had played a sort-of aggressive set at the same time as Altar (I went back and forth between the two.) ...in the presence of Herc, he was nothing but reverent. He nonchalantly stepped behind the turntables and said hello. ...It was one of those rare moments where you felt like you were seeing something rare and historic. GZA grabbed the mic and talked about what a legend Kool Herc was and thanked him before leaving.-
[Sadness Is Delicious]
After leaving Altar, I spent a good portion on my way out saying goodbyes to the many new friends I had made at ATP. The festival is more than a string of shows, a worn-down hotel, and a few too many beers; it's a community of like-minded and friendly people that I have not experienced anywhere else. ATP New York was tons of fun, and I spent a good portion of Sunday lamenting that my experience was almost over and I'd have to wait another year. But I'll definitely be there.
Thurston Moore by Samantha Marble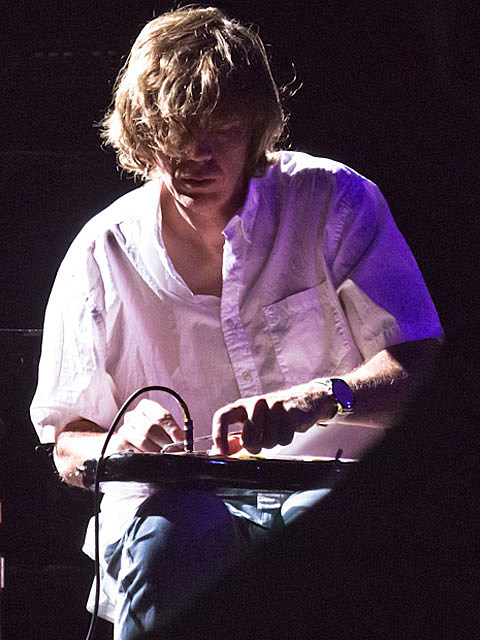 The Greenhornes by Samantha Marble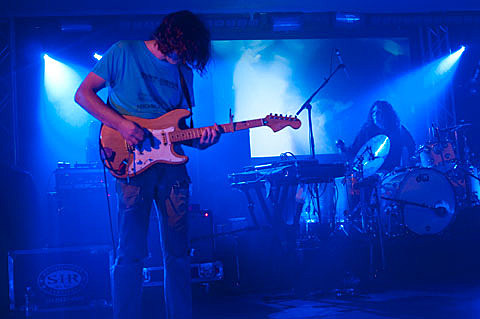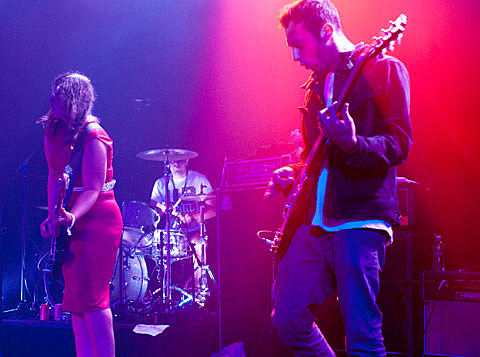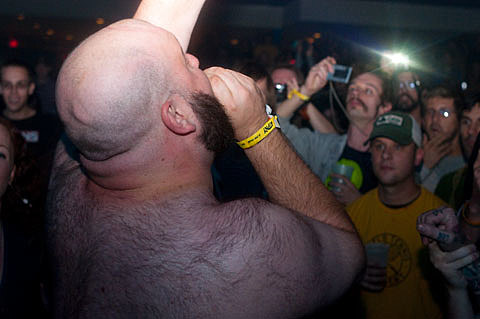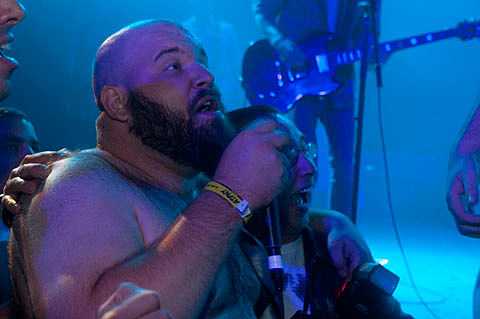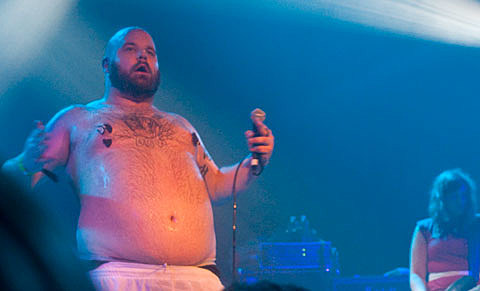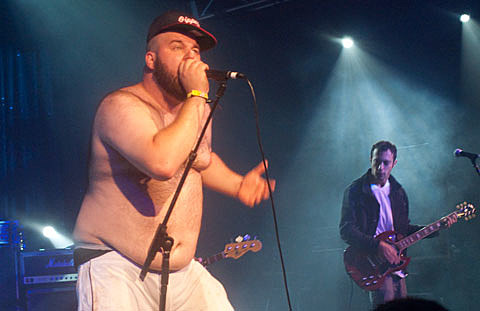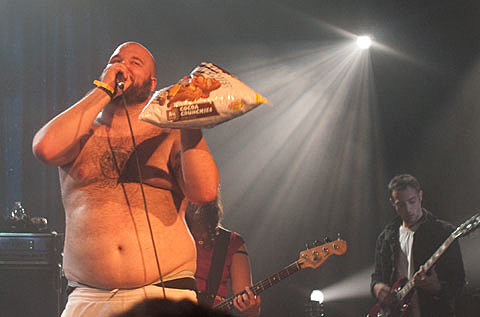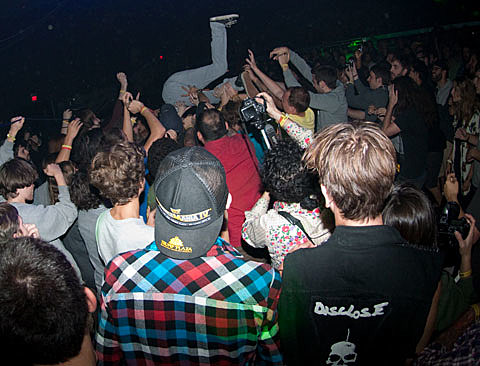 Hannibal Burress (photo courtesy of Abbey Braden for ATP)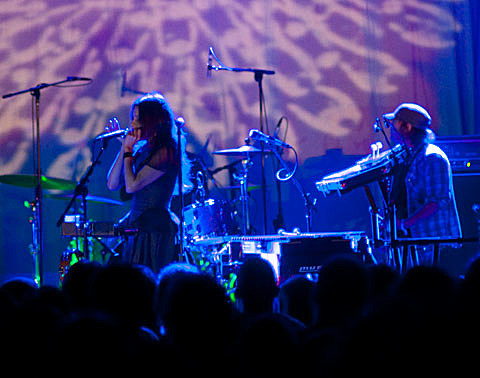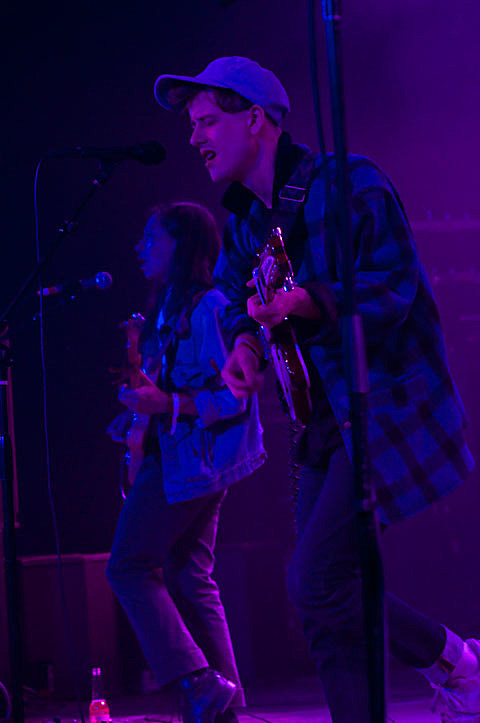 Ron Jeremy introducing Raekwon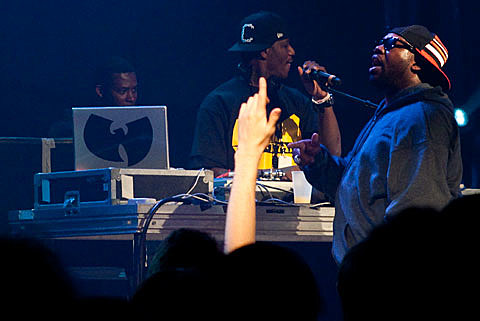 Thurston & Kim watching Raekwon
GZA (photo courtesy of Abbey Braden for ATP)