ATP NY 2010 – Day 2 in review & pics (Sonic Youth, Shellac, Papa M, Sleepy Sun, Fuck Buttons & more)
Thurston

Unlike Friday (and Sunday), people weren't throwing devil horns on Saturday. With the Saturday lineup dominated by indie acts, including many longstanding ones (Sonic Youth, Tortoise, Dave Pajo/Papa M, Shellac, The Breeders, etc etc) there were less shirts that repped the heaviest of the heavy, like Dystopia, Grief and Electric Wizard, and more "vintage look" Judas Priest and Dio with bowl cuts, and 80's style librarian glasses. In other words, there was a definite crowd shift from day one to day two at the 2010 edition of ATP New York.
While cruising through the lobby on my way to my first performance, Text of Light with Lee Renaldo, I paused to catch Helen Money (on tour with Shellac) at the "Lobby Stage". The 10+ minutes of Text of Light was a bust - squalls of guitar feedback with wailing sax made for a fascinating few minutes, but grew tiresome quickly. Helen Money's looped cello was already gone by the time I had returned from the second stage, but I wish I hadn't left. Later on I would catch Frankie Don at the lobby stage, who played hits of the 70s and 80s with Casio presets while the drunk, acid-drenched, and generally out-there spazzed on the dance floor. It was my own personal Tim & Eric Awesome Show episode.
Fuck Buttons were the first band I caught on the main stage, and the tribal drumming, rumbling saw wave bass tones, and pulsing electronic soundtrack were well-represented in the Stardust Room. The band's live show stuck to their recent recorded output and was quite the contrast with my next conquest, the out-there chamber-folk of Fursaxa on stage two, complete with cello and harp. I preferred the former.
Sleepy Sun

After a bit of Tortoise's jazzy math post-rock rhythms, I scooted down to Sleepy Sun (playing Knitting Factory Monday night) on the second stage; the Cali psych-rock band impressed me so much in the exact same room last year. Their set was not as impressive this time around, but more so than The Breeders who played the larger stage later that night and were a touch messy/off-key as they stammered through hits like "Divine Hammer".
On the other hand, Shellac (who also played in 2009) and Papa M killed it though in much different ways. Shellac's treble-y stomping punk rock was a triumph, and their Kutsher's set ("We are Shellac, and we only play ATP shows") included recent faves like "The End of Radio" and "Steady As She Goes". The band nixed their now famous Q&A session during their show due to their shortened set time, so their usual dry-sarcastic humor didn't play out as much this go around. Hopefully they have no curfew Tuesday at the Bell House. Papa M delivered ambient-y guitarscapes on the second stage, impressing immensely.
If you live in NYC, you've probably had your share of live Sonic Youth experiences. I've seen them at least six times. But whether it was the atmosphere, perfectly balanced soundsystem, or the band having a particularly ripping night, SY delivered probably my favorite Saturday set, focusing primarily on earlier material (Daydream Nation was a focal point it seemed). The sound in the Stardust Room was (still) flawless, and they closed out the night with a bang (set list below).
I also saw bits of Avi Buffalo, The Books and Hallogallo on Saturday. I completely missed BEAK> (stay tuned for our coverage from their Bowery Ballroom show though), Sian Alice Group, and Apse (catch them Monday and Wednesday night in NYC). I also missed Explosions in the Sky, but Sam caught them (her pics coming soon).
Read about Friday HERE. Sunday coverage is coming. Saturday (with more pics also coming later), continues below...

--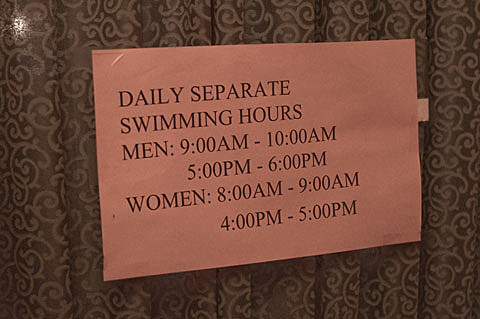 Sonic Youth (by Samantha Marble)