ATP NY 2010 – Day 1 in review, pics & video (Iggy Pop, Sleep, Mudhoney & more)
I'd like to think that the washes of green lights after projected flames on stage during Sleep's headlining set Friday night were indicative of the band's devotion to the holy leaf, but then again maybe it just looked cool. Either way, the band headlined the first night of ATP at Kutshers with co-headliner Iggy & The Stooges, Mudhoney, and The Scientists each playing classic material as part of the festival's Don't look Back series. Kutshers hasn't changed in the three years that I have attended the festival (not that I would ever expect it to); leaky ceiling tiles, a general musty smell prevails throughout the facility, and most importantly the vibe; I get none of the drag-and-drop feeling of most festivals and their Budweiser-commercial-with-funnel-cakes-and-apply-for-a-credit-card-here-and-did-I-mention-there's-music feeling. There is an openness at Kutshers that isn't easily replicated, much like the performances last night.
After settling in, slid into the Stardust room to catch the opening bars of "Touch Me I'm Sick" as Mudhoney launched directly into Superfuzz Bigmuff (the album they played in full). The record was them at their noisy, unhinged best, and although the feedback and some of the chunkiness in guitar tone was missing, the Seattle band was taut and fantastic live. I unfortunately missed The Scientists who played before them.
Iggy & The Stooges followed, and of my experiences with Iggy, of which there are a few, it's hard to imagine him wilder, more energetic, and more spastic than he was during his Raw Power set. Backed by James Williamson (Ron Asheton RIP), Scott Asheton, Mike Watt and saxophonist Steve Mackay, the band opened with the title track from the record before beating down the capacity crowd with the fantastic "Search & Destroy". Excellent set from these guys. BV photographer Greg Cristman was also in attendance last night, and as a long time fan of the band, he said that the ATP set was more impressive than their Atlantic City outing a few weeks prior. The crowd, who pogo'ed, crowd-surfed, joined the Detroit legends on stage for a dance during "Shake Appeal", and were generally nutty probably added fuel to that fire.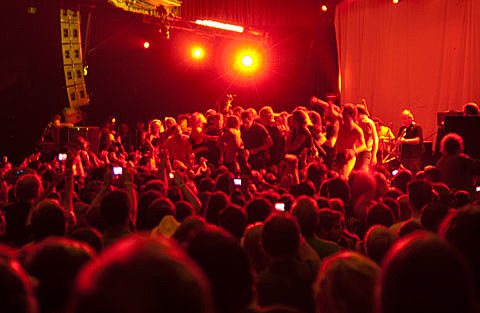 From the opening solo riff of "Dopesmoker", Sleep ruled the Stardust Room, keeping to the electric vibe that Iggy touched on in his set. The room was full of metalheads (more Slayer shirts than Radiohead shirts at ATP Friday night). Matt Pike's tone and power is truly unmatched on the six (or nine) string, and the reunion of the guitar god with the thundering and similarly powerful low-end of Al Cisneros brought to mind their ancestors, Iommi and Butler.
Though original drummer Chris Hakius has retired his drum throne, Neurosis drummer Jason Roeder was no scab; handily backing what is arguably two of the most powerful instrumentalists in current heavy music. Much like it did when My Bloody Valentine played ATP two years ago, the Stardust rattled, though with a low-end power rumble (as opposed to MBV's earshattering and treble-y feedback). Classics like "Dragonaut" and "The Druid" and were intercut with sections of "Dopesmoker", and even the new-ish jam "Anartican's Thought" made an appearance during their two hour set which, for a portion of the crowd, was more punishment than could be handled (the audience thinned as the night went on).
Except for a brief moment when Matt Pike pulled out an acoustic (!) only to be plagued with technical difficulty (for "Some Grass"?), it was powerful, fantastic, and, to borrow an overused term that is totally applicable here, was truly epic. I can't wait to see them again (and again) in the coming week (tickets for the Monday night show are still on sale).
The music kept me from really checking out the Syd Butler-chosen comedians who were performing in another room, though I did run in for a second to see some of Todd Barry.
T Model Ford (performing Sunday night)

Iggy & The Stooges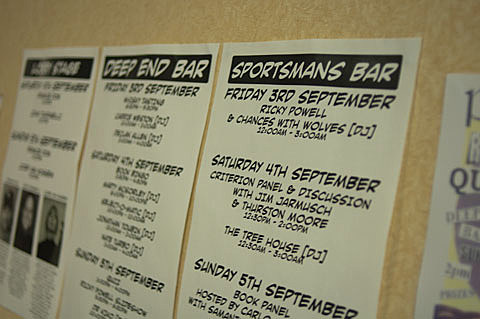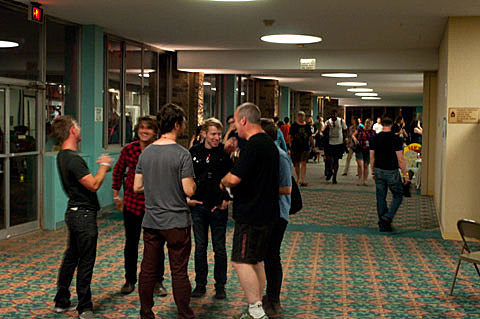 SLEEP at ATP NY, Sept 3, 2010 - "Dopesmoker" Excerpt

SLEEP at ATP NY, Sept 3, 2010 - "The Druid"