ATP NY day 2 – Om, Drones, Apse, Low, Lightning Bolt, more
British experimentalist Alexander Tucker kicked off ATP day two (9/20) with looping pedals and acoustic instruments (cello, guitar). A very interesting artist to start my day with and worth further investigation.
Growing and their effects-laden noise drones sounded great on stage two, though sometimes I find it hard to watch a knob-twiddling live show.
The Drones

continued below...


Apse

Growing

Wooden Shjips were next. The San Franciscans played passable psych rock that didn't really floor me.
Edan was a refreshing change in contrast to the previous bands and the previous day. His set of golden-era hip hop with stage partner Dagha brought to mind the days when Kane, The Biz, and sunday performer EPMD where kings. The Humble Magnificent rhymed WHILE manning the turntables (yes, he is nice- even with the mic device), a Boss Digital Delay, and even a theremin.
Edan

Om

I split my Edan time with Om, as this would be my first Om experience with new drummer Emil Amos. Opening with "Flight of the Eagle" from Conference Of The Birds, Emil adds a completely different dimension to the band; where Chris Hakius was more somber and slight in tone, Amos is much more bombastic. If this is any indication, Cisneros's band may be a lot less "Om" and a lot more "Grr".
Low

Polvo

After Om, I went down to catch the first few minutes of Low before skipping over to Polvo. The band kicked things off with "Candy Girl" from Things We Lost In the Fire and although they sounded fantastic, I wasn't too heartbroken that I had to leave (Mercury Lounge, here I come!). I arrived at Polvo just in time to catch the opening bars. Polvo's live show was fantastic and much heavier than I anticipated. I hope they keep on touring.
crowd member Dan Friel

"I'd like to thank our sponsor Casa Del Diablo Merlot 2006," said Tim Harrington, following up with a big swig. ATP has no sponsors- technically anyway.
Tim Harrington was his usual insano self: rubbing his big sweaty belly, changing costumes, and performing part of the show atop a ladder from backstage that was passed around the room by the audience! Reliably great as always, Les Savy Fav finished their set with Je T'aime (I think), inviting the crowd on stage for the final moments.
Shellac

Shellac took the stage and before they had played a note, I was already geeked out by their presumably homemade amplfiers. Made of stainless steel, the minimalistic features were very Albini: an input, an on-off switch with light, an output meter, and a volume dial. Just like every Shellac record, the live guitars were brighter than the sun and buzzed away while trebly and low-end heavy basslines throbbed underneath. Shellac didn't shy away from the oldies, playing "My Black Ass" along with Excellent Italian Greyhound's "Steady As She Goes" and "Be Prepared" complete with false starts. Bob Weston took questions from the audience in between songs.
"What's the band's stance on Unicorns?"
Lightning Bolt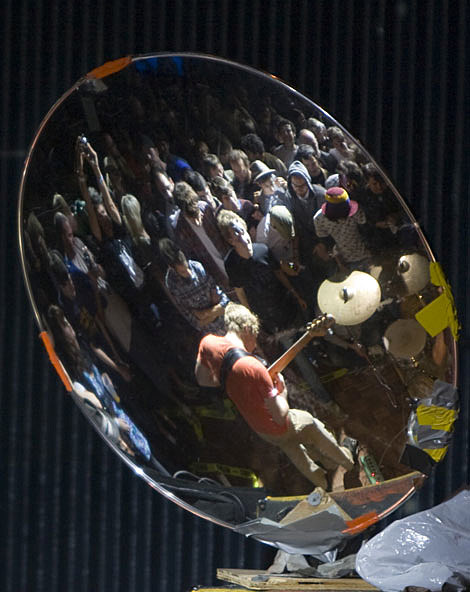 Lightning Bolt was the closer, and by the time Shellac had bid adieu I had already staked my claim directly in front of Chippendale's kick drum. With one foot on a 2x4 which held the kick in place, I lasted 20-25 minutes before my quads started screaming from leg-pressing hundreds of fans. As usual, the band set up on the floor and thundered through a few new joints, one of which began almost doom-y before Chippendale's drums kicked in double-time.
Drenched in a delectable beer-sweat cocktail following Lightning Bolt, I spent the next few hours trading stories and enjoying Wu-Tang's "C.R.E.A.M" in The Deep End. Big day coming Sunday.
Day three coming soon, My Bloody Valentine included. Follow all of our ATP coverage HERE.