Au Revoir Simone, David Lynch, Uninhabitable Mansions, Radical Dads & CMJ – tour dates, pictures, free music & more
photos by Chris La Putt, words by Bill Pearis
Au Revoir Simone have spent the better part of 2009 working on, promoting and touring in support of their second album, Still Light, Still Night, wrapping things up -- for now, at least -- with a Brooklyn show at the Bell House on October 24 (tickets), which is part of the CMJ Music Marathon. The Bell House is also where their new video, "Shadows," was filmed. You can watch it over at the David Lynch Foundation Television website. Lynch has been a fan ever since he and ARS were paired together for that Barnes & Noble Upstairs at the Square event two years ago. He even wrote a nice little blurb for the girls:
"I LOVE AU REVOIR SIMONE ..... THESE GIRLS HAVE WHAT IT TAKES ..... MUSIC JUST FLOWS OUT OF THEM SO NATURALLY - AND IT'S GREAT MUSIC ...... THIS VIDEO FOR "SHADOWS" - FROM THEIR NEW ALBUM "STILL NIGHT, STILL LIGHT" IS MIGHTY - THE COLOR AND THE LIGHT ARE STELLAR - THE MOVES AND LOOKS - MINIMAL - CLEAN - MODERN AND SOLID ..... IT ALL COMES ALONG SO WELL SUPPORTING THE GIRLS AND THEIR MUSIC ..... ANNIE, ERIKA AND HEATHER HAVE GOT THEIR ACT TOGETHER - THEY'RE BIG - BUT THEY'RE GONNA BE BIGGER - THEY'RE GONNA BE REAL BIG"
I hope someone has since told David his Caps Lock was on. That Bell House CMJ show also has baroque pop band The Postmarks, and San Francisco's folk-ska ensemble Still Flyin' on the bill.
In November, Au Revoir Simone travel to China for shows in Beijing and Shanghai. Tour dates are at the bottom of this post, as are more pictures from Au Revoir Simone's Bowery show from back in June. Findlay Brown, who is also playing CMJ at the same venue (Bowery), opened that June show.
In between now and ARS's trip to China, ARS member Annie Hart will spend some time with her other band, Uninhabitable Mansions, which also features Robbie and Tyler from Clap Your Hands Say Yeah. Uninhabitable Mansions' debut album, Nature is a Taker, is out now digitally, with the CD version due at the end of October and vinyl in January. Uninhabitable Mansions, which now includes Annie Hart's husband (and former Dirty on Purpose member) Doug Marvin on drums, has two NYC shows coming up: a free show next Wednesday (10/14) at Cake Shop which is part of the MIXER Reading Series, then they'll play the Bell House on October 22 (part of CMJ) with Robbers on High Street, Freelance Whales (who are also on the Bowery Ballroom show Findlay is playing), Pomegrates and others. After that, they're going on a short East Coast tour, ending with a October 30 show at Union Pool. Then the band's on hold until the new year when they expect to launch a more extensive U.S. tour.
And while we're here, Robbie and Chris of Uninhabitable Mansions have another band,Radical Dads, whose new self-titled EP is downloadable for free.
CYHSY front-man Alec Ounsworth meanwhile has been doing his own thing and is appearing at Mercury Lounge during CMJ, as well as at a free BrooklynVegan day party at Pianos that same day (10/22). More details TBA.
Tour dates for Au Revoir Simone and Uninhabitable Mansions, plus more pictures from Au Revoir Simone's June 28 Bowery Ballroom show are below...

--
Findlay Brown @ Bowery Ballroom...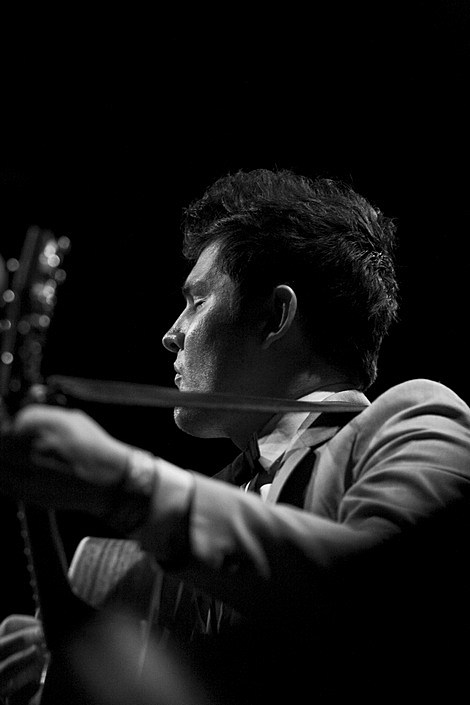 Au Revoir Simone @ Bowery Ballroom...
Au Revoir Simone - 2009 Tour Dates
Oct 16 Lunario Auditorio Mexico City
Oct 24 The Bell House Brooklyn, New York
Nov 20 Yu Gong Yi Shan Bei Jing
Nov 21 Mao Livehouse Shang Hai
Uninhabitable Mansions - 2009 Tour Dates
Oct 14 Cake Shop (Part of October Mixer) NEW YORK, New York
Oct 22 Bell House | CMJ Gothamist Party BROOKLYN, New York
Oct 25 TT the Bear's Place CAMBRIDGE, Massachusetts
Oct 28 Kung Fu Necktie w/ The Temper Trap PHILADELPHIA, Pennsylvania
Oct 29 Rock N Roll Hotel w/ Future of the Left WASHINGTON, Washington DC
Oct 30 Union Pool BROOKLYN, New York