Audible Treats @ CMJ 2009 – pics (Souls of Mischief, Tanya Morgan, Trinity, Oddisee, Finale, Jern Eye, Truthlive)
photographer: paul birman
Souls of Mischief

Congratulations and sincere thanks go out to all who attended the Brooklyn Vegan sponsored Audible Treats Showcase at Southpaw on 10/22. Filled with an action-packed lineup of independent hip hop, Heiro legends Souls of Mischief headlined the show that also included the ever energetic Tanya Morgan, the all-star Trinity, aggressive spitter Kam Moye, the laid back flow of Oddisee, D-Town representer Finale, Jern Eye, and Truthlive. Southpaw was positively brimming with intelligent rhymes and equally killer beats from the artists as well as the house DJ fo the evening, Keelay of Keelay & Zaire. Hosted by Che Grand and the hilarious Wyatt Cenac (The Daily Show), there was no such thing as downtime on 10/22.
Admittedly, the crowd took a while to warm up: West Coast MCs Truthlive and Jern Eye had to work hard to get onlookers involved in their brief opening sets. Jern Eye leaned on material from his newly issued sophomore CD, Vision (just out on MYX Music), a mature, confident effort. Detroit rapper Finale -who'd arrived from Motor City shortly before his performance, and announced he'd be heading back home directly after- ripped through a fiery set previewing material from his upcoming disc, A Pipe Dream and a Promise, as strong a debut as any we've heard this year.

DJ Keelay kept the energy high between sets, and showcasing new material was a theme that extended throughout the evening: Washington, D.C.'s Oddisee... kicked off his set here with even newer material and welcomed Diamond District bandmate yU to the stage for a cameo. Then came Kam Moye, who declared he was representing for "grown-ass men," and Trinity, who presented an explosive set and flung almost as many T-shirts as syllables... Tanya Morgan was down a member -Ilyas, stuck at home in Cincinnati- but compensated with tons of attitude and energy, not to mention an oversize cadre of Lessondary cohorts. By the time Souls of Mischief took the stage with a mix of fresh tracks, deep cuts and repeated salutes to the late turntablist Roc Raida, the crowd was whipped up to an ideally receptive fever pitch. [Time Out]
Roc Raida was also being honored over in Manhattan at BB King's on the same night. How was that show?
More pictures and some videos from the Southpaw show, below...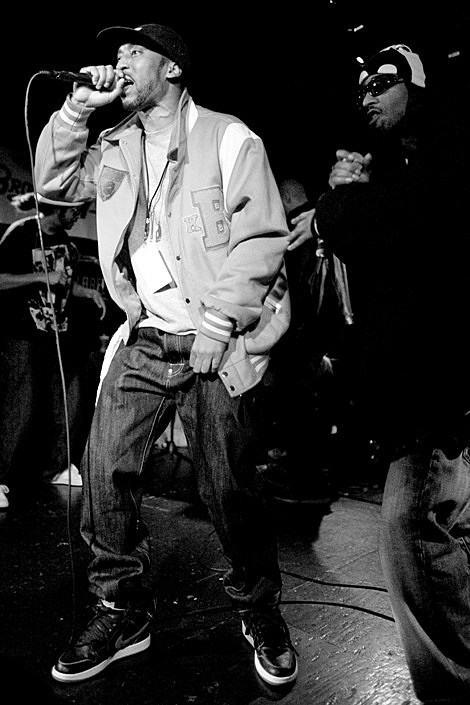 Souls of Mischief @ Audible Treats Showcase, 10/22/09 at Southpaw

Tanya Morgan aka Superstition @ Audible Treats Showcase, 10/22/09 at Southpaw

Trinity aka (Sadat X, A.G., DJ Jab) @ Audible Treats Showcase, 10/22/09 at Southpaw

Kam Moye aka Superstition @ Audible Treats Showcase, 10/22/09 at Southpaw