Austin Psych Fest expands lineup (Panda Bear, War On Drugs, BJM, Graveyard, Mikal Cronin, Bombino, Peaking Lights, more)
Timothy S. Griffin
Austin Psych Fest 2013 (more by Tim Griffin)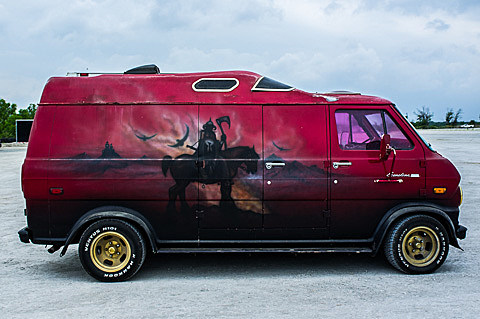 Austin Psych Fest returns for its 6th year from May 2-4 at the Carson Creek Ranch, and since we last spoke, the festival's lineup has been expanded to now include The Brian Jonestown Massacre, Panda Bear, The War On Drugs, Graveyard, Mikal Cronin, Bombino, Peaking Lights, Pink Mountaintops, The Fresh and Onlys, Sleepy Sun, The Octopus Project, Bardo Pond, Higgins Waterproof Black Magic Band, Morgan Delt, Cosmonauts, Pure X, Guardian Alien, Mark McGuire, Greg Ashley and more.
They join previously announced bands like Loop, Black Angels, The Zombies, of Montreal, The Horrors, Black Lips, Avey Tare's Slasher Flicks, Liars and more. Unfortunately, Primal Scream, who had to cancel their US tour, are no longer playing. APF Tickets are still available.
The fest has also announced that there will be kickoff parties the Thursday (2/1) before at Mohawk and Red 7 with sets from The Warlocks, Night Beats, Indian Jewelry, Elephant Stone, Golden Animals, Holy Wave and more TBA.
Updated lineup and flyer below...

---
Austin Psych Fest -- 2014 Lineup
The Brian Jonestown Massacre
Panda Bear
The Dandy Warhols
The War On Drugs
Graveyard
Mikal Cronin
Bombino
Peaking Lights
Pink Mountaintops
The Fresh and Onlys
Bardo Pond
Sleepy Sun
The Octopus Project
Higgins Waterproof Black Magic Band
Morgan Delt
Cosmonauts
Pure X
Gnod
Guardian Alien
Mark McGuire
Doug Tuttle
Secret Colours
Greg Ashley
Mind Over Mirrors
Dahga Bloom
Perhaps
Les Big Byrd
Mirror Travel
Arkestra
Roger Sellers
Loop
The Black Angels
The Zombies
of Montreal
The Horrors
Black Lips
Temples
Avey Tares Slasher Flick
Liars
Unknown Mortal Orchestra
Mono
Tobacco
Dead Meadow
Oneohtrix Point Never
Moon Duo
TOY
Woods
La Femme
Jacco Gardner
Earthless
Zombie Zombie
Acid Mothers Temple
Kadavar
Shannon and the Clams
The Golden Dawn
Yamantaka Sonic Titan
Barn Owl
Terakaft
White Hills
Destruction Unit
Quilt
Joel Gion and the Primary Colors
Gap Dream
King Gizzard and the Wizard Lizard
Boogarins
Lorelle meets the Obsolete
Aqua Nebula Oscillator
The Oscillation
Steve Gunn
CIrcuit Des Yeux
The Young
Fantasmes
Kikagaku Moyo