Austra announces tour, James Blake adds MHOW show (with Austra!) — 2011 Tour Dates (includes Bowery Ballroom too)
Austra at Bowery Ballroom on Saturday (more by Dominick Mastrangelo)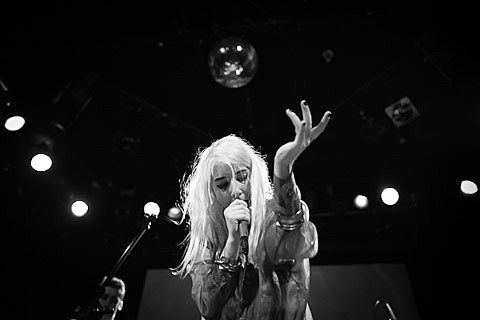 Austra, who just finished up a tour with Cold Cave at Bowery Ballroom on Saturday (8/6), will return to the venue as part of a just-announced headlining US/Canada tour this fall. All new dates are listed below.
That tour includes October 5 at Bowery Ballroom with Light Asylum. Tickets go on sale Friday (8/12) at noon with an AmEx pre-sale starting Wednesday (8/10) at noon.
And while Austra headline Bowery Ballroom, James Blake will be not too far away headlining his own show at Webster Hall as part of his upcoming tour (tickets). The next night (10/6) both Austra and James will team up to play a Brooklyn show at Music Hall of Williamsburg together! Tickets are not on sale yet, but check ticketmaster for updates. James will be the headliner of the show at Music Hall (where he played his first US show in March).
The North American dates come after Austra tours Europe at the end of this month through September. That tour includes a date opening for Arcade Fire in Amsterdam a few days after both bands play Popaganda Festival in Sweden (the country James Blake plays in as part of Way Out West this Thursday night).
All tour dates below...

--
Austra -- 2011 Tour Dates (more TBA)
August 26th - POPGANDA FESTIVAL - Sweden
August 27th - ROCK EN SEINE FESTIVAL - Paris, France
August 28th - NOORDERZON FESTIVAL - Groningen
August 29th - HEINEKEN MUSIC HALL w/ ARCADE FIRE - Amsterdam
August 31st - OT301 - Amsterdam
Sept 2nd - WOODSTOWER FESTIVAL - Lyon
Sept 3rd - END OF THE ROAD FESTIVAL - Dorset, UK
Sept 4th - ELECTRIC PICNIC - Dublin, Ireland
Sept 5th - DEAF INSTITUTE - Manchester, UK
September 6th - SCALA - London, UK
September 9th - BERLIN FESTIVAL - Berlin, Germany
September 10th - MEET FACTORY - Prague, Czech
September 11th - ARENA - Vienna, Austria
September 12th - FEIERWERK - Munich, Germany
September 13th - DAS BETT - Frankfurt
September 15th - SALAN ISTANBUL - Istanbul
September 16th - INCUBATE FESTIVAL - Tilburg, Holland
September 17th - LEFFINGE LEUREN - Gent, Belgium
October 5th - Bowery Ballroom - New York, NY^
October 6 Brooklyn, NY - Music Hall Of Williamsburg#
October 8 Pittsburgh, PA - Ellis Armory
October 26 Philadelphia, PA - First Unitarian Church%
October 27 Washington, DC - Rock & Roll Hotel%
October 28 Asheville, NC - Moogfest
October 30 Atlanta, GA - The Earl%
November 1 Orlando, FL - Backbooth%
November 2 Miami, FL - Grand Central%
November 4 New Orleans, LA - The Saint%
November 5 Houston, TX - Fitzgerald's Downstairs%
November 6 Austin,TX - Fun Fun Fun Fest
November 8 Phoenix, AZ - Rhythm Room%
November 9 Costa Mesa, CA - Detroit Bar%
November 10 San Diego, CA - The Casbah%
November 11 Los Angeles, CA - The Echo%
November 12 San Francisco, CA - Great American Music Hall%
November 14 Portland, OR - Holocene%
November 15 Seattle, WA - The Crocodile%
November 16th - Electric Owl - Vancouver, BC*
November 17th - Cactus Jack's - Kamloops, BC*
November 18th - Brixx - Edmonton, AB*
November 19th - Hi Fi - Calgary, AB*
November 20th - Tongue & Groove - Lethbridge, AB*
November 22nd - Amigos - Saskatoon, SK*
November 23rd - Exchange - Regina, SK*
November 24th - West End Cultural Centre - Winnipeg, MB*
November 25 Fargo, ND - The Aquarium*&
November 26 Minneapolis, MN - Triple Rock Social Club*&
November 28 Chicago, IL - Empty Bottle*&
November 29 Pontiac, MI - The Pike Room*&
December 1st - The Phoenix Concert Theatre - Toronto, ON*
December 2nd - Cabaret Mile End - Montreal, QC*
December 3rd - Ritual - Ottawa, ON*
December 4th - Starlight - Waterloo, ON*
* - w/ Tasseomancy
^ - w/ Light Asylum
# - w/ James Blake
% - w/ Grimes
& - w/ Young Galaxy
--
Tasseomancy -- 2011 Tour Dates
8/30 London, UK - CAMP (UK Album Launch)
9/23 Montreal, QC - O Patro Vys Pop Montreal
9/28 Guelph, ON - Ebar
10/20 Toronto, ON - The Great Hall
11/16 Vancouver, BC - Electric Owl*
11/17 Kamloops, BC - Cactus Jacks*
11/18 Edmonton, AB - Brixx*
11/19 Calgary, AB - Hi Fi*
11/20 Lethbridge, AB - Tongue & Groove*
11/22 Saskatoon, SK - Amigos*
11/23 Regina, SK - The Exchange*
11/24 Winnipeg, MB - The WECC*
12/1 Toronto, ON - The Phoenix*
12/2 Montreal, QC - Cabaret Mile End*
12/3 Ottawa, ON - Ritual*
12/4 Waterloo, ON - The Starlight*
* - w/ Austra