Ava Luna release 'Ice Level', kicking off tour at a 'public meeting' in Queens w/ Twin Sister (dates & MP3)
Brooklyn R&B/indie rock collective Ava Luna released their new record, Ice Level, this week via Infinite Best Recordings. The album continues in the vein of the band's previous work, mixing Motown harmonies, late 70s NYC funk-punk beats, and disco strings into a tightly packed 8-song LP. You can stream the entire thing at their bandcamp and we're also offering the album's title track/second single, "Ice Level," in this post. Download that track above or stream it below.
The band will support the album with a tour which kicks off with a show on Friday (3/2) at Gottscheer Hall in Queens, where Silent Barn will be holding their first in a series of public meetings, where anyone can come and discuss the NYC DIY scene and the future of Silent Barn. Regarding the show, the band has said, "Every time we've finished a record, we've held a release show at the Silent Barn... so for Ice Level, we're proud to celebrate at the first Public Meeting." Twin Sister, who Ava Luna recently wrapped up a tour with, will be special guests at the show.
Ava Luna are also one of the many artists on the just-announced Crossing Brooklyn Ferry lineup, which was curated by Aaron and Bryce Dessner of The National and goes down from May 3 - 5 at BAM. Ava Luna play on May 4, the day that St. Vincent headlines.
All dates and stream below...

--
Ava Luna at BV Holiday Party in December (more by Amanda Hatfield)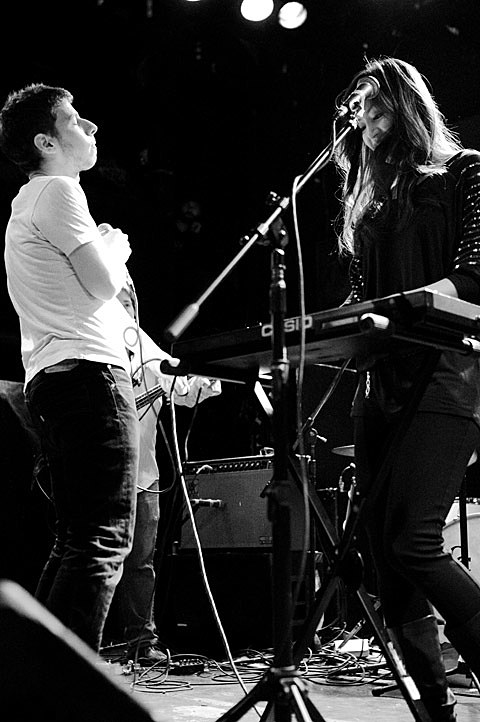 Ava Luna -- 2012 Tour Dates
3/2 - Gottscheer Hall, Queens, NY (Silent Barn Public Meeting) w/ Twin Sister
3/3 - Binghampton University, Binghampton NY
3/4 - Bug Jar, Rochester NY
3/5 - 9th Ward, Buffalo NY
3/7 - The Frequency, Madison WI
3/8 - Canopy Club, Urbana IL
3/9 - The Jackpot Saloon, Lawrence KS
3/10 - The Conservatory, Oklahoma City, OK
3/12 - Fitzgeralds, Houston TX
3/13 - 3/18 - SXSW
3/19 - The Basement, Atlanta GA
3/20 - Jack of the Wood, Asheville NC
3/21 - The Garage, Durham NC
3/22 - Red Palace, Washington DC
3/23 - Kung Fu Necktie, Philadelphia PA
5/4 - BAM, Brooklyn, NY