The Thermals, Heliotropes & Aye Nako played one of our Lollapalooza afterparties (pics & more Aye Nako dates)
FEI
photos by Cory Dewald, words by Andrew Sacher
The Thermals / Aye Nako @ Chicago's Ultra Lounge - 8/2/13

While we were in Chicago over the weekend for Lollapalooza 2013, in addition to taking part in all the Lolla festivities and hosting a portion of the Soundwave Tent during the fest each day, we also threw three afterparties, two of which were totally free (as was the beer, thanks to Sapporo). The second of those afterparties took place at Chicago's Ultra Lounge on Friday night (8/2) with sets from The Thermals, Heliotropes, and Aye Nako. We already posted one set of pictures from the show on BV Chicago, and we've got another in this post.
The show was an insanely fun night with three bands that complimented each other beautifully. The capacity crowd was into the openers and went nuts for the Thermals. DJ Cool Hand Luke spun the tunes before, between and after sets.
Meanwhile, Brooklyn's Aye Nako, who walked away with many new fans that night, have a number of upcoming hometown-area shows too. They'll play The Living Gallery on August 23 with DC post-punks Priests (who also play Death by Audio on 8/28), Tomboy and Bad Behavior; a New Brunswick show on September 5 with Northampton indie rockers Speedy Ortiz; their previously discussed Glasslands (9/7) show with Radical Dads (who also play the Sound Bites Series on 8/18) (tickets); and finally (for now), they were added to the Bowery Ballroom (9/16) stop on the Waxahatchee, Screaming Females, and Tenement tour. Tickets for that Bowery Ballroom show, which is now an even greater lineup that it already was, are still available.
If you haven't heard Aye Nako's debut album, Unleash Yourself yet, it's one of the best pop punk albums of the year, and a strong recommendation. Stream it, along with a list of all Aye Nako dates, and more pictures from that Lolla afterparty, below...

---
Aye Nako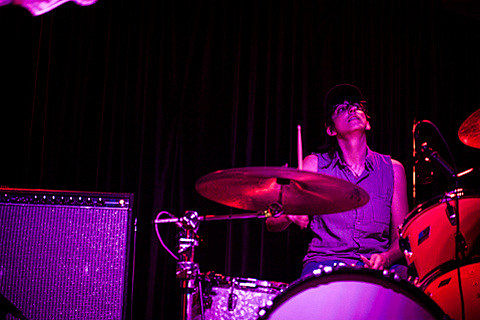 Heliotropes
DJ Cool Hand Luke
The Thermals
Aye Nako - Unleash Yourself

Aye Nako -- 2013 Tour Dates
August 14: Philadelphia, PA W/Hot Tears
August 23rd: Brooklyn, NY W/Priests (DC), Tomboy, Bad Behavior @ Living Gallery
August 31st: Chicago, IL @ 4th Annual Black and Brown Punk Show
Sept 5th: New Brunswick, NJ W/Speedy Ortiz, 3Jane
Sept 7th: Brooklyn, NY W/Radical Dads @ Glasslands
Sept 16th: Manhattan, NY w/ Waxahatchee, Screaming Females, Tenement @ Bowery Ballroom
--