Azealia Banks and Hunters played a Fashion Week party at the Wythe Hotel (pics); Lady Gaga announces tour (dates)
Azealia Banks / Hunters at Wythe Hotel 9/5/2012

At yay high, Azealia Banks is a tiny little thing, about 50% weave and 50% moxie. I didn't really have much expectation for her live show, especially given the setting -- a blingy Fashion Week party thrown by SPIN and fashion website Refinery29 -- but she definitely brought it last night (9/5) Flanked by two black-clad dancers (evoking early '90s club music more than anything hip-hop), Banks worked the floor and oozed charisma for her short but energized set. The crowd even stopped snapping pics on their phones (and in a couple cases, iPads) to dance to "212" which explosively closed her set. I don't know what it's like seeing her in a real venue (I personally missed her Bowery Ballroom performance, one of the very few live shows she's played to date), but in an intimate setting like the hype is understandable.
Azealia is on the cover of the new issue of SPIN which is rumored to be its last print edition. "Thanks to SPIN," Banks said in between songs. "I believe this is your last visible cover and I'm glad to be on it." From Madonna in 1985 to Azealia Banks in 2012. She's performing again tonight (9/6), a free and open-to-the-public show at M.A.C. Soho (506 Broadway) as part of Fashion's Night Out. She's on at 7:30 (but get there early).
Banks wasn't the only performer at this Virgin Mobile-sponsored party, held at swanky boho Wythe Hotel in Williamsburg. Danceable punks Hunters put on another great set, despite most party attendees elbowing their way to the bar unaware a band was playing. As at our 480 Pixels party, platinum-pink-haired singer Isabel Almeida commanded attention, be it belting it out or writhing on the floor tangled in her mic cord.
In related news, Azealia Banks recently confirmed that she worked on a song with Lady Gaga, but is still not sure if it will end up on Gaga's upcoming album, ARTPOP (due out in 2013), which is "not just an album", but also an iPad/iPhone/mobile app (looks like someone's been listening to Bjork). That announcement comes only two weeks after Gaga confirmed she'd be recording a song with her friend Kendrick Lamar for his new album, good kid, m.A.A.d. city, which has been pushed back from its original release date of October 2 to October 22.
Meanwhile, Lady Gaga also has a huge international tour in the works in support of ARTPOP. She's on tour in Europe with The Darkness as we speak, and she'll return to our shores in 2013. While she's here, she'll hit NYC on February 22 at Madison Square Garden and March 6 at Barclays Center (which opens this month with eight shows by venue director Jay-Z). Tickets for those shows are not on sale yet, but check ticketmaster for updates.
All Lady Gaga tour dates and more pictures from the Azealia Banks and Hunters show are below.

---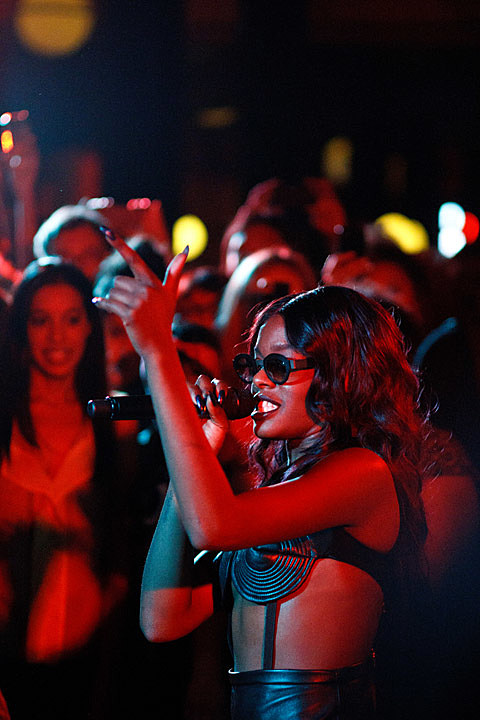 --
Lady Gaga -- 2012 Tour Dates
09/08 - London, UK @ Twickenham Stadium*
09/09 - London, UK @ Twickenham Stadium*
09/11 - Manchester, UK @ Arena*
09/15 - Dublin, IE @ Aviva Stadium*
09/17 - Amsterdam, NL @ Ziggo Dome*
09/18 - Amsterdam, NL @ Ziggo Dome*
09/20 - Berlin, DE @ O2 World
09/22 - Paris, FR @ Stade de France*
09/24 - Hannover, DE @ Tui Arena*
09/26 - Zurich, CH @ Hallenstadion*
09/27 - Zurich, CH @ Hallenstadion*
09/29 - Antwerp, BE @ Sportpaleis*
09/30 - Antwerp, BE @ Sportpaleis
10/02 - Milan, IT @ Mediolanium Forum*
10/04 - Nice, FR @ Stade Charles Ehrmann*
10/06 - Barcelona, ES @ Palau Saint Jordi*
10/26 - Mexico City, MX @ Foro Sol
10/30 - San Juan, PR @ Coliseo de Puerto Rico
10/31 - San Juan, PR @ Coliseo de Puerto Rico
11/03 - San Jose, CR @ Estadio Nacional
11/06 - Bogota, CO @ Estadio el Campin
11/09 - Rio de Janerio, BR @ Parque dos Atletas
11/11 - Sao Paolo, BR @ Estadio do Morumbi
11/16 - Buenos Aires, AR @ River Plate Stadium
11/20 - Santiago, CL @ Estadio Nacional
11/23 - Lima, PR @ Estadio San Marcos
11/30 - Johannesburg, ZA @ FNB Stadium*
12/03 - Cape Town, ZA @ Cape Town Stadium*
12/06 - Oslo, NO @ Telenor Arena
12/09 - St. Petersburg, RU @ SKK Arena
12/12 - Moscow, RU @ Olimpski Arena
01/11 - Vancouver, BC @ Rogers Arena
01/14 - Tacoma, WA @ Tacoma Dome
01/17 - San Jose, CA @ HP Pavilion
01/20 - Los Angeles, CA @ Staples Center
01/23 - Phoenix, AZ @ US Airways Center
01/25 - Las Vegas, NV @ MGM Grand Garden Arena
01/29 - Dallas, TX @ American Airlines Center
01/31 - Houston, TX @ Toyota Center
02/02 - St. Louis, MO @ Scottrade Center
02/04 - Kansas City, MO @ Sprint Center
02/06 - St. Paul, MN @ Xcel Energy Center
02/08 - Toronto, ON @ Air Canada Centre
02/11 - Montreal, QC @ Bell Centre
02/13 - Chicago, IL @ United Center
02/16 - Detroit, MI @ Palace of Auburn Hills
02/19 - Philadelphia, PA @ Wells Fargo Center
02/22 - New York, NY @ Madison Square Garden
02/25 - Washington, DC @ Verizon Center
02/27 - Boston, MA @ TD Garden
03/02 - Atlantic City, NJ @ Boardwalk Hall
03/06 - Brooklyn, NY @ Barclays Center
03/10 - Nashville, TN @ Bridgestone Arena
03/11 - Atlanta, GA @ Philips Arena
03/13 - Tampa, FL @ Tampa Bay Times Forum
03/15 - Ft. Lauderdale, FL @ BankAtlantic Center
03/16 - Miami, FL @ American Airlines Arena
* - w/ The Darkness