Aziz Ansari played shows @ the Bell House w/ Hannibal Burress (pics), transcribed a Kanye/Jay-Z song in Emojis
photos by David Andrako
Aziz Ansari booked two last minute Saturday night shows at the Bell House to test out material for a new album he hopes to release next year. Hannibal Burress opened both the early and late shows. We've got some pictures from the the late one in this post.
Aziz's friend James Murphy wasn't in the audience (he was over at Terminal 5), but his other GQ friend David Chang was spotted.
Two days earlier Aziz got some major internet attention thanks to a post on his blog. As Gizmodo says:
Jay-Z and Kanye West's N*ggas in Paris is an epically hard, head bumping anthem that's ruled rap for the better part of the year. Aziz Ansari and Matthew Shawver just one upped it by translating it into a hilarious rendition filled with emojis from their iPhones. This is the best thing to happen to music all year.
Hannibal Buress, who don't forget performs at Knitting Factory in Brooklyn for free almost every Sunday night, has some hip hop related news of his own too. He got Young Jeezy's attention with a joke.
More pictures from the Brooklyn show below...

--

Hannibal Burress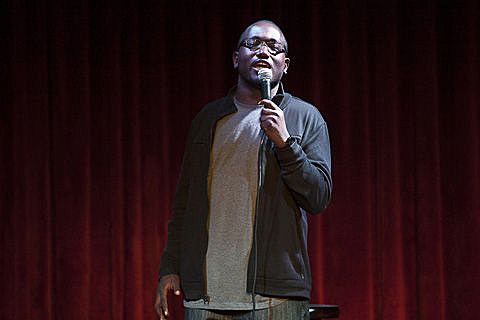 Aziz Ansari